Casual elegance and an array of gourmet vegan and gluten-free offerings are why we love Wildest Restaurant + Bar. Whether you're looking for cocktails and appetizers or a four-course dinner with friends, you'll find both guilty and good-for-you options at this popular Palm Desert destination.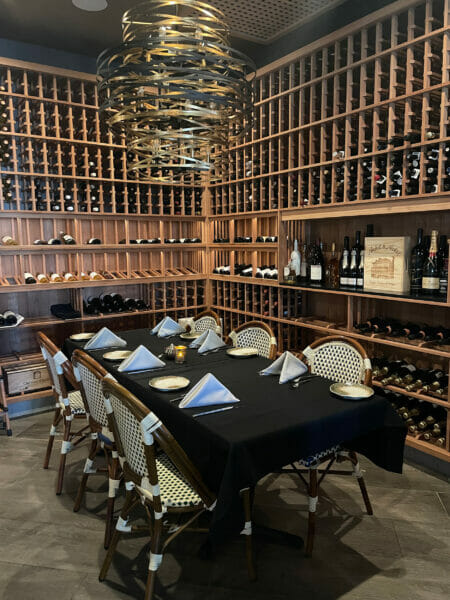 Wildest is the innovation of health advocate and wine aficionado Charissa Farley-Hay and husband Bill Hay who have created a gathering place for both discerning diners and health-conscious bon vivants. Local farm-to-table ingredients, seasonal offerings and Executive Chef Trilby Tatro's creative twist on cultural cuisine make Wildest the perfect pairing for this "Future of Food" edition. 
Top all of that with flavor and fun and your dining experience is certain to be memorable.
Your Wildest evening begins with a selection from their Wine Spectator Award of Excellence list featuring hard-to-find varietals from California and abroad. Or, possibly you'd prefer a Blackberry Lavender Gimlet or Cucumber Gin Refresher from their craft infusions collection. Not drinking? Savor a "sinless organic" such as the Modern Cactus Cooler or Pink Grapefruit Fizz. Feeling adventurous? Try an adaptogen drink, like the Golden Hour citrus lemongrass bubbly with green tea-derived maca and L-theanine (thought to spur creativity), served in a classic martini glass. Bring about balance with the Purple Lune made with ashwagandha and tart cherry, described as "complex, but not exhausting."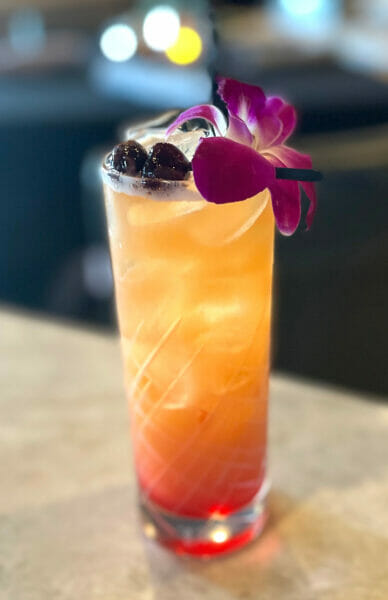 Share starters so all can sample Chef Trilby's one-of-a-kind creations. You can confidently select knowing that all batter and sauces are vegan and gluten-free.  We love the "calamari" made with king trumpet mushrooms from Canyon Creek. With its light rice flour breading seasoned with Japanese Furikake and served with a plant-based wasabi aioli, it is addictively delicious. The disguise is hard to decipher and offers it's own distinct texture and taste.
On our most recent visit, Chef served a refreshing summer take on a traditional Italian panzanella salad using casaba melon instead of bread, heavenly vegan feta, fresh mint, and microgreens and flowers from Coachella Urban Farms. Exceptional!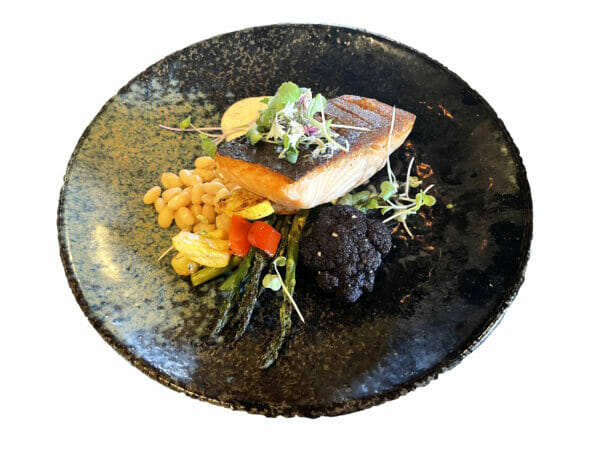 Main dishes present something for everyone, and we have never been disappointed with our selection. There are equal offerings of plant-based fare (lion's mane "crab cakes," chili relleno stuffed with carnitas-style jackfruit); wild-caught seafood (pan-seared Icelandic fjord salmon, sesame seared ahi); and grass-fed meats (filet mignon, braised beef short ribs).
"Our goal is to increase seasonal offerings and continue to be creative," says Tatro who has enhanced their relationships with local organic growers including Temalpakh and Aziz Farms and Coachella Valley Dates. One of her most favorite tasks is creating innovative specials based on what is fresh and available that day.
Other special features include live music most nights and their stunning wine cellar room (pictured here) available to all guests with a reservation. Their outdoor patio will reopen for season and an outdoor grill is slated for spring. Chef Trilby shared that they are working on the addition of a brunch along with jazz dinners featuring top notch entertainment not standardly seen at valley restaurants.
For those seeking healthy gourmet in a sophisticated and soothing ambiance, we recommend a trip to explore Wildest.
Wildest Restaurant + Bar is located at 72990 El Paseo, Suite 3 at the intersection of Highway 74. They are open Wednesday-Sunday 4-9p and reservations are recommended. They also offer catering and can be reached at (760) 636.0441 or visit www.wildestrestaurant.com.