Restoring a historic club to appeal to both long-term residents and the desert's burgeoning crowd of hipsters is no small task. Yet Miguel Nelson, the new owner of Rancho Mirage's Desert Island, has done just that, unveiling a unique resort in old Hollywood style that is open to all – and enjoyed by every generation.
Their plush golf course is free of single-family homes boasting open mountain views and spectacular sunsets. The vast clubhouse is now home to The Penney offering refined indoor/outdoor dining; the Parlour lounge featuring artisanal cocktails and table games; a sunken bar and spirits library with up to 500 small batch labels; 9 ½ Bar + Kitchen presenting casual bites course-side, and a large event space complete with glittering disco ball.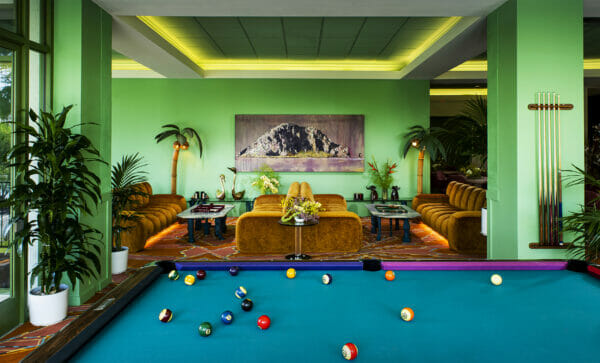 "Desert Island is such a part of history in the desert," says Nelson. "We want to honor its colorful past while blurring the boundaries on young and old, public and private, classic and adventurous."
While he and his team present many interactive festivities – live entertainment in the lounge, artwork showcasing valley residents, "Tipsy Hour" (previously Golden Hour) with sunset cocktails, shaved iced, gourmet bites and a putting green – Nelson says the dining experience is at the center of all they offer. 
Creatively inspired by Executive Chef Jon Butler, who studied under many culinary greats nationally and in Europe, their intriguing menus offer proof with flavor and taste combinations sure to surprise the most discerning palates.
"Knowing flavors that work, pairing them with things that may be a bit unique and having fun with the plating creates a memorable dining experience for guests," says Butler who leans heavily on local and seasonal ingredients.
"DI" has a cool vibe, intriguing guests, welcoming staff and exceptional cuisine. Our most recent visit was for their Mid-Century Modern Séance during modernism week, so in addition to another memorable meal, we had our auras read (that is Desert Island).
We began with fresh oysters on the half shell served with Banyuls mignonette and bay scallop crudo topped with "passionfruit aji amarilllo." The sweet and tart fruit combined with the Peruvian chilis added a sweet and spicy flare that speaks to Butler's talent for combinations.
My first "adventure" was the Japanese sweet potatoes seasoned with a mushroom X.O. sauce and topped with winter herbs and sesame seeds. Exceptional. The crispy Romanesco cauliflower (tastes/looks like broccoli-cauli) were seasoned with a sesame emulsion, smoked soy and furikake (a Japanese multipurpose seasoning) and topped with sliced kumquats. I couldn't get enough. The warm green salad included blistered snap peas, fennel, scallions and mint topped with a pine-nut tahini dressing for a crisp bite and smoky flavor.
My husband Tom had the wild Mediterranean turbot, which you don't see often, gently seasoned with onion soubise (puree), chives and black olive oil. It was flaky, light and very flavorful. Other entrees that evening included roasted chicken, crispy pork belly, Neapolitan ragu, New York steak and a John Dory set with lemon, caper, brown butter and parsley. Accoutrements always include Parker House rolls and a selection of homemade desserts from their in-house pastry chef.
"There is no comparable dining experience in the valley," states lifestyle medicine doctor Joseph Scherger, MD, a resident and frequent guest. "Miguel has brought an art deco flare to Desert Island and Chef Butler's ever-changing menus of small and large plates are creative and delicious."
"All the clubs in the desert have their own flavor, and ours is a destination resort that feels private, but is public," says Nelson noting that they are offering 100 semi-private club memberships. "All guests feel as if they are part of a private club for the day. It keeps it interesting and fun for everyone, and you never know who you are going to meet."
Desert Island is located on the corner of Bob Hope and Frank Sinatra in Rancho Mirage. The Penney and Parlour are open Wed – Sun from 4 p.m. to close. 9 ½ Bar + Kitchen is open for breakfast, lunch and Tipsy Hour Wed-Sun starting at 3pm. For more information visit www.DI71.com or call (760) 548.2100.