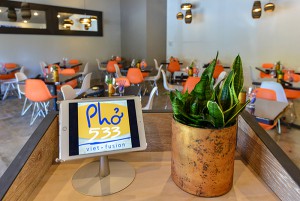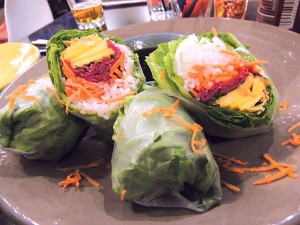 When dining out, Asian cuisine can often be a healthy choice – especially if artificial ingredients like MSG have been replaced with healing spices in homemade sauces.
And if you start with regionally sourced ingredients and authentic Vietnamese recipes, then add influences from other cultures, you have truly fusion fare that entices the taste buds and makes you wake up in the morning feeling nourished and good.
Welcome to Chad Gardner's Pho 533, a great place to come for feel good food.
Vietnamese cuisine is consistently ranked in the top three healthiest cuisines in the world, and Chad appropriately calls his creations viet-fusion.
Located in Smoketree Village Shopping Center in Palm Springs, Pho 533 invites guests in with its bright and festive décor and encourages friendship, sharing and conversation. You'll certainly have much to discuss in experiencing the food alone. Each ingredient is carefully laid out on the menu further conveying Chad's focus on fresh. Take the mango summer rolls: hand-picked fresh greens, fresh mango, house pickled ruby cabbage, cucumber, house pickled carrots and daikon radish, fresh cilantro and mint, and vermicelli noodles hand rolled to order in fresh rice paper. They are even better than they sound!
Regionally grown produce arrives almost daily to the restaurant and 50 percent of their options are gluten-free, which Chad says is by design, but also true to the culture. There is also a full page dedicated to vegetarian cuisine, a popular choice with customers.
We really enjoyed the grass-fed "shaking beef," sautéed tenderloin with a homemade nuoc cham (dipping) sauce, baby shallots, and crispy garlic mizzuna (greens) served over watercress salad with a spicy lime vinaigrette. Kaffir lime is a common thread throughout Chad's menu and adds the perfect "wow" factor to each bite.
Another recommendation is the yellow curry with lime. Chad worked with our local Savory Spice Shop to create the special spice for the curry, and the lime is added for the cooling effect. Be forewarned that it is very spicy, but soooo tasty. The lime cuts the spice just enough to keep you coming back for one more mouthful.
Instead of fried, their rice is wok fired which is very light and tastes toasted rather than fried. The cargo rice adds a light nutty flavor and was exceptional with the tiger shrimp. Chad adds that red rice has all of the health benefits of brown rice with a little more finesse and flavor.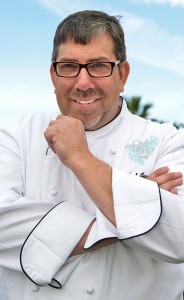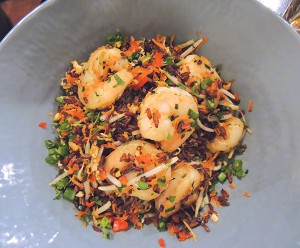 Pho 533 not only has flavor, but a lot of heart and history. Its original owner, Anh ho Rock was 10 years old when she fled Saigon with her family as it fell to the North Vietnamese. They found their way to an old US Land Support Tanker, the USS Cheboygan County, and she began her journey to a better life in America. She remembered the call numbers "533" painted on the hull, and made a promise to herself that one day she would honor the memory of that broken down ship. When she opened her first restaurant, she named it Pho 533.
Last year Chad purchased the restaurant and continues to honor the history of  Pho 533  and its loyal customer base, but has added his own flare with influences from his culinary past, and even his mom. "You'll find a lot of heart in my menu because it comes from my family, too," he says.
If you are looking for a quick meal to grab on your way home, Pho 533 is the perfect option. Take out is prepared quickly and all containers are green as Chef Chad and his team work to "leave the lightest footprint possible."
We look forward to returning to Pho 533 and strongly recommend you give it a try.
Pho 533 is located at 1775 E. Palm Canyon Drive, Ste 625, in the Smoketree Village Shopping Center in Palm Springs. They are open 11am – 9pm daily. For reservations and more information visit them online at pho533palmsprings.com or call
(760) 778.6595.