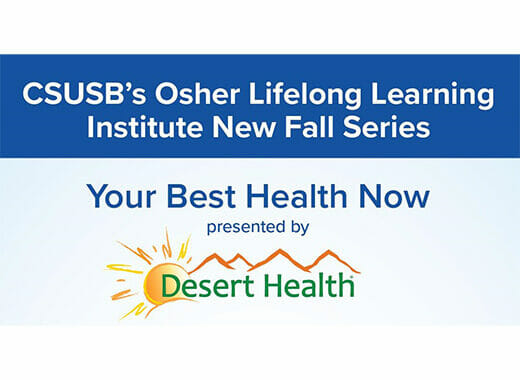 Your Best Health Now Educational Series
When: November 1–December 13, 2022 • Tuesdays, 1:00pm-3:00pm
Where: Live and ZOOM classes offered over six weeks.
Tickets: $50 for the series
Registration and More Info: www.csusb.edu/olli, (909) 537.8270
Desert Health proudly presents this OLLI series exploring the variety of natural and allopathic health care options available. Learn about functional medicine from Joseph Scherger, MD of Restore Health; naturopathic medicine from Optimal Health's Shannon Sinsheimer, ND; traditional Chinese medicine from AcQpoint Wellness Center's Diane Sheppard, PhD, LAc; and brain health from Jeralyn Brossfield, MD of Braincare Performance Center. Tamara Porter, DNP of My Health. My Advocate will discuss navigating the medical health care system, and Financial Advisor Michele T. Sarna, CFP®, AIF® of Beacon Pointe Advisors will present financial health through the decades.