The Valley's Leading Resource for Health and Wellness
Sponsored Events
Wellness Worth Watching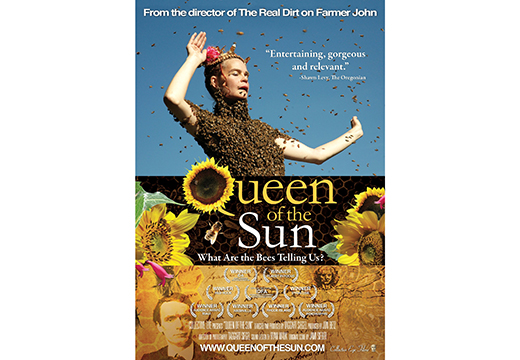 Queen of the Sun presented by Eisenhower Health and Desert Health takes us on a profound journey through the catastrophic disappearance of bees and the struggles and solutions facing beekeepers, scientists and philosophers. Annenberg Health Sciences Building at Eisenhower, Rancho Mirage. Doors open 1:30pm; Movie 2-4pm. $5. RSVP (760) 423.4855
Mitch's Pitches PRO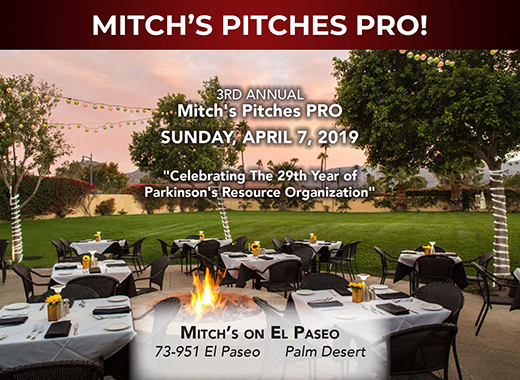 In recognition of Parkinson's Awareness Month, Mitch's Prime Seafood on El Paseo will host a celebration for Parkinson's Resource Organization's 29 years of excellence. The evening includes celebrities, cocktails, fine dining, live entertainment, and specialty auctions and will honor two inspirational people with Parkinson's: 29 year-old Michael Lu of the Anaheim Ducks and 70 year-old Michael Rudder, a former investment banker. At Mitch's 73951 El Paseo; 5:30pm. Ticket start at $150. (760) 773.5628.
Wellness Worth Watching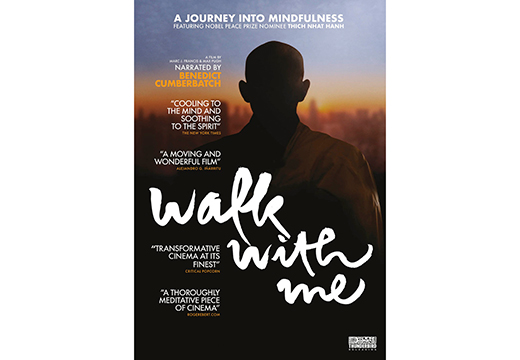 Walk with Me presented by Eisenhower Health and Desert Health is a cinematic journey into the world of mindfulness and the Zen Buddist Master Thich Nhat Hanh. Annenberg Health Sciences Building at Eisenhower, Rancho Mirage. Doors open 1:30pm; Movie 2-4pm. $5. RSVP (760) 423.4855.
More Than Memories…Endless Possibilities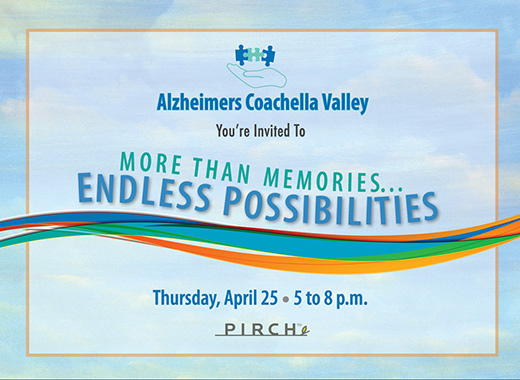 April 25, 2019
PIRCH, 71905 Highway 111, Suite B
5:00pm-8:00pm
$75 per person
Join Alzheimers Coachella Valley (ACV) in celebrating our second annual fundraiser, "More than Memories…Endless Possibilities," hosted by Jim Murdock. Enjoy delicious hors d'oeuvres, beer, wine and a specialty cocktail created by PIRCH mixologists while you peruse our fabulous silent and live auction items that help support our innovative programs. Reservations may be made online at www.cvalzheimers.org, by calling (760) 776-3100, or mail your check payable to Alzheimers Coachella Valley to 42600 Cook Street, Ste. 134, Palm Desert, CA 92211.
Desert Health Wellness Awards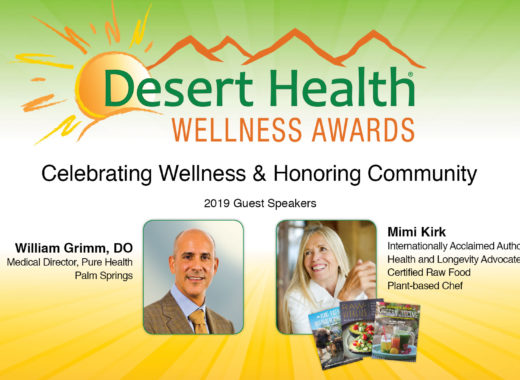 May 22, 2019
The S Rancho Mirage
6:00pm – 9:00pm
The Wellness Awards return honoring those in our community moving health and wellness forward. The evening includes a reception, dinner, the awards presentation and TWO guest speakers: celebrity speaker author Mimi Kirk discussing longevity through food choices, and local integrative doctor William J. Grimm, DO. To be held at The S Rancho Mirage 6pm-9pm. Your $95 ticket includes reception, beverages, dinner, guest speakers, award presentation, a Desert Health tote filled with wellness offerings, and an open farmer's market compliments of Prime Time Produce.  Visit www.deserthealthnews.com or call (760) 238.0245.
HARC's Workplace Wellness Awards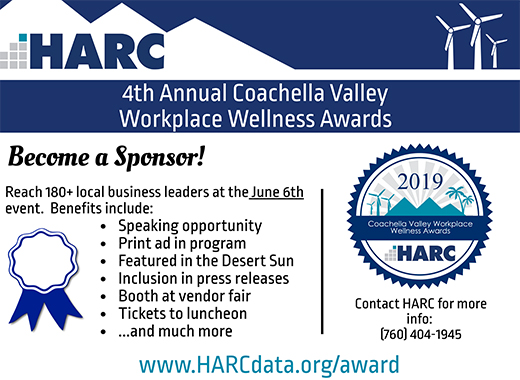 June 6, 2019
Classic Club in Palm Desert
11:30am-1:30pm
The 2019 Workplace Wellness Awards recognize businesses in the Coachella Valley that prioritize employee health and wellness. The Awards feature complimentary valet parking, three-course lunch, vendor fair, and awards presentation. For more information, visit HARCdata.org/award. For sponsorship opportunities please contact: jquintana@HARCdata.org or call (760) 404-1945.