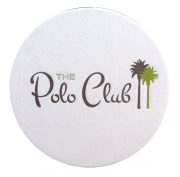 Across from the Polo Grounds in Indio is a new contemporary community called Trilogy at the Polo Club. The all-ages resort boasts an "active lifestyle" and offers a large community and separate lap pool, state-of-the art fitness center, tennis and pickle ball courts, bocce courts, and even a life-sized chess game.
At the heart of the community is a stunning clubhouse outfitted in equestrian décor which is home to June Hill's Table, a rustic modern health-conscious restaurant which is open to the public.
June Hill's is a welcome addition to the east valley which is lacking in variety for those desiring tasty cuisine that is also nutritious in a modern, cool environment. The restaurant has quickly become our favorite as the ambiance and staff are refreshing, and a large portion of the menu satisfies our gluten-free lifestyle.
The restaurant, which opened in March of last year, was named after June Hill Robertson McCarroll, who from 1907 to 1916 was the only physician regularly practicing in the desert between the Salton Sea and Palm Springs. As you may have seen on KMIR's Our Desert Past, she is also credited for establishing the white line that separates road lanes. Following a near accident, she personally painted a line on Indio Boulevard and then, with help from the Indio Women's Club and similar organizations, launched a successful letter writing campaign for roads statewide. The idea was adopted by the California Highway Commission in 1924 and later, worldwide.
Beyond the name, the restaurant's classic, yet modern design, melds past and present in a warm and welcoming display. The menu is no different. "We like to consider our fare a new twist on classic favorites," says Chef Kevin Land, a desert local who has worked throughout the country and blended his varied experience and passion for the desert into the restaurant's offerings. And while the menu includes succulent comfort food like St. Louis BBQ ribs, maple-brined pork porterhouse, and ravioli with shrimp, it also features an open fire grilled free-range chicken breast served with seasoned cauliflower rice, garlic sautéed green beans and a port wine mushroom reduction; a turkey spinach wrap; and a hot iron seared Scottish salmon as some of the healthier options. The kitchen is also very accommodating to substitutions and dietary considerations.
My favorites are the generous salads. Chef Kevin sources his produce from local farmers' markets, and you can taste the difference. His unique blend of ingredients provides a well-balanced, tasty and filling meal. The Polo Life Salad combines marinated kale, quinoa, feta cheese, Kalamata olives, marcona almonds, cherry tomatoes and red onions topped with a roasted garlic vinaigrette. The spinach salad is tossed with pomegranate seeds, toasted pumpkin seeds, blue cheese or feta crumbles, arugula and granny smith apples. The Coachella Valley Cobb is presented with whole strips of homemade bacon, charred sweet corn, sliced eggs and avocado, and handfuls of fresh ham and turkey. The portions are generous and chicken, salmon, shrimp or skirt steak may be added.
Pizzas are offered with a homemade thin crust or a gluten-free polenta and parmesan crust. The polenta is unique and very filling, thus recommended as a shared item – possibly with a side of their to-die-for crispy Brussel sprouts.
All protein is natural and free of hormones and antibiotics. Chef Kevin prefers corn-fed beef over grass-fed for the marbling which delivers very juicy, tender steaks sourced from Cedar River Farms about one hour east of the valley.
In lieu of bread, June Hill's serves their house made Yukon potato chips with which I have a love-hate relationship. Tossed in garlic oil, Maldon sea salt flakes and pepper, they are so exceptional that it's impossible to eat just one (and they are gluten-free).
The well-stocked bar offers a wide variety of wines by the glass as well as the bottle, craft beers, and signature cocktails – also a fun twist on classic favorites like the New Fashion, the Polo Pony (mule), the Model T, Desert Rose and Dr.'s Orders.
June Hill's Table will not disappoint. Beyond the health-conscious menu and friendly staff are beautiful mountain views enjoyed from either indoor or outdoor seating.
June Hill's Table is located at Trilogy at the Polo Club off Avenue 52 at Monroe in Indio (51750 Polo Club Drive). It is open for lunch and dinner Wednesday-Saturday from 11:00am to 9:00pm and Sundays from 10:00am to 6:00pm for brunch with a limited menu after 3:00pm. For reservations, please call (760) 797.7229 or visit OpenTable.com.