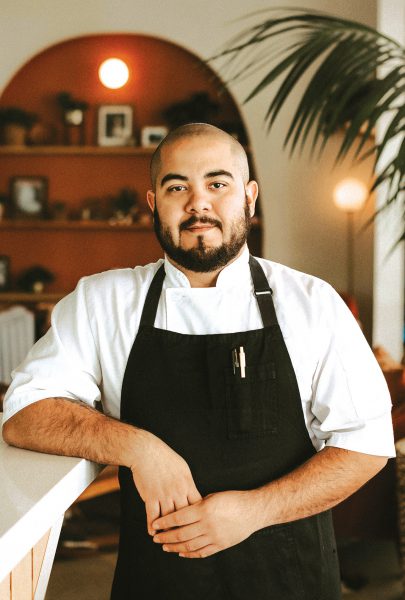 We love our dogs. These special family members are often showered with disproportionate amounts of affection for being the lovable, happy and adorable creatures they are. Such is the case with our new pup, Teddy, whose dinner dish reads "The Boss."
Of course, we like to take them everywhere for everyone to meet. Fortunately, our Desert has many patio restaurants that allow dogs, but none welcome our furry friends with the respect and admiration we give them… until now.
Our favorite new restaurant is Boozehounds in Palm Springs, "where dogs bring their humans." The large, yet cozy uptown district space offers ambiance, exceptional fare and a red-carpet welcome for our four-legged friends. Prized pups have their own entrance, the option of outdoor or atrium dining, cushy mats on which to sit, and a staff that greets them with smiles, water and their own special menu.
It's very European as cafes and eateries across the pond standardly treat pets with as much respect as people. This is also the direction of the restaurant's menu newly led by Executive Chef Aric Ianni, formerly of the Rowan's Juniper's Table and Chicago's Michelin 3-Star Alinea.
Inaugural Chef Corey Baker, who was engaged for the restaurant's launch, set the stage with fresh, healthy and unique Asian-inspired selections including an array of vegan, vegetarian and gluten-free options. Ianni plans to keep the Asian flavors while incorporating more European cooking techniques, Middle Eastern specialties and expanded vegetarian options.
"Our goal is to offer selections you can't find other places that will appeal to all diet types," says owner Steve Piacenza whose partners include Jimmy McGill and Bryan Rogers. "We want our team to have fun with the menu and to get creative."
That is one of the many reasons we love them. Their menu features an array of unique selections to satisfy my gluten-free, pescatarian lifestyle including a sesame miso tofu, roasted cauliflower and shrimp aguachile. Fresh crudos include Bluefin tuna with mint and ginger, Japanese yellowtail with citrus notes and spice, and Tasmanian ocean trout with crème fraiche and yuzu kosho. They even have a scrumptious gourmet vegan dog with microgreens (of course, they do).
In December, Ianni shared that a new menu would be debuting by the time this article is published. "Middle Eastern cultures offer some of the healthiest, best and most flavorful foods in the world. We will be infusing them into today's popular dishes like French tartines (gourmet 'toasts') and ramen," he said. As gluten-free requests are plentiful, they even switched from soy to tamari in all their Asian selections.
On our last trip, my husband, Tommy, enjoyed the very tender galbi braised short rib with creamy polenta, kimchi and green onion, while Teddy reveled in her "weenie-tini," organic chicken broth topped with a chicken-infused whipped cream and finished with a chicken gizzard dog treat crumble. Next time she'll either try their chicken or beef bowl with steamed rice and vegetables and more of their tasty snacks.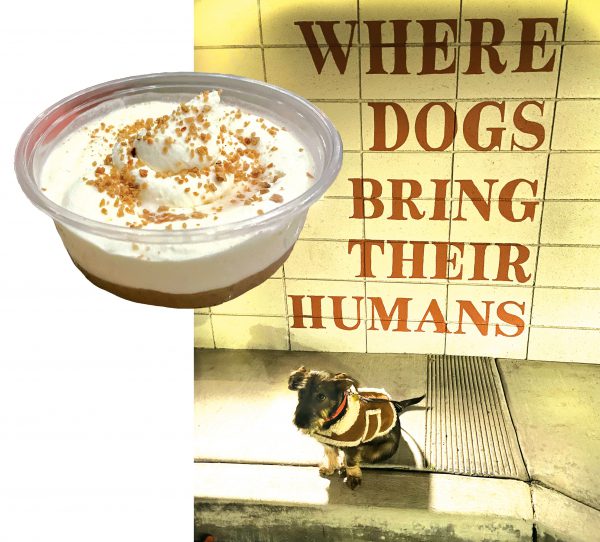 Don't have a canine companion? Boozehounds will still delight. The restaurant sits in the vast building on North Palm Canyon Drive built in 2008 for DINKS. It offers 3,800 square feet of indoor dining space (for humans only) with modern chic, casual décor, ambient lighting, a welcoming 360-degree bar with stunning views and even a happy hour-perfect living room. The 1,200 square-foot atrium features a variety of couches and tables for any size paws and a retractable roof for those perfect Palm Springs nights. Then there is a 2,000 square-foot outdoor patio with a second bar and cocktail and dining seating. Servers are not allowed to pet any furry guests (which can't be easy) and sanitation is a top priority.
Inspiration for the restaurant came from Striker, the owners' beloved rescue who was with them for 18 years. His portrait appears in their logo and photos are found throughout the restaurant. In his honor, they have adopted the Palm Springs Animal Shelter and raise funds for the non-profit with daily events and promotions. Be sure to order the Boozehounds Frosé, Tito's Vodka ("vodka for dog people"), sparkling rosé, and a strawberry basil cordial, as a portion of proceeds from this tasty drink go directly to the shelter.
Boozehounds is located at 2080 N. Palm Canyon Drive in Palm Springs and is open 2 – 5 p.m. daily for happy hour, 5 p.m. daily for dinner service and a spectacular brunch is offered Friday, Saturday and Sunday 10 a.m. – 2 p.m. For additional photos, information and reservations, visit www.BoozehoundsPS.com