Registration is now open for the 11th annual International Plant-Based Nutrition Healthcare Conference (PBNHC) taking place September 8-11 at the JW Marriott Desert Springs Resort & Spa in Palm Desert.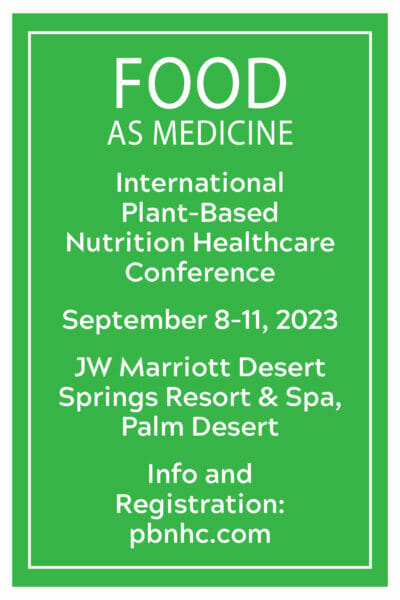 This annual CME-accredited medical event brings together health care professionals from around the world to learn the latest research on the power of nutrition to suspend and reverse lifestyle diseases. All health care professionals (or any interested persons) who are passionate about improving the health of their patients and staying up-to-date with the latest developments in the field are encouraged to attend.
This year, PBNHC will welcome back many of the field's foremost experts including Dean Ornish, MD, T. Colin Campbell, PhD, Michael Greger, MD, Koushik Reddy, MD and William Li, MD. Attendees will not only learn about the science that supports the efficacy of whole food, plant-based nutrition to suspend and reverse disease, but also about practical applications for empowering patients to transform their lives. International leaders in the field will share valuable insights into the latest scientific evidence, and this year's keynote speaker is The Plantrician Project's Co-Founder and Chief Medical Officer Scott Stoll, MD.
The PBNHC conference features some of the most respected and accomplished experts in behavioral change and the practical aspects of sustainable change. Attendees will gain a better understanding of how to apply this knowledge to their patients/clients, as well as their own health goals via topics including Effective Communication Techniques for Dietary Intervention, How Not to Age and Making Financial Sense of Lifestyle Medicine Practices.
PBNHC consistently introduces new and promising experts in the plant-based field through its conferences and other educational sessions. Many of today's renowned industry experts had their breakthrough speaking opportunity at this very event.
There will also be comprehensive workshops covering a wide range of topics in plant-based nutrition and lifestyle medicine. Two special workshops on Friday, September 8, include Healthy and Delicious: Cooking with Chef AJ and Developing Effective Communication Strategies for Sustainable Lifestyle Change with Matthew Lederman, MD and Alona Pulde, MD.
Networking opportunities
Many have shared that the inspiring community of attendees is one of the most compelling reasons to attend PBNHC as it brings together a community of health care professionals who are passionate about improving the health of their patients through plant-based nutrition as the foundational pillar of their practice.
Attending the conference allows you to connect with this community and gain the support and motivation needed to continue making a positive impact in the world of health care.
The conference offers a variety of networking opportunities and many build valuable relationships while exchanging ideas and best-practices. It is a wonderful opportunity to make new friends, find new business partners or even find a new job in the industry. For those with a product or service in-line with The Plantrician Project's message, the conference is a great way to promote your offerings.
Continuing medical education credits
By attending PBNHC, health care professionals can earn valuable continuing medical education (CME) credits and gain unlimited, on-demand access to the conference presentations for one year. Not only does the cost of attending the PBNHC conference cover all the sessions, CMEs and materials, it also includes nine delicious plant-based meals. This presents an excellent opportunity to experience the advantages of a plant-based diet firsthand as you savor delectable plant-based cuisine and discover new recipes and cooking techniques.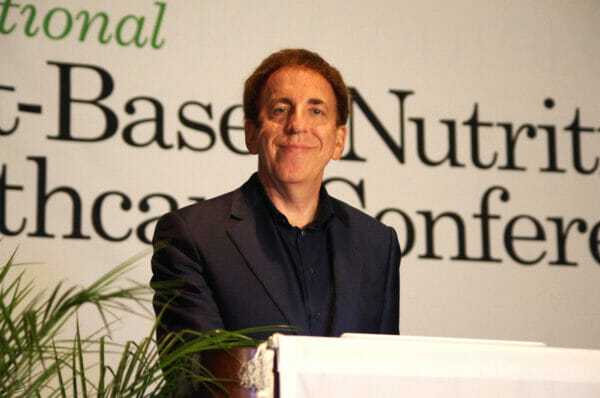 Each year, PBNHC presents a Luminary Award for outstanding contributions to the field of plant-based nutrition. This year's honoree is John McDougall, MD, a true pioneer in the field who has spent over four decades advocating for a whole food, starch-based diet as a means of achieving optimal health and wellness. His research and advocacy have helped to advance our understanding of the role of nutrition in preventing and reversing chronic disease, and his work has inspired countless individuals to make positive changes in their own lives.
For those unable to attend in-person, virtual registration is available. Attendees may enjoy all CME-accredited sessions online at the time and place of their choosing. Please note that pre-conference workshops will not be available virtually. Members of the Plantrician Provider's Directory are entitled to $200 off in-person or virtual registration. To learn more about becoming a Plantrician Provider, visit www.plantrician.com.
For the full agenda and more information on the 11th annual International Plant-Based Nutrition Healthcare Conference, visit www.pbnhc.com. For questions, please email [email protected] or call (561) 810.6713.