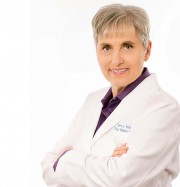 Desert Health® was honored to bring Terry Wahls, MD, to the Coachella Valley in May as part of the Eisenhower Wellness Institutes Speakers' Series. 
The free presentation attracted over 525 people eager to hear how Wahls is beating progressive multiple sclerosis through nutrition and exercise. She has helped hundreds suffering from MS and other autoimmune diseases with her educational campaign and published works, Minding My Mitachondria (Iowa City, TZ Press, LLC, 2010) and her newest, The Wahls Protocol (New York, Penguin Group, 2014) which provides step-by-step guidance on how to implement her program. 
Wahls' presentation was streamed to the big screen in an auxiliary room for overflow seating. Over 20 guests in wheelchairs turned out to hear how Wahls herself got out of her chair and progressed to riding her bike 5-miles to work each day.
Wahls was diagnosed with primary progressive multiple sclerosis in 2000 and began conventional treatment, however, by 2007 she was confined to a recliner or bed and could walk only a few steps with two canes. She saw slight improvements after starting a Paleo diet and began researching nutrient deficiencies in those with the disease. After identifying 31 nutrients and the foods which provide them, she began rapidly improving. Astonished colleagues and her Chief of Staff at the Iowa City VA Health Care encouraged her to begin clinical trials which are currently underway. 
Dr. Wahls also shared her research with over 100 local clinicians from a variety of disciplines including medical doctors, naturopathic doctors, fitness professionals, and mental health practitioners. Guests also enjoyed an exceptional "Wahls Approved" gluten and dairy-free buffet created by Eisenhower Medical Center's nutritional services team.
"I was delighted with my visit to Palm Springs," Wahls said. "The public response to attend my lecture was humbling, and I was honored with the opportunity to share our preliminary research data with clinical professionals from so many different disciplines.  
Showing the amazing videos that demonstrate the change in mobility experienced by our study subjects was impactful and well-received."  
Erin Davis, who was diagnosed with MS in 2012 and inspired by Wahls to begin the Paleo diet last year, was honored to meet the speaker. "I'm grateful to have come across Dr. Wahls' information (in 2012) because she has changed my outlook, not only with food but with MS, and my future in continuing to control MS naturally. It was a great  honor to meet her." 
Wahls asked Davis to share her experience at the clinicians' luncheon. "I enjoyed speaking about my experience with MS and the Paleo diet to our local clinicians in hopes they can see that the Paleo Diet does help and perhaps will begin promoting the diet to their patients, friends, and family," she added.
Many exciting developments stemmed from Wahls' presentations. A member of Act for MS was accepted into Wahls' clinical trials in Iowa; discussions are underway to offer cooking classes based on The Wahls Protocol™ for those with MS and other autoimmune diseases; and Act for MS's Pizza and Bingo Night has officially been changed to Salad and Bingo Night.
"I very much enjoyed the opportunity to speak with the medical/clinical staff about diet and lifestyle, including conversations on how to incorporate The Wahls Protocol™ into their clinical practices," adds Wahls. "We are collectively changing the world, teaching the public and clinicians that diet and lifestyle can be incredibly powerful in restoring health!" 
"It is a wonderful journey and I feel very blessed," she concludes. Seeing the results of this partnership, we couldn't agree more.
Special thanks to Jeralyn Brossfield, MD, and Mary Strother, RN, of the Eisenhower Wellness Institute; Anne Pope, Margot Nelligan and the team at Act for MS; and Glenna Burke of Barnes & Noble Palm Desert. A very special thanks to Lindsay Gordon and Will Scarlett of Penguin Publishing.
Photos by Robert Brossfield