Everyone loves quesadilla and it can be a healthy snack! Enjoy this recipe (with even healthier replacement options) from Growers Market and Stick Figure Salsa.
What you'll need:
Cooked or canned black beans, drained and rinsed
One avocado, peeled and thinly sliced (you'll need a few slices per person)
½ cup grated low fat cheese Monterey Jack or low fat Mexican shredded cheese mix
*Dairy Free option: Daiya Cheddar Style Shreds (melts well!)
¼ cup Stick Figure Salsa per person, medium or spicy depending on desired heat level, plus extra for dipping
Whole wheat tortillas, 2 per quesadilla
*Gluten-free option: use Mission Corn Tortillas
Whipped Greek yogurt (our low fat sour cream)
Chopped cilantro for garnish
Heat a griddle or nonstick frying pan over low-medium heat. Do not oil the pan.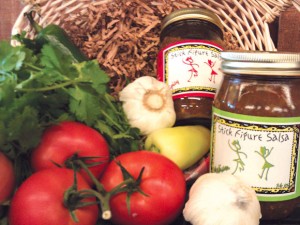 On your counter, assemble the quesadillas as follows:
Place one tortilla on the counter. Sprinkle ¼ cup grated cheese. Arrange small pieces of chicken or vegetables (if using), sprinkle a handful of black beans here and there. Add slices of avocado. Sprinkle the salsa over the top, so there will be salsa in each bite. Top with the remaining ¼ cup of cheese, then add a second tortilla. Press down gently so your quesadilla is the same thickness all over.
Carefully set the quesadilla on the griddle or fry pan. Cook 2-3 minutes, until the bottom layer of cheese has melted and the tortilla is slightly brown. Using a large spatula, flip the quesadilla and cook another 2-3 minutes until the other layer of cheese is melted as well and tortilla is again slightly brown.
Remove the quesadilla to a large cutting board, and let it sit for 2-3 minutes so the cheese has a chance to gel everything together. Using a large knife, cut the tortilla into wedges. Sprinkle with chopped cilantro and a dollop of sour cream or yogurt and serve with additional Stick Figure Salsa for dipping.