My husband and I both grew up with warm memories of our Italian roots and most of them revolved around food. Even though we now enjoy a low-carb, gluten-free lifestyle, we have found many satisfying substitutes to keep those traditions alive. Experimenting is half the fun; eating is the other!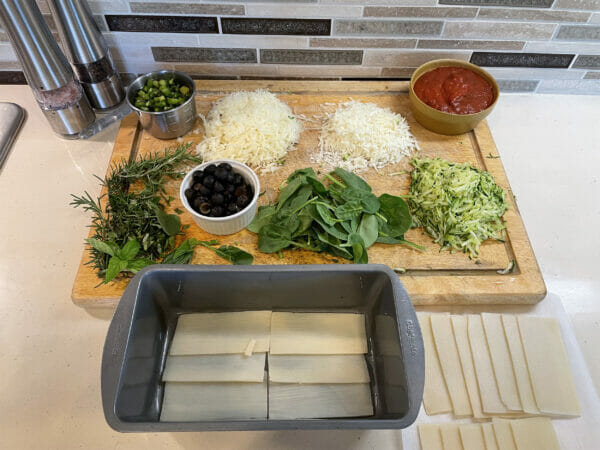 When it comes to pasta, one of my favorites is Palmini made from one ingredient: hearts of palm. High in fiber with only four carbs per serving, it is filling and flavorful when paired with your favorite sauce. A package of Palmini lasagna makes a perfect meal for two, and I am delighted to share my recipe (the grandkids call me Lolo, so she's the cook).
The Palmini sheets are smaller than lasagna pasta, but you build your masterpiece just the same. Add your favorite ingredients or whatever vegetables you have in the fridge. Just be sure to slice and dice as finer ingredients create a better balance and make for easier eating. This recipe is also cow's milk and meat-free.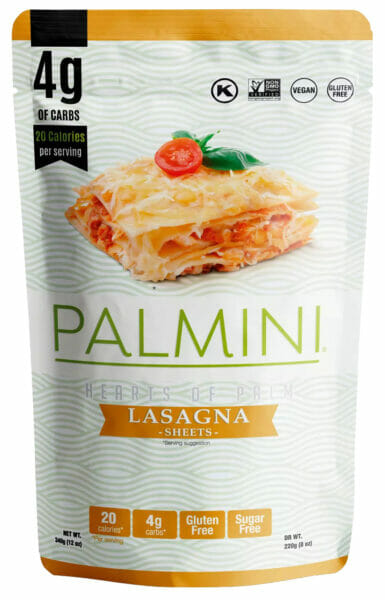 Serves: 2
Total carbs per serving: 6 in pasta
(plus your select marinara sauce)
Prep: 20 minutes
Cook: 25 minutes
Ingredients:
2 cups grated manchego cheese (or your preferred cheese)
2 cups of grated Pecorino Romano cheese (or parmesan)
1 grated zucchini
½ cup finely diced onion
1 cup chopped mushrooms
2 cups of fresh spinach
1 cup of sliced olives
1½ cups of no sugar added marinara pasta sauce (I use Organicville from Ralph's for +13 carbs)
Finely chopped fresh Italian herbs to taste (i.e. oregano, basil, rosemary)
Ground pepper to taste (the cheese and sauce provide enough salt)
Directions:
Preheat oven to 400 F
Spray a 9" x 5" rectangular bread pan with avocado oil or other natural non-stick spray
Prep ingredients and arrange them for easy access (see photo left)
Rinse Palmini noodles in colander, dry and layout for easy access
Place 6 noodles on the bottom of the pan horizontally leaving a space in the middle (this is where you will cut it in two for (2) 4.5" x 5" size servings)
Cover with a thin layer of marinara sauce, then manchego and herbs
Place a layer of each veggie on top of cheese (like building a pizza)
Place a second layer of 6 noodles horizontally with space in middle
Cover with thin layer of marinara sauce, Pecorino Romano and herbs; add pepper to taste
Layer in remaining veggies and top with manchego
Place final layer of 6 noodles and top with thin layer of sauce and remaining Pecorino Romano
Place in oven and cook for 25 minutes
Remove and let sit for 5 minutes
Using a wide spatula, cut the lasagna vertically down the middle and scoop out each of the two pieces to individually plate. Top with garnish of basil or rosemary and serve immediately. Manga tutto!