Is there anything better to get us into the holiday mood than the nostalgic smells of the season? Most popular holiday dishes offer you that wonderful aroma, but are also heavy on sugar and fat. Many of us would like to commit to healthier family traditions this year, so make it an easy transition by adding this spiced holiday fruit bake to your menu. This warm and flavorful dish is a crowd pleaser and quite versatile. The fruit bake is delicious enough to act as a standalone dessert, or you can serve it with brunch as a topping over waffles, yogurt, or oatmeal. This dish would also be a wonderful upgrade from the traditional cranberry side dish.
Ingredients:
Gather 4-5 fruits of your choice (fresh is best).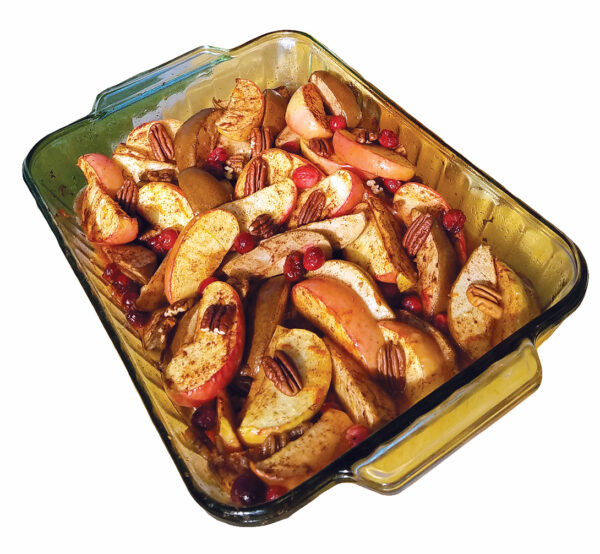 A great combination: *
3 apples – cored and sliced
3 pears – cored and sliced
1-½ cups fresh cranberries
1 orange – juiced
½ tablespoon orange zest
½ lemon – juiced
⅓ cup maple syrup or sweetener of choice (coconut sugar works well, too)
1 teaspoon cinnamon + extra for serving (Ceylon cinnamon is ideal)
¼ teaspoon nutmeg
2 tablespoons coconut oil
Optional: ⅓ cup chopped nuts of choice (pecans, walnuts, etc.)
*green grapes also work well, in addition to the above
Instructions:
Preheat the oven to 300 F. Grease a 9×12 baking dish with coconut oil spray or oil of choice, set aside. Combine apples and pears in a large mixing bowl. Add lemon juice, cinnamon and nutmeg. Toss well to coat the fruit with the juice and spices. Transfer the fruits to your prepared baking dish and add in cranberries, mix again.
In another mixing bowl, whisk fresh orange juice, maple syrup (or preferred sweetener), orange zest, and coconut oil into a dressing. Add nuts, if desired. Pour the dressing over the fruit and toss well to combine.
Bake in the preheated oven for one hour. Let cool for a while at room temperature. Sprinkle with additional cinnamon, serve warm and enjoy.
Tiffany is a certified nutrition consultant and functional diagnostic nutrition practitioner and can be reached at (760) 285.1221. For more information, visit www.tiffanydalton.com. Her holiday recipe is adapted from www.cottercrunch.com.