This past June, Desert Regional Medical Center's (DRMC) Graduate Medical Education (GME) program graduated 19 resident physicians including the first in their seven-year neurological surgery program. The class included eight in emergency medicine, eight in family medicine, three in neurological surgery and one in emergency ultrasound.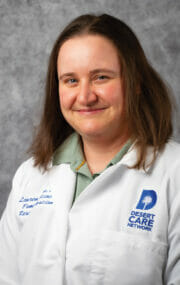 DRMC's residency program initially launched in response to the local community's need for doctors – especially in primary care – and this year, four of their family medicine doctors are staying to practice locally including Lauren Dallas, DO; Yea Ping Lin, MD; Shaudee Parvinjah, MD and Kimiko Tsuchiya, DO.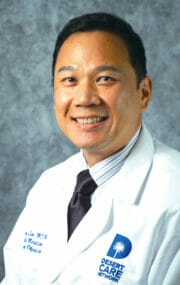 Since its inception in 2015, the program has graduated 126 residents of which 29 have stayed in the community to practice. Additionally, there are 33 family medicine residents still in training with more added each year.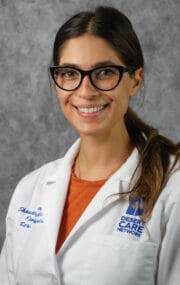 Program grows with the community
In 2020, DRMC increased the number of family resident positions from eight to 10 with subsequent growth on the horizon.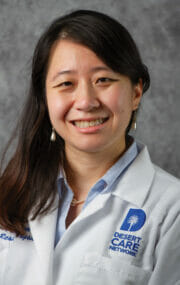 "We continue to expand and focus on residency programs that meet the needs of the community along with those for which we have plenty of resources [faculty] to train them," says Chief Academic Officer Gemma Kim, MD, FAAF. She added that comprehensive oversight increases their likelihood of remaining in the area after graduation. DRMC is currently awaiting approval of a general surgery residency program and are working on internal medicine and further expansion of family medicine. "The addition of general surgery will greatly expand our services along with the trauma care level we can provide the community," says Dr. Kim.
Bringing care to those in need
DRMC's street medicine program offers opportunity to strengthen the experience for both residents and faculty. Teams with backpacks full of supplies go to Our Lady of Guadalupe Church in Palm Springs and the Galilee Center in Mecca where they serve those in need including the homeless, farm workers and refugees. Participation is voluntary, yet all take part.
Graduate Lauren Dallas, DO considers the variety of patients she treats very rewarding. "I see everything from airline pilots to the homeless community," she says, calling the opportunity to go through people's medical journey alongside them "like a kind of friendship."
Residents also continue to work with Coachella Valley Volunteers in Medicine, the valley's only free medical clinic, and will offer strong support to their new Palm Springs location. A recent grant also enabled the purchase of a medical van to serve broader areas and offer expanded services, including school physicals and accessing elderly who are unable to get to appointments. Kim says they hope to have the vehicle operating this October.
Neurosurgery resident rises above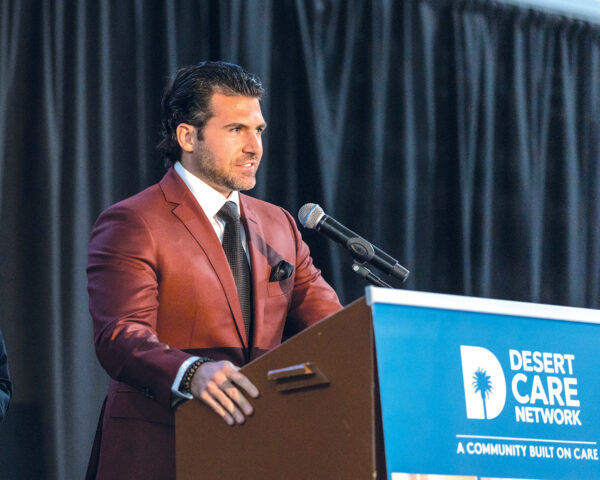 This year's class included the first graduates from the seven-year neurological surgery residency program: Stephen Albano, DO, Brian Fiani, DO and Alison Ho, DO. The DRMC team has provided these bright young minds with a strong foundation for success.
Dr. Fiani, who was chief neurosurgery resident and president of the resident advisory committee while in the program, recently received the prestigious Resident Achievement Award by the American College of Osteopathic Surgeons (ACOS). The award is given to the best graduating resident in any surgical specialty in the country and is the highest honor an osteopathic surgical resident can receive. Fiani is currently pursuing his fellowship in minimally invasive spine surgery at the world's top ranked neurosurgery hospital (Newsweek 2022), Weill Cornell Medicine New York-Presbyterian Hospital, where he is also an assistant attending neurosurgeon instructor. 
"My neurosurgery residency at DRMC has been a very meaningful experience," said Fiani. "The community was welcoming since our arrival in 2015 and it was a pleasure to care for the members of the entire Coachella Valley and beyond."
There are 10 additional neurosurgery residents still in training in this very competitive program.
"We are proud to watch another successful graduation class complete their training at Desert Regional," says Michele Finney, CEO for Desert Care Network and Desert Regional Medical Center, "and we are excited that several will remain in our area to practice medicine – fulfilling the mission we set out to achieve when we launched the residency program."
For more information, visit www.DesertCareNetwork.com.