It is hard to imagine the breadth of scenarios medical staff face each day they come to work. To be confidently trained for as many of those scenarios as possible is the goal of Eisenhower Health's new simulation lab, the John Stauffer Center for Innovation in Learning.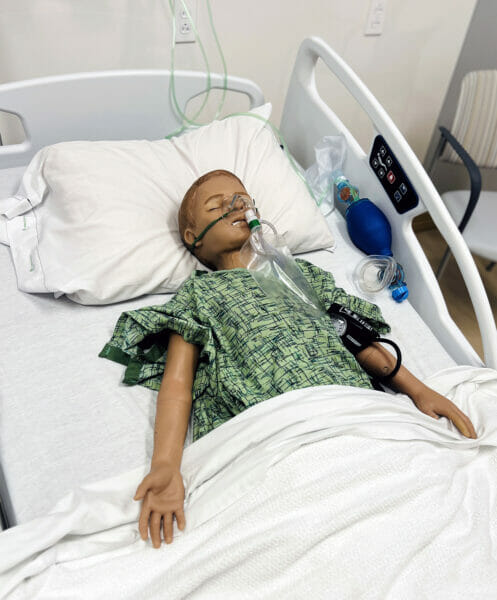 With generous funding from the John Stauffer Charitable Trust and The Thomas and Elizabeth Grainger Family, and spearheaded by Medical Director Solomon Sebt, MD, the newly launched center is already training medical residents and staffing up to provide learning opportunities for all medical professionals.
Inspired by Dr. Sebt's collaborations with Loma Linda University, UC Irvine Medical Center, Cedar Sinai, Brooklyn and Brookdale Hospitals back east and Children's Hospital Los Angeles, the highly sophisticated center includes ICU, OBGYN/NICU, medical/surgical and emergency rooms, each fully equipped with the world's most advanced patient simulator manikins by Gaumard®.
"The manikins can make voice commands, perform functions that simulate real-life emergent medical conditions, sweat, bleed, cry, urinate, and use artificial intelligence to converse with learners in real-time using genuine responses," says Sebt, creating high-risk procedures in a low-risk environment.
The center also creates opportunity for teaching collaborations such as Eisenhower's recent inclusion in the Pediatric Emergency Care Applied Research Network (PECARN) — the first federally-funded multi-institutional network for research in pediatric emergency medicine in the United States. "Being a part of PECARN means that the standard of pediatric care in our community will be elevated as we are collaborating with leading academic pediatric centers who will come in to train us and bring us to their facilities as well."
The work is certainly a passion project for Sebt who has envisioned this goal since he was a resident. For years, doctors have received much of their training in real-life scenarios and that can be challenging, especially when people's lives are at stake, he says. "For ER doctors, it's not just clocking in and out, there is a lot of emotional investment that goes with the job. We share a little piece of every family member in those vulnerable times when they need us most, and if you don't have an answer for them, it's hard not to feel like you let everyone down."
"Those moments will happen, especially for residents, but if we can train better, harder and with the most realistic situations in advance of them really happening, then we can minimize those times and work towards the best possible outcomes," concludes Sebt. "That is the goal of simulation."
For more information visit www.eisenhowerhealth.org/news.