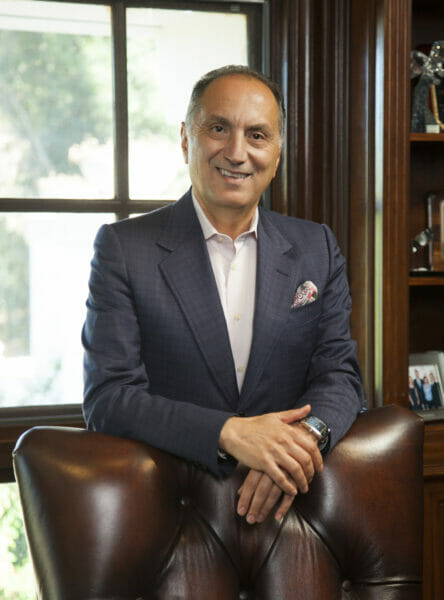 David Delrahim has found his life's purpose. The successful businessman and CEO of Platinum Energy is prioritizing self-care over spreadsheets, creating a model community focused on well-being in an effort to deter disease and maximize human vitality.
His vision will launch in Indian Wells where Delrahim has purchased the 15-acre lot on Highway 111 west of Miles Avenue. Known initially as the Miles Crossing project, the planned multi-use development will include condos and a premier hotel. At the heart of the complex is Cocün, a full-service wellness center featuring a wide range of integrative health and wellness services to make personal wellness lifestyle choices easy and accessible. The center will be open to the public and include learning and community spaces. Planning and permitting are underway, and a ceremony to bless the land has already taken place.
The goal is to create awareness about evidence-based wellness therapies and empower the practice of everyday wellness to unite community. "I believe that at the core of all we do is human connection, and that leads us to community," says Delrahim in an interview with Desert Health, "and that in itself is very healing."
Cocün's offerings will be powerful and impactful, he adds. Elements and ideas will spawn from his Cocün Wellness Institute planned as a pioneering enterprise dedicated to advancing the understanding and practical application of holistic health and wellbeing through three key pillars: pioneering thought leadership, innovative research, and global and local impact and outreach. According to his team, many leading minds have connected with Delrahim, sharing his interest and belief that the problems impeding human health can be solved. "We are not leaving any stone unturned," he shared. "It's a commitment and responsibility that we are honored to accept."
Delrahim's journey of discovery began 16 years ago with the loss of multiple loved ones to cancer. Deep thought on why mankind endures illness inspired his need to find answers, and he began passionately researching the topic. "It became a mission for me; the deeper I got, the more interesting it became."
He found much fragmentation in the research and service delivery. Delrahim made a wish that one day he would have the means to bring it all together, so others could find answers on their wellness journeys. His hope is that people from all walks of life will come to Cocün to learn, and to be guided and supported.
Starting with those in his care
Delrahim has already created a successful model within his own office creating a life-enhancing health and wellness movement for his corporate employees. Group fitness and mindfulness classes take place during paid business hours at no cost to his team, and healthy meals and snacks are provided.
"He gave us the tools and permission to put ourselves first," said manager Lisa in a video about the program. Team member Jose added, "He is the best employer I have ever had, and I am so blessed."
"As a businessman, when I sell commodities, it is a trade. But there is no trade for humankind and humans need to come first," states Delrahim. "Work is a continuation of home, and home is a continuation of work, and you cannot segregate the two. Although you're moving from one place to another, you are taking all of your 'stuff' with you." He advises other leaders to start with those in their care enhancing access to physical and mental resources. "They start living healthier and fuller lives and will share that with family and friends." The positive results radiate out from there.
"More than any other time that I remember, people are disconnected. It is that love and care that creates connectivity and changes perspective, and you cannot put a price on that." He says his love of people drives his purpose and he has created a community within his corporate workplace where his retention rate is 100%.
Finding Indian Wells
According to Delrahim, who was looking for land in other parts of the valley, this spot was the right place, at the right time, with the right mindset. "I find being a part of Indian Wells nothing short of a blessing. This land was waiting for us. I am humbled, our team is humbled, and we are coming to Indian Wells to be an inclusive part of the entire community."
"This is such an extraordinary project, and we are very excited about it," says Indian Wells Mayor Donna Griffith. "I have lived here my entire life and have been waiting for something really special to come to that property, and David's vision is just that."
Delrahim hopes this will be a multi-generational undertaking for him and his family. "The journey of how it came to be is truly magical, and it is my hope that my kids and grandkids will one day take over."
He feels that Cocün is a vessel through which to share his life experience in an effort to support the greater good. "It is one thing to learn something, but it is another to live it. When you do, you often feel that it is so profound, you have to share it with the world." He hopes that it will be a model for future facilities and that one day there will be a Cocün in every community.
"Cocün will embrace the transformation we are all seeking, to raise from earth's gravity to our highest possible vibration, just as a caterpillar transforms into a butterfly." Their heart-centered mantra, he concludes, will be "stay in love, because once you are in the state of love, you see everything through the lens of love."
For updates on Cocün Wellness Center, visit www.cocun.com. Lauren Del Sarto is founder/publisher of Desert Health and can be reached at [email protected].