As you may have read on page three, our favorite former NBC anchor, columnist and friend, Janet Zappala, has moved back to her hometown of Los Angeles. However, she is still working to spread the word on healthy living through her new Eatthis.tv show, "Good Food Matters with Janet Zappala," which will air on Amazon Fire, Roku, DBandATelevision.tv and other streaming platforms starting in July.
The show features special guests in the kitchen with Janet cooking up good food, laughter and healthy hints. In June, I was honored to be a guest. We themed our episode after this column, "Eat, Drink & Be Healthy," showcasing some of the savory substitutes we've featured here. We had a great time!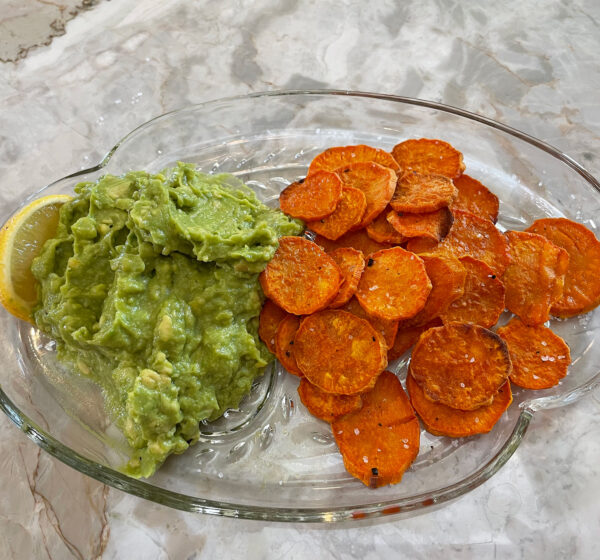 Proud of our similar heritage, we decided the meal had to be Italian and started with a favorite of Janet's from her cookbook, My Italian Kitchen, Homestyle Recipes Made Lighter & Healthier. It was an Italian avocado spread her mother used to make, which I had never had. It was like a Tuscan guacamole and was exceptionally paired with homemade sweet potato chips and Siete cassava chips (January/February 2021) – both healthier alternatives to corn.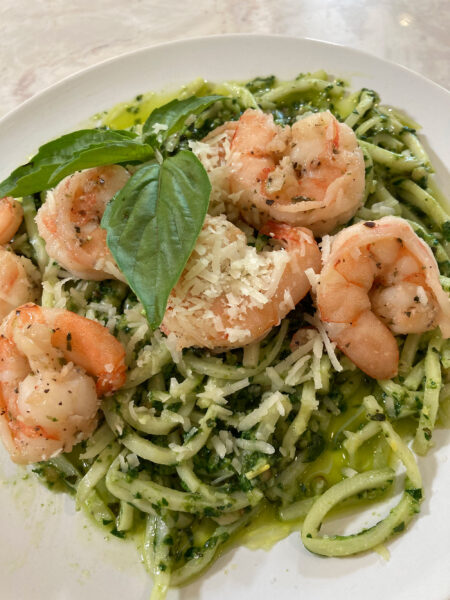 Our main course had to be pasta! Starting with Palmini hearts of palm pasta (May/June 2021) and fresh basil from my garden, Janet whipped up a beautiful pesto sauce, adding spinach for even more nutrition. I sautéed some wild-caught shrimp seasoned with garlic, salt and pepper to place on top, and voila! We had a hearty, easy-to-make and delicious low-carb pasta dish (the camera crew couldn't believe it was made from veggies).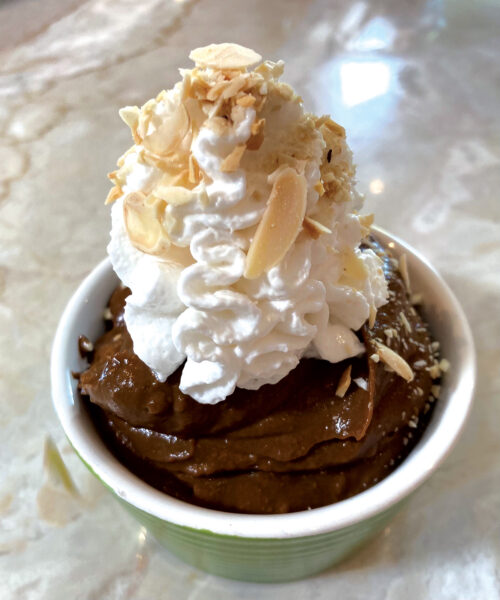 We finished the meal with a sugar-free chocolate pudding made from avocados, coconut oil and stevia (March/April 2020). Topped with coconut whipping cream and a sprinkle of nuts, it was the perfect ending to our grain-, gluten- and guilt-free meal.
"When it comes to food, my passion is that it's healthy, tastes great, and is easy to make," Janet says. "After creating and presenting "Your Health Matters" for a few years, I know that people really do appreciate those who help them get and stay on a healthy path. As a certified nutritional consultant, I feel it's my responsibility to share good, healthful information to as many people as I can."
Some of Janet's other shows include musicians, family members, comfort foods, cooking for bone health and the anti-inflammatory diet featuring our valley's own integrative doc Joseph Scherger, MD.
I am very grateful Janet invited me to join her and am proud of all she continues to do to promote healthy lifestyles. She is one of the hardest-working people I know and deserves the beautiful new life she is creating for herself. Sponsors who are helping to make her dream a reality include Lifesource Water Systems and TheOpenDoorKitchen.com, which offers healthy cooking utensil covers for outdoor barbecuing and cookouts.
"As long as people are hungry for it, I'll be serving up healthy recipes along with fun lifestyle tips, and of course, lots of laughs. It's all about having fun and staying healthy!"
For recipes, visit www.JanetZappala.com. For updates on showtimes and air dates, follow Janet on Facebook @JanetZappalaGoodFoodMatters.