Parkinson's is often considered a hopeless disease. There is currently no cure or means of stopping the progression of the condition, which robs its patients of motor and cognitive skills, as well as their dignity.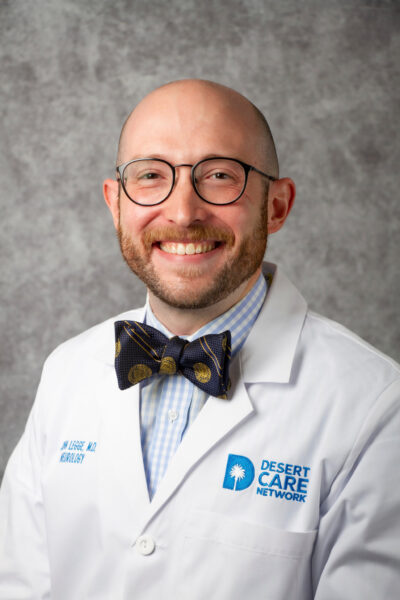 But according to Desert Care Network's (DCN) board-certified neurologist John Legge, MD, today, there is much to be hopeful about. When patients, families, doctors and community groups work together, progression can slow, and quality of life can be greatly improved.
Dr. Legge, a movement disorder specialist, recently joined the DCN team from UCSD in San Diego. He is a patient advocate with a passion for what he calls "The Big 3:" essential tremors, dystonia and especially Parkinson's.
"I really think Parkinson's is an important area, and there is a lot of exciting work going on in the field, so I am particularly passionate about that," he states. "I realize there is a shortage of movement disorder specialists in the desert, especially considering the number of Parkinson's cases we have here."
Legge's interest in serving seniors grew from taking care of his grandmother with Alzheimer's. "Being a caregiver yourself, you learn a lot about that side of the disease process." He is a proponent for whole-person care and a team approach to meet patient needs. "Treatment of Parkinson's needs to be a multidisciplinary team working closely with the family. This care is a journey with a group, and I really stress community involvement." He emphasizes the importance of diet and lifestyle, adding that much of the early research for Parkinson's has been extrapolated from what helps Alzheimer's patients, pointing to a Mediterranean diet high in healthy fats and low in carbs.
Exercise is also a key component. "If you are active, whether it's Tai Chi, cycling, swimming, yoga or even boxing, you are calling on the motor circuit in your brain to work, and that is what is being attacked in Parkinson's. When patients exercise and take their medications, their medicines work better, and because they are exercising, they progress slower and need less medication in moving forward. They get a current and future benefit from it, and I really preach that."
He notes that exercise is the only thing known to slow disease progression. "So, it really is 'use it or lose it.' Patients will do much better, and it is a critical part of treatment."
Socialization also plays a role – whether from a local senior center, group exercise class or singing program. "Anything that works the voice and mind is a tool in the toolbox for socialization."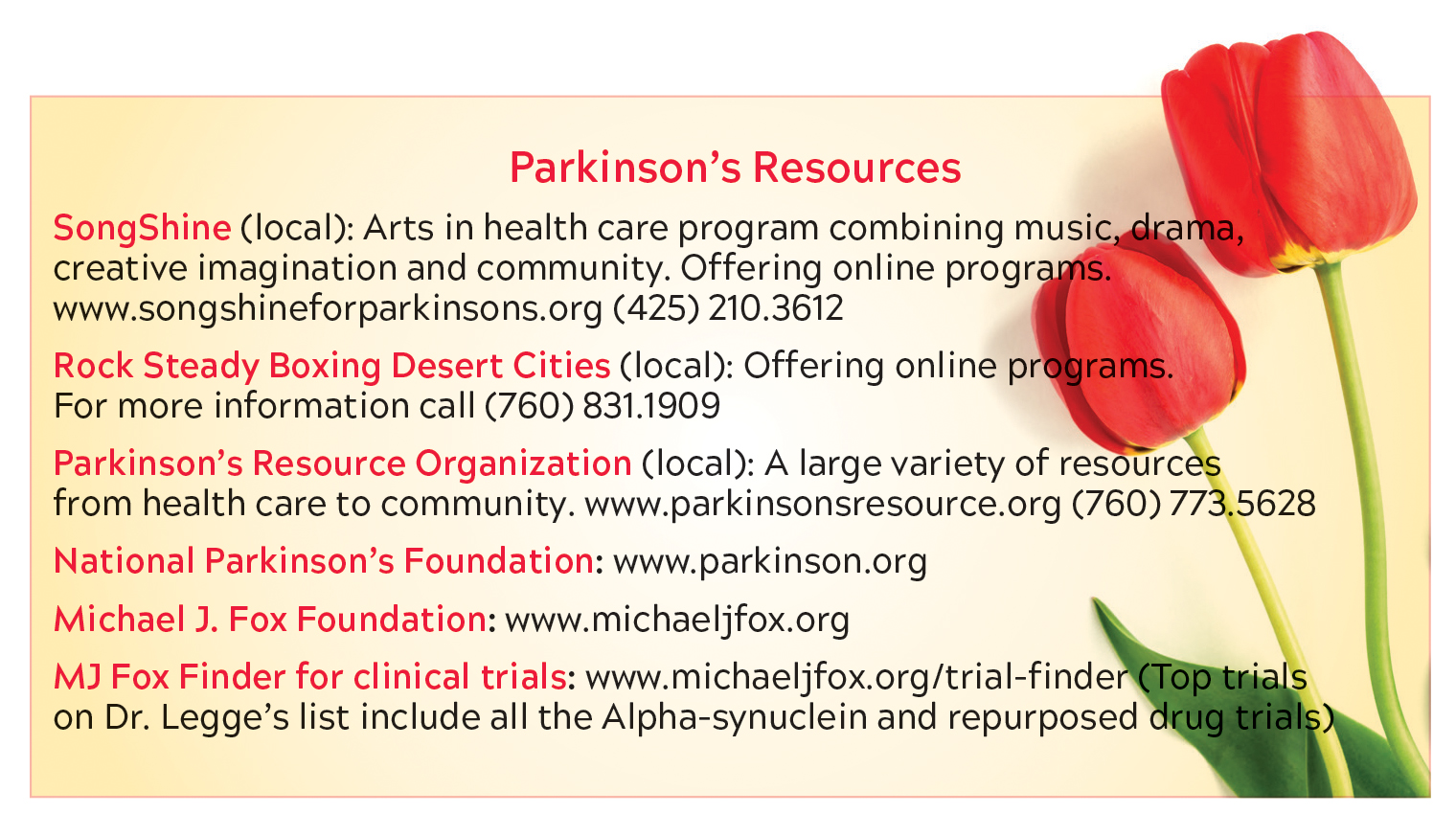 As for medical care, a patient's team may include physical therapists, occupational therapists to provide special equipment, speech pathologists, a neuropsychologist to determine behavior and cognitive changes, and sometimes a neurosurgeon, in addition to a neurologist and primary care physician. "I am proud to be a part of the team here at Desert Care Network. With three hospitals, we cover all areas of need and have numerous professionals with whom to collaborate."
Legge also enjoys teaching the next generation of doctors and was drawn to the fact that Desert Regional Medical Center has an ACGME accredited neurology residency program.
"There is medical literature that demonstrates that patients that are treated at an academic center have better outcomes than those who go to non-academic centers. I am a firm believer that with more eyes on a case and more information and ideas discussed amongst a group, people receive better care. It's a fun environment to be around and very rewarding."
As current treatment options are limited, Legge also encourages patients to consider clinical trials. He states that Parkinson's research primarily focuses on three categories: motor (physical symptoms), non-motor (primarily anxiety and bodily functions) and disease modification.
"Until we can really understand what is causing this disease, it is challenging to find an effective therapy. So, some of the trials are diagnostic; patients are sacrificing their time understanding that they personally will not receive anything but the satisfaction of knowing they are helping the next generation of those affected. This database of work will eventually crack the code." Within a 250-mile radius of Palm Springs, he has identified over 100 clinical trial sites for Parkinson's. "Clinical trials are not just for those late in the disease. They are good to offer at all points of the trajectory."
"I am hopeful about this research and the trajectory of where we are heading," he adds. "So, I think there is good reason to be hopeful and to be optimistic as well. This is 2020, and technology is getting better and better every day."
His advice to family members is valuable. "Understand you are not alone on your journey in taking care of your loved one. You can find a team to help you. And, in order to be the best for your loved one, you need to take care of yourself. The disease will change you, and it is not a positive thing to do it alone. Taking care of yourself will help you be there for others. And we all have to do it as a team."
For more information, visit www.DesertCareDocs.com or call (844) 349.7109.