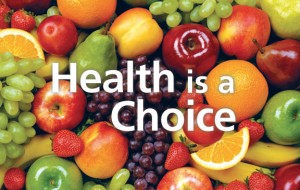 Health Is A Choice showcases individuals who have significantly changed their life and/or the lives of others by making health a priority. We are pleased to present Richard Long of Rancho Mirage who was nominated for this feature and is an inspiration to us all. 
Richard Long is 98 years young. He is a handsome man with an infectious smile and a twinkle in his eye that hints at a life well lived. He was a pilot in World War II and flew planes most of his life. He rode motorcycles into his 90's, and plays tennis to this day.
When asked how he achieved his longevity, he honestly doesn't know. "If they gave awards for the most cocktails, I would have won that." But spending time with Mr. Long brings his secrets to life. He is one of the most optimistic people I have ever met with a 'can do' attitude that keeps him active and spry. He works out with a trainer six days a week (only because his trainer needs a day off) and never lets obstacles stand in his way.
"He is very disciplined," says Sylvia, his wife of thirty years. "He never changes his routine and always keeps going. We have trouble keeping up with him!" Sylvia is part of a close circle of family, friends and caretakers, who love this man for obvious reasons. The house is filled with warmth, laughter and love.
Long did make it out of the hospital and shortly thereafter told his manager to run the company while he packed his clubs and took off to play every golf course in Europe he could find. He was single at the time after losing his wife of 20 years and describes these bachelor years as "the best time in his life." With his charm and good looks, it is obvious that Long was popular with the ladies, which Sylvia confirms with a smile, as she was the controller of his company for 10 of those bachelor years.
Long brings you back to Palm Spring's golden years when he speaks of his friends Desi Arnaz and Hoagy Carmichael, and his golf companions at the club, Bing Crosby and Bob Hope. Those days of waking up late and staying out later lasted for many, many years. "But 30 years ago, my new bride told me she really didn't like going out so often. One night she said she needed to go home for her coat and we stayed in. I started staying home and came to like it."
Sylvia tells a bit of a different story. "We went out every single night and it was fun. We danced and Richard would often sing with the band. But I grew tired and it was affecting my health. It took me about a year to convince him that staying home wasn't all that bad." He cut down on drinking, but maintained his social circle and daily activities.
He lives in Thunderbird Heights and plays gin rummy with his friends at the club almost daily, excluding the two days a week he goes to 'bet on the horses.' These are activities he has enjoyed his entire life and continues to do so.
When asked about his diet, Long shares another secret to his vibrancy. In the 70's, he started visiting the Pritikin Longevity Center returning year after year. Pritikin's one- and two-week lifestyle-change programs focus on daily exercise and an eating plan based on natural, whole foods like fruits, vegetables, whole grains, seafood, and limited lean meat. Scientists from Harvard, Stanford, and UCLA have lauded Pritikin's effectiveness at improving people's health.
These results certainly stuck with Long. "On Tuesdays, the ladies took over the golf course so that was my day to cook." He would make a week's worth of meals that he put in the freezer. He maintained these healthy habits and today eats small high protein meals throughout the day with fruit and some vegetables ("who likes broccoli?") This focus on healthy eating has obviously helped Long maintain his mental clarity and physical condition.
"He is an incredible man," says his trainer, Mike Rojas of Palm Desert. "When I first met Mr. Long, he had trouble lifting his left arm. Now he is lifting 10 pounds doing 12 to 15 reps! His motivation is so inspiring. He never gives up." Rojas gives a lot of credit to his wonderful support system. "When I go there, I always leave feeling really good. There is just something about the positive environment that stays with you."
"I was in great physical condition and playing golf every day up until my 92nd birthday" when an unfortunate medical error in a routine appendectomy left Long paralyzed in his right leg. "Physical therapy and training has brought me back to being mobile. One day I saw some guys on television playing tennis in wheel chairs and I said 'that is for me.'" He got his sport chair and says he has finally perfected his backhand again. It struck me that the photo of him on a motorcycle was at 95… "Oh, I could still ride a bike."
Richard Long has built a beautiful life for himself that he shares with a close group of family and friends. It's a low stress life–not because he hasn't had stress (he still has his company) – but because he made the conscious decision to enjoy each and every day. His optimism, combined with his discipline to maintain healthy eating habits and partake in physical and social activities, have kept him young at heart, in mind and in body.
I am so honored to have met this inspirational man. And everyone looks forward to his 100th birthday celebration next year as his grand entrance is already planned. He will land his glider on the first fairway of the Thunderbird golf course and step out to take a well-deserved bow.