Indie Lee was like many of us, an executive woman who worked hard, enjoyed life and paid great attention to what she put in her body. A native New Yorker, she had a large greenhouse in her back yard filled with organic herbs and vegetables and led a health-conscious existence.
Then, in 2008, a string of painful headaches and a peculiar change in vision led to a shocking, life-changing diagnosis – a rapidly growing brain tumor and six months to live. More shocking than the diagnosis was the likely cause – environmental toxins which are commonly absorbed through the body's largest organ, our skin.
With a newfound determination, she made it through chemo and a risky surgery with a mission to understand the toxins she was using externally. Her research yielded an abundance of natural ingredients that work synergistically with the body, and sharing her knowledge became her life's passion. In 2010, the Indie Lee all-natural collection of skin care was born.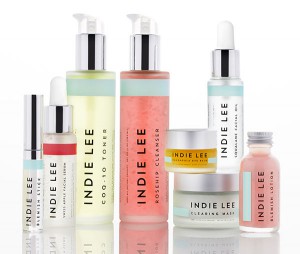 "For me, Indie Lee is more than just a product line," she says. "My true passion is to share my knowledge and story so that others can make the right beauty choices for themselves without sacrificing the things they love."
In October, Lee came to the desert as Saks Fifth Avenue's special guest at a hosted event for Women Leaders Forum of the Coachella Valley. Lee inspired the group of over 75 to rethink their beauty routine to become "their healthiest self, flawlessly."
Combining powerful, natural ingredients with modern design, her impressive line of products includes balms, cleansers, oils, scrubs, and moisturizers which "deliver an eco-chic solution to your daily routine."
The Indie Lee collection combines familiar components like strawberry seed oil, lemon balm, and coconut oil with innovative powerhouses such as Swiss apple stem cells and CoQ-10.
Her olive-derived Squalane Facial Oil which promotes skin elasticity, diminishes age spots, and boosts cell regeneration and oxygenation, was an Editor's Pick in People Magazine's special wellness issue, and VOGUE applauded her hydrating body balm as a "miracle treatment for summer."
"We all take steps to be healthy, and Indie's life experiences certainly make you think," said WLF president Deborah Tryon. "We were honored to meet her and grateful to Saks for providing this opportunity to WLF here in the desert."
Indie Lee products are available at Saks Fifth Avenue at The Gardens El Paseo and online at IndieLee.com.