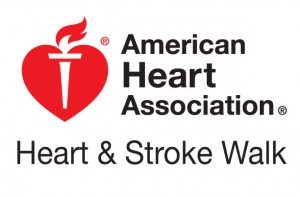 Make Saturday, November 2 the day you take the first step toward improving your heart health by participating in the Coachella Valley Heart and Stroke Walk. The annual event, which raises funds to fight heart disease and stroke, America's No. 1 and No. 4 killers, begins at 7 a.m at Palm Desert's Civic Center Park.
The non-competitive, three-mile walk is open to everyone and includes teams from local companies, along with friends and family members of all ages.
"Brisk walking for as little as 30 minutes a day has proven health benefits, such as providing increased energy and circulation and reducing risk of heart disease," said Keith Goff, American Heart Association volunteer and Coachella Valley Division Chair. "The Heart Walk is designed to help participants understand this critical message, join with others, and generate a renewed commitment to heart-healthy living through walking."
A leading risk factor for heart attack and stroke is lack of physical activity. Research has also found that individuals may gain two hours of life expectancy for every one hour of regular, vigorous exercise they do.
Informational displays will also be available and nursing students from CSUSB Palm Desert Campus and College of the Desert will be providing blood pressure and heart rate checks. Learn about warning signs for heart attacks, recommended health screenings, good vs. bad cholesterol, and stroke and other cardiovascular conditions.
"We want people to know that it is never too late to begin making heart healthy decisions," said Goff.  "Our objective is that the Coachella Valley Heart and Stroke Walk will help jump start a culture of physical activity among participants and increase passion for supporting the lifesaving work of the American Heart Association."
Local support is the key to success for this annual event and starts with the many volunteers who help organize and set up the event. We also want to recognize and thank the local companies and people who raise funds for the research needed to continue the battle against heart disease and stroke. Among local businesses making a significant contribution of volunteers and donations are CareFusion, Rabobank, Desert Cardiology Center, Eisenhower Medical Center, and The Fountains At The Carlotta, to name a few.
The American Heart Association is the largest voluntary health organization working to prevent, treat and defeat heart disease, stroke and other cardiovascular diseases. These diseases, the Nation's No.1 and No.4 killers, claim more than 813,804 American lives a year. "Thanks to all our walkers, donors and volunteers who have accepted the challenge to help fight heart disease and stroke. We cannot achieve our mission without each one of you," stressed American Heart Association Coachella Valley Executive Director Cindy Stillman.
The Coachella Valley Heart and Stroke Walk is part of Coachella Valley's MyHeart.MyLife. platform. MyHeart.MyLife. is presented nationally by Subway and Jenny Craig. For more information call (775) 772-4443 or visit www.cvheartwalk.org.