We love local! So when our friends at The Body Deli announced that they were launching the Palm Springs Spa Collection, we had to help spread the word. Products like these, inspired by the Palm Springs lifestyle and made with local, organic ingredients like grapefruit and dates, promote the best our Valley has to offer to the rest of the world.
Building on the success of their other organic skin care products, The Body Deli co-founders and "cosmetic chefs," David Parker and Margaret Skarin, developed a special collection that exemplifies the casual, chic lifestyle the world has come to identify with Palm Springs. "Since moving to the Coachella Valley in 2001, I have come to love the Palm Springs lifestyle with vibrant colors, mid-century architecture and pool side living," explains Parker, a Northern California native. "So Margaret and I came up with the idea of creating a collection using desert botanicals grown right here in our valley."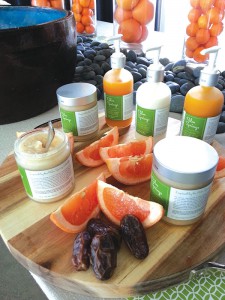 The Las Palmas blend is handmade with locally grown Medjool dates, aromatic grapefruit and blood oranges, with vanilla, ginger and a hint of evening jasmine. Featuring iconic Palm Springs modern packaging, the sultry aroma of the Palm Springs Spa Collection evokes evenings under the stars listening to classic Rat Pack Swing while sipping a fragrant cocktail.
Included in the line is The Body Deli's first perfume. "We wanted to capture and bottle the smell of summer," says Parker about the organic, non-alcohol based perfume. "As it contains no synthetics, it's a perfect solution for those who are 'anti-perfume' or sensitive to chemicals…or simply like wearing natural scents." It smells fresh and clean with a little bit of floral and a little spice.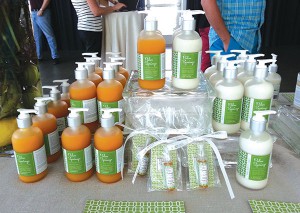 The Body Deli has been providing 'nutrition for the skin' since 2001. Motivated by the concept of natural living and driven by the science of "living foods," a staff of 10 hand-makes small batches at their Palm Desert location utilizing raw, fresh, natural and organic ingredients. The result is a myriad of nutrient-rich creations for the body, face and hair that deliver vitamins, enzymes and minerals at their peak potency.
The Palm Springs Spa Collection is available in lotion, oil, perfume, scrub and body wash formats. Retail prices range from $25 to $60 and the products may be purchased at The Body Deli's Palm Desert store (73-910 Hwy 111) and at Raymond | Lawrence in Palm Springs' Uptown Design District. All Body Deli products are also available on-line at www.thebodydeli.com or call 760-340-3731.