(As inspiration, we are reposting this article from March/April 2022)
Season is here! The sun is shining, swim suits are swimming, hot tubs are heating and cocktails are flowing. As the good times roll, it can take a toll and all too often, you feel it in the morning.
The good news is you can now trade your traditional drinks for non-alcoholic (NA) cocktails without giving up flavor or flair. The truth is, so many people are cutting back or giving up alcohol all together, that it has spurred new categories of sophisticated, non-alcoholic, healthier options, and sales are soaring. Dry January had its largest participation yet, and Sober October will be here before you know it.
So, whether you're looking to transition from that nightly habit you picked up in quarantine, or simply want to enjoy friends and festivities without paying for it in the morning, these new alternatives are sure to please.
Be inspired by the healthy shift from syrupy Shirley Temples to today's sugar-free refreshments. Herbs, citrus and seltzers take center stage, so stock your bar with mint, rosemary, lemons, limes, cucumbers, club soda and get creative. Many recipes can be found online, and we offer one below from Coachella Valley Coffee Company using their tasty nitro-infused hibiscus tea.
This growing category of social tonics, elixirs and distilled NA spirits can be head spinning, so we thought we'd introduce you to a few of the standouts.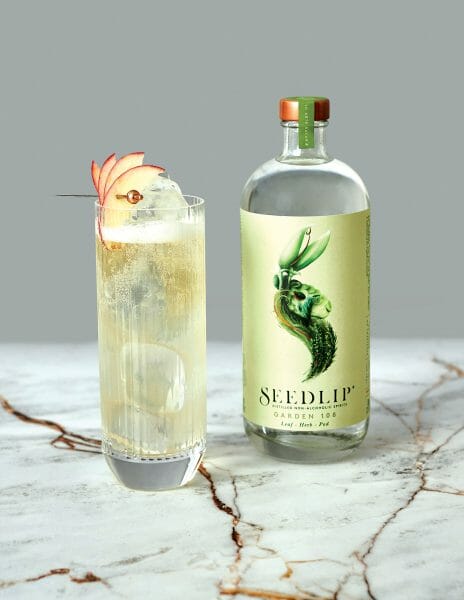 Seedlip
The story of this pioneering brand, the world's first distilled NA spirit, is as fabulous as the flavor. Four years ago in England, founder Ben Branson came upon a physician's recipes for distilling herbal remedies from 1651. He bought a copper still and began experimenting from the bounty on his family farm (which dates back just as far) and Seedlip was born. Named for the baskets Branson's family used to hand sow seeds, this exceptional, sophisticated brand is now served in leading hotels around the world.
Each botanical ingredient is distilled individually before blending the flavors to create their incredibly smooth, sugar and alcohol-free spirits: Garden 108, a fresh herbal blend with peas, rosemary, thyme, spearmint, hay and hops; Grove 42, a bright citrus blend using bitter orange, blood orange, mandarin, lemongrass, lemon and ginger; and Spice 94, an aromatic blend of allspice and cardamom, cascarilla (a medicinal bark), oak, grapefruit and lemon offering "fresh citrus notes to balance the long bitter finish." Their website offers a variety of recipes to sample and savor.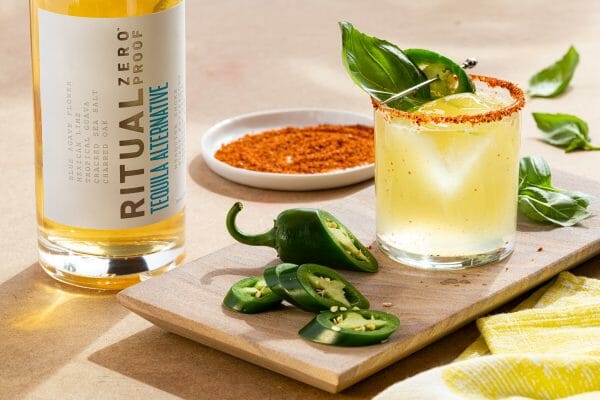 Ritual Zero Proof
This is the first American-made distilled NA liquor designed to replace your favorite alcohol 1:1. Whiskey, gin, tequila and rum alternatives deliver flavor and aroma amazingly similar to upscale favorites, along with the burn you expect from the real thing. Enjoyed straight or mixed, each is made using all-natural botanicals with low-to-no calories or sugar.
Ritual Tequila features blue agave flower, Mexican lime, tropical guava, cracked sea salt, charred oak, mesquite smoke, black peppercorn, capsicum fruit, prickly ash and green bell pepper. It delivers a smoked, mesquite flavor with citrus notes and is truly delicious (see margarita photo below).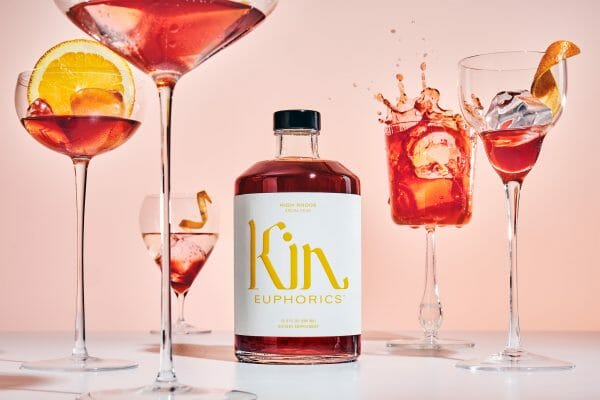 Kin High Rhode
There is a bit of a buzz around Kin, literally. While this alternative is alcohol (and drug) free, it is made to mimic the feeling you get from your first drink and is referred to as a "euphoric" since it actually gives you a happy little buzz.
Primary ingredients like white grape juice concentrate and gentian root, orange peel, licorice root, hibiscus, bitter orange and ginger extracts are combined with active ingredients called nootropic (brain boosting) and adaptogens (de-stressors) including GABA, 5-HTP and rhodiola extract. It also contains 50 mg of caffeine per two ounce serving (less than a cup of coffee), zero sugar and is recommended as a mixer with many flavorful recipes offered on their website.
You can find Seedlip and Ritual at Whole Foods and Total Wine & More; Kin is available online only. As botanicals, some brands do come with warnings. Have fun with these new alternatives and let us know what you think in the comments below!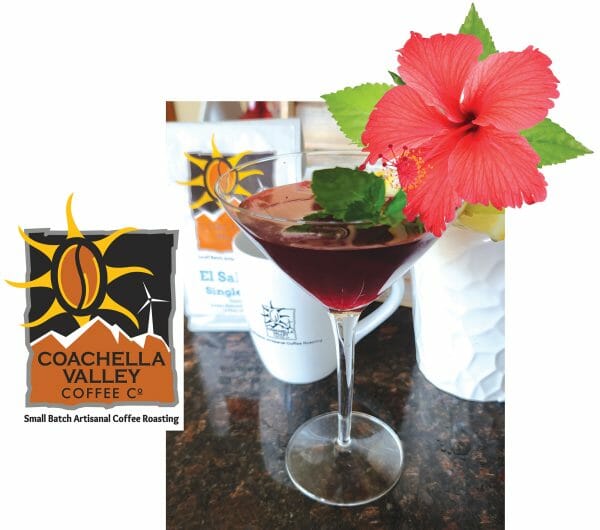 Hibiscus Mojito
A fabulous and refreshing summer treat compliments of Coachella Valley Coffee Company
In a shaker with ice add:
Fresh brewed hibiscus tea
1 thin slice of lemon
1 thin slice of lime
sprig of fresh mint
Pour into your favorite cocktail glass and garnish with a citrus twist and sprig of fresh mint.