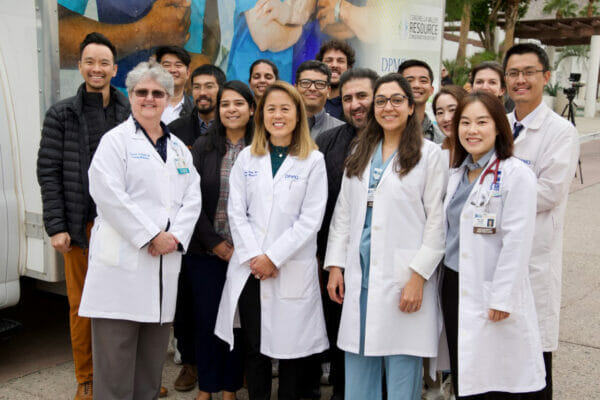 The Desert Healthcare District and Foundation (DHCD) and community partners have launched a new mobile clinic to deliver medical and behavioral health services to underserved communities throughout the valley.
Doctors from Desert Physicians Medical Group (DPMG), nursing faculty and students from CSUSB's Nursing Street Medicine Program and Desert Regional Medical Center residents are providing quality care to patients, creating an exceptional learning opportunity in community outreach.
In addition to primary care services, patients can receive mental health assessments from the nursing team with results reported to a psychiatric nurse practitioner. Patients are interviewed online and prescribed medications from the mobile clinic as supplied by Desert Regional. Foot soaks are also offered to the most vulnerable populations.
"We are so grateful to the District and DPMG for the opportunity to provide unique behavioral telehealth services to the vulnerable populations in the valley and increase the availability of psychiatric medications for persons with mental health and substance abuse issues," said Diane Vines, director of the Nursing Street Medicine Program.
"The mobile clinic offers the District and its great partners another opportunity to put health equity into practice in the Coachella Valley," stated Conrado Bárzaga, MD, DHCD CEO. "It removes many of the barriers that exist for vulnerable residents seeking medical care, such as taking time off from work or school and finding transportation to the nearest health care facility."
The mobile clinic is a collaboration between DHCD, Coachella Valley Resource Conservation District and Growing Coachella Valley (GCV), an association of farmers and community professionals supporting our valley's vast agricultural industry.
"The ability to tell my employees that we will provide them with health care services onsite, during work hours, is a success story for all involved," added George Tudor, GCV's founding board member and current president.
"We are so excited to bring our vision of bridging health and community into reality so we can continue to provide the highest quality and personalized patient-, family-, and community-centered care to the underserved populations in the valley," said DPMG's Chief Academic Officer Gemma Kim, MD.
For more information visit www.DHCD.org.