What happens when your livelihood comes to a screeching halt? You learn to pivot.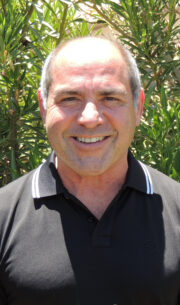 That was the advice which inspired Palm Springs restaurateur Tony Marchese of Trio to think outside of the box. "With the pandemic, my business coach told me, 'You need to pivot. Your business is closing and you need to do something else.' And then I thought of Mark."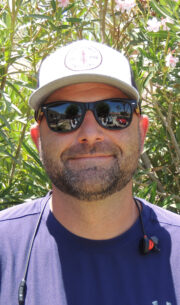 His friend Mark Tadros, a La Quinta native and family date farmer with Aziz Farms, was thinking the same. "You don't realize how reliant the produce sector is on food service until it's gone. In addition, people's shopping habits were changing as they were stocking up on items and not necessarily thinking of fresh produce. These two factors equated to a problem. And then Tony called."
Considering their assets, Mark with a network of farm-fresh produce that needed a home and Tony with staff he hoped to support, they came up with the idea of a fresh produce delivery service. In a survey of Trio's database, 84 percent said they would support the idea and CV Harvest Box was born. 
I'm a big fan of the service which delivers a variety of freshly-picked produce directly to your front door and is a win-win on many fronts. "We work mainly with small to medium farmers who planted long before all this began and have lost their complete supply chain. This gives them the outlet to sell their product at a fair market value," says Tadros, and Marchese continues to support his team. "My catering manager is coordinating deliveries and many of our waiters are now drivers."
The biggest winners are consumers who receive their deliveries each Friday. You never know what you are going to get and items vary from fresh vine tomatoes, crisp corn, potatoes or beans to living herbs, fresh lettuce, microgreens and more exotic items like okra and green eggplant standardly grown for ethnic restaurants and markets. And, of course, each box comes with a package of succulent Aziz Farms dates.
A unique and simple recipe is also included. I've enjoyed the garlic and ginger green beans and the Italian fried zucchini blossoms, which I made and promptly posted (Aren't we all great chefs these days?) "My biggest reward is when I see someone having fun with the box," says Marchese. "We are getting the most amazing emails and posts from people who love this concept!"
"You can't compare to the quality and freshness we are procuring," says Tadros. "The product in each box is picked within 24 to 48 hours and delivered to your front door. You can't get that from any retail store." As they were stuffing boxes one morning, Tony was in a panic that the corn was missing. "I looked at Mark and said 'Where the heck is the corn?!' He said, 'Tony, they're out picking it as we speak!'"
They also offer add-ons from local businesses including fresh-baked loafs from Bread and Flours, blue and brown oyster mushrooms from Canyon Creek Mushrooms, locally-crafted vegan doughnuts, fresh coffee from Sixth Street Coffee, and watermelon. You can select the frequency from once or twice monthly to weekly, or buy as a gift.
CV Harvest Box is a great asset to our valley and a really fun concept. After just a month, they are serving about 220 deliveries weekly and hope to see that number grow. Will they continue post-pandemic? "It only makes sense," says Tadros. "If we really want our local economy to bounce back, the smart thing to do is to focus on sustainable and local. It's an important driver, so it has to stick around."
Tadros hopes the venture will also shine a light on the Coachella Valley's vast agricultural sector as he would like to see agritourism grow locally. "People don't realize that our valley provides 95 percent of our nation's date supply, and a large variety of things are grown here from grapes and peppers to eggplant and okra. We love bringing produce to the people and hope to someday bring the people to the produce by offering farm tours." That future endeavor is certain to work as well as this one – especially with Tadros and Marchese behind it.
I encourage you to give CV Harvest Box a try. You'll be delighted with the little box of joy at your doorstep and will feel good about supporting our local farmers. I look forward to seeing your creations online!
Lauren Del Sarto is the founder and publisher of Desert Health. For more information, visit www.CVHarvestBox.com.