These cool and crunchy wraps are the perfect "negative calorie" dish for hot summer days. Made with cucumber, mango, cabbage, bell peppers and fresh herbs, they are packed with flavor. Add a touch of jalapeño for spice and a little metabolic kick!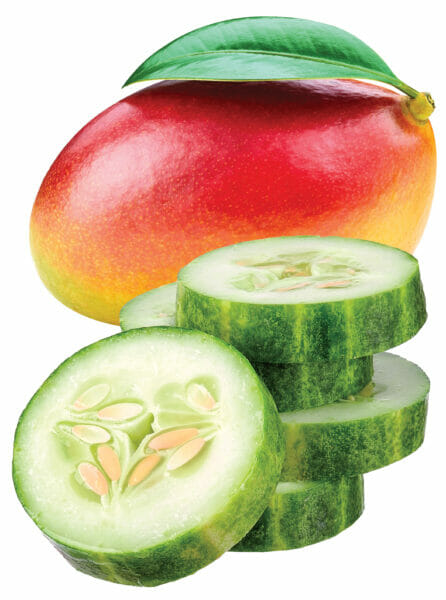 Servings: 4
Prep/Total Time: 15 mins
Ingredients:
½ large cucumber, split lengthwise, seeded, and julienne sliced
1 ripe mango, peeled and julienned
2 cups shredded cabbage
6 baby bell peppers or 1 red bell pepper, seeded and julienned
1 jalapeño pepper, seeded and julienned (optional)
⅓ cup roughly chopped mint or cilantro, or both
1 teaspoon Himalayan pink sea salt
¼ cup sesame oil
1 tablespoon rice vinegar
1 tablespoon lime juice
½ tablespoon honey, agave nectar or monk fruit
1 tablespoon sesame seeds (black, white or both)
1 tablespoon coconut aminos or tamari sauce
½ teaspoon fish sauce
Lettuce or jicama wraps
Instructions:
To make the sauce, combine sesame oil, seeds, rice vinegar, sweetener, coconut aminos (or tamari sauce), fish sauce, lime and salt in a bowl and whisk until blended.
Add the dressing to a large bowl with vegetables, mango and herbs and toss.
Serve in your choice of lettuce or jicama wraps, or simply serve as a tasty side dish.
Chef Kelli Rose of La Quinta specializes in holistic farm-to-table nutrition and fresh juice cleanses. She offers weekly meal delivery and in-home or vacation rental chef services. She can be reached at [email protected] or (760) 851.1091. For more healthy recipes and tips, visit Facebook @Back2TheCuttingBoard.