In September, I was honored to attend The Plantrician Project's Plant-Based Nutrition Healthcare Conference. It was inspiring to be among so many practitioners from around the world stepping beyond conventional medicine to learn about incorporating nutrition and lifestyle into their practices.
The goal of the annual event, now in its 10th year, is to educate practitioners on the mounting science of food as medicine; equip them with practical tools for successful business models; and to share proven strategies that empower clients to make changes in their day-to-day lives.
This is no small task for most medical doctors. The information is far beyond the limited nutrition they learned in medical school and the conventional system is not touting this science. Plus, there are no reimbursement codes for discussing lifestyle changes with patients, so they are not financially compensated. But many in this group are working to change that.
The conference featured lifestyle medicine pioneers including Dean Ornish, MD, whose intervention diet for coronary disease is now reimbursable by Medicare and many private insurers; T. Colin Campbell whose 2004 book The China Study propelled much of the conversation on what and what not to eat; the Cleveland Clinic's Caldwell Esselstyn, MD whose decades of work on reversing disease has been highly decorated; Hans Diehl, DrHSc, founder of the Lifestyle Medicine Institute who, as the Clinical Professor of Lifestyle Medicine at Loma Linda University's School of Medicine, is teaching the next generation; and many more.
We heard the latest on reversing cognitive decline from leading doctors Ayesha and Dean Sherzai, reversing and preventing heart disease from Koushik R. Reddy, MD, breast cancer prevention from Kristi Funk, MD, orthopedic pain and degeneration management from Stephan Esser, MD and pediatric care and equality through lifestyle medicine from Howard University's David Bowman, MD, to name a few.
Those attending the conference don't want to simply live their own lives, said Ocean Robbins, CEO and Co-founder of Food Revolution Network, but to "step outside of the status quo, and to do the right thing because they know something better exists."
Driven by passion and his own personal experience, Robbins is on the forefront of systematic change. He is the best-selling author of 31-Day Food Revolution: Heal Your Body, Feel Great, and Transform Your World, and is effectively working with others to add more nutrition to medical school curriculums, as well as to make prescribing fruits and vegetables a profitable venture for all involved.
"We live in a toxic food culture, and we see the results of this everywhere. Diet is
fueling 11 million deaths a year worldwide," he stated, referring to the healing crisis we are facing as an opportunity. "We are here to usher forth that possibility for human life on this planet. And that is a profound responsibility – and opportunity."
Ocean was raised by influencers and shared his story. His grandfather, Irv, started Baskin-Robbins and his father, John, who grew up with an ice cream cone-shaped swimming pool and 31 flavors in the freezer, was groomed to take over the family business. However, in his early 20s, John walked away from it all to make his own "rocky road" (Ocean jests) moving with his wife to an island off the coast of British Columbia. They built a small log cabin, grew most of their own food, practiced yoga and meditation daily and named their son Ocean. The family moved to California in the mid-80s, and John started researching nutrition. In 1987, he authored Diet for a New America which sold millions of copies and was nominated for a Pulitzer Prize. It opened people's eyes to the welfare of animals and the environment, and John became a leader in the plant-based movement. He is now co-founder of Food Revolution Network — along with his son.
Irv, however, was challenged with weight issues, type 2 diabetes and heart disease. He lost his brother-in-law and business partner, Burt Baskin to heart disease at 54. And in his late 60s, Irv's doctors told him he didn't have long unless he changed his ways. They handed him a copy of his son's book, and while he hadn't read the signed copy John gave him, he did read the copy given to him by his doctor. Irv changed his diet significantly — cutting down on animal products, giving up sugar (including ice cream) and increasing his intake of vegetables, nuts and seeds. He lost weight, reversed his diabetes and heart disease and lived another 19 healthy and happy years.
"In my family, we've seen what happens when you follow the Standard American Diet; you get the standard American diseases, and we have seen what can happen when you make a change."
Changing communities
Through Food Revolution Network, which is committed to healthy, ethical, and sustainable food for all, John and Ocean Robbins aim to empower individuals, build community and transform food systems to support healthy people and a healthy planet. With more than 700,000 members and the collaboration of many top food revolutionary leaders, they have developed more than 1,000 blog articles, an online membership community, 11 summits, four masterclasses and more.
Changing what is taught in medical schools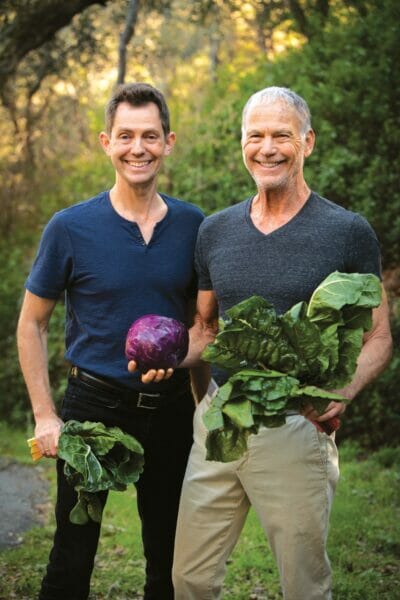 The National Board of Medical Examiners (NBME) administers the board exams for doctors, and schools teach to those tests. Robbins explained that there are about 1,000 questions on the mandatory bank of the exams and 12,000 in the larger pool, and almost none are related to whole food, plant-based nutrition or lifestyle medicine in general.
Robbins started a petition backed by leading doctors in the movement calling on the NBME to make at least 5% of the exams about whole food, plant-based nutrition and lifestyle medicine. Working with the American College of Lifestyle Medicine as the liaison, they connected with the NBME who asked them to develop the proposed questions. They raised funds and hired qualified professionals to come up with 1,000 questions.
"We are now identifying a leverage point at which we think we can change the practice of medicine by changing what is taught to medical school students," Robbins said.
Incorporating "produce prescriptions"
The Food Revolution Network team is also working to change the reimbursement model so doctors are compensated for discussing nutrition. One of their initiatives allows doctors to prescribe fruits and vegetables which are then covered by Medicare or insurance companies. Tufts University conducted a study on this and found that fruits and vegetables were an effective intervention strategy for reversing diabetes, heart disease and several other conditions. They determined it was more cost-effective than things already covered, and of course, "the only side effects are good ones." Working with Wholesome Wave, they are taking it to Washington, DC in an attempt to advance it nationally.
"Double Up Bucks" program
Another initiative Ocean is focusing on with Wholesome Wave is doubling the value of food stamps when they are used to purchase fruits and vegetables. Fifty million Americans rely on these to feed their families and the FDA has launched a pilot program with 500,000 Americans currently participating.
"What they are finding is that those who receive the value are buying and eating more fruits and vegetables and are healthier because of it," stated Robbins. "If we can get this institutionalized on a national level, we will see food deserts turn into food oases. We will see more 7-11's stocking fruits and vegetables because we have increased the purchasing power in the very communities that need it most."
"We must change the economic forces so it becomes more profitable to do the right thing instead of doing the wrong thing."
Investing in the next generation
In October, The Plantrician Project launched their legacy initiative, Plantrician University ("Plant U"), described as a comprehensive learning and community platform created to empower health care students around the world with the scientific knowledge and clinical understanding of whole food, plant-based nutrition. Due to generous funding, the program is free to all medical education students.
"We are investing heavily in this next generation because I believe they will usher in a new age of lifestyle medicine in health care," says Plantrician Project Founder Scott Stoll, MD.
The online platform features content created specifically for Plant U in addition to "the extensive breadth of evidence-based lectures by renowned experts and resources produced by the Plantrician Project over the past decade." In Phase Two, students will enjoy regularly hosted live lectures, Q&A sessions, open discussion, networking opportunities and even a mentoring program.
Any currently active medical profession student training to be a physician, physician assistant, nurse, registered dietitian, dentist, chiropractor, or other allied health professional, as well as faculty, is invited to enroll at www.plantricianuniveristy.org.
The Plantrician Project has many educational and practical resources available to help individuals, providers and their patients start on a path of healthier nutrition. Their standards are simple: maximize the intake of whole, plant-based foods and minimize the intake of processed and animal-derived foods. Consumption of meat, dairy products and eggs, as well as highly refined foods like bleached flour, refined sugar and extracted oils are minimized or eliminated. Their 11th annual conference returns to the JW Marriott Desert Springs Resort in Palm Desert in 2023.
The lifestyle medicine movement is quickly growing, and we commend those advancing change. As Robbins eloquently said, "Sometimes pain is what pushes us; other times we are pulled by vision."
For more information visit www.plantricianproject.org. Editorial by Desert Health Founder/Publisher Lauren Del Sarto. [email protected]