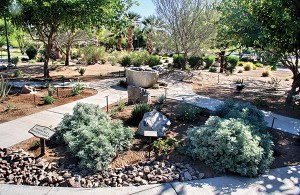 Inspired by the federal government's Healthy People 2010 program, which encourages fitness and disease prevention, the Desert Healthcare District built The Wellness Park at the corner of Via Miraleste and Tachevah Road in Palm Springs.
The beautiful 5-acre park offers a quarter-mile walking/jogging loop with drinking fountains and benches at regular intervals, five exercise/fitness stations, and various gardens – meditation, memorial, and a healing and fragrance garden with a bubbling fountain. The grounds were built in collaboration with the City of Palm Springs, the Desert Water Agency, and Palm Springs Unified School District.
Recently, the Healing and Fragrance Garden was redesigned with a variety of aromatic, medicinal, and colorful plants designed to attract butterflies and hummingbirds. Each plant includes a descriptive and educational sign indicating its healing and/or aromatic uses. Robin Kobaly, Executive Director of The Summertree Institute (www.summertree.org), was the designer, landscape installer, and creator of the educational signs.
Over 25 varieties of plants were added to the Healing and Fragrance Garden including French Lavender, long valued not only for its fresh, sweet smell, but also for its wide and varied therapeutic benefits. Its history goes back at least as far as the Roman Empire where dried lavender was used to freshen the wash water. Lavender oil was used to treat battle wounds. Other plants in this garden include Peppermint, used for the common cold, cough, inflammation of the mouth and throat, sinus infections, and respiratory infections; and Scented Thyme, a Mediterranean herb which holds its flavor in cooking and blends well with other flavors of the region like garlic, olive oil and tomatoes. Thyme is also considered to have antiseptic and preservative properties and has long been used medicinally, as well as in preserving meats.
A highlight of the redesigned garden includes the addition of two Blue Chaste Trees which have been revered by women for centuries for helping with reproductive problems and dazzle us with beautiful blue flowers in the spring.
The Wellness Park, along with its interactive gardens, is an integral part of the Desert Healthcare District's commitment to health promotion and community collaboration and partnerships designed to improve the health and quality of life for all District residents.
Desert Healthcare District is a government agency, established by the state of California in 1948, to improve and support community health programs within a 457-square mile service area in the Coachella Valley. The District also owns and oversees the lease of Desert Regional Medical Center in Palm Springs.