Coachella Valley High School (CVHS) recently received the distinct honor as one of America's Healthiest Schools, a recognition awarded to only 781 schools nationwide for the 2022-2023 academic year.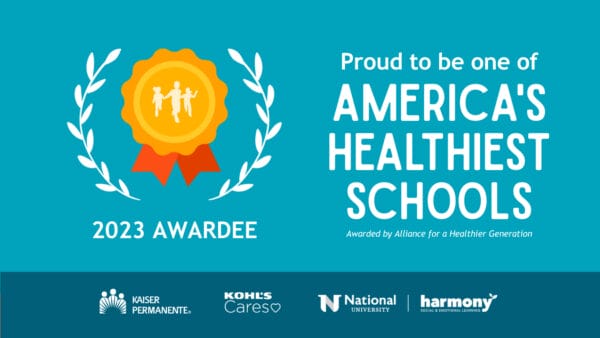 Presented by the Alliance for a Healthier Generation, the distinction celebrates the key role schools play in advancing the health and well-being of students, staff, families and their communities. Awardees are recognized for implementing best practices in up to nine areas including cultivating staff well-being, improving nutrition and food access, bolstering physical education and activity, and promoting tobacco-free environments.
On a national level, CVHS stands apart from all others for meeting the highest standards in the category of "implementing local school wellness policy." In the face of numerous challenges that schools encounter today, such as learning disruptions, declining youth mental health, post-pandemic effects, school shootings, vaping and curriculum changes, CVHS has consistently prioritized and promoted good health within its community:
Multiple classroom visitations and large audience presentations on the subject of mental, physical and emotional health and well-being are held.
Students have the opportunity to join small group workshops with 10 or less classmates who meet once a week on topics like healthy relationships, time and stress management, and healthy coping skills for stress, anxiety and depression.
Creation of The Wellness Center, relaxing space featuring calming colors, soothing music, pleasant aromas with an essential oil diffuser, and multiple stations to talk one-on-one, engage in art therapy or meet in small groups.
Educator, functional health coach and wellness specialist Jason Tate was instrumental in developing and launching The Wellness Center at CVHS. "As a classroom teacher for 17 years, I knew students were struggling and needed a place like The Wellness Center. Last year, I made the leap from a neighboring district to CVHS to open and lead one of the first organized wellness centers in the Coachella Valley. I am honored to have the opportunity to play a part in something truly remarkable and what I believe is necessary for all schools across the country."
Recognizing the need for mental health support, and dedicated staff to help meet those needs, the Coachella Valley Unified School District now has wellness centers in all of their high schools and middle schools.
"We are deeply honored to receive national recognition for our unwavering commitment to fostering an environment where all members of our school community can learn and thrive," CVHS Principal Socorro Sanchez proudly expressed.
"Our wellness centers have been transformative in nurturing a healthier and more empowered student community," added Superintendent Luis Valentino, Ed.D. "The heartfelt testimonials from our students reaffirm the positive impact of these centers in promoting emotional well-being, resilience and personal growth. We are dedicated to continuing our mission of fostering a supportive environment where every student can thrive academically and emotionally."
Desert Health congratulates CVHS and their entire faculty, staff and student body on this outstanding honor. For more information and a list of all schools honored, visit www.HealthierGeneration.org.