Women are often guilty of not making time for themselves – especially working women with families and full schedules. But few are busier than Linda Evans who recently added the title of Mayor of La Quinta to her resume.
So I was surprised to learn that for the past five years, Linda and a dedicated group called the Working Women Hiking Club (WWHC) have met nearly every Saturday and/or Sunday at 7am to hike a different valley trail each week. When Linda invited me to join them, my first thought was, "I can't add any more to my schedule." But after walking three miles on a beautiful morning as the sun rose over the Santa Rosa Mountains, I realized I had added something tremendous to my day. The feeling was energizing, inspiring and truly uplifting.
The commonality these professional women share adds a special element to the group. The process is simple and there is no pressure to partake. A text goes out with a designated date and location and whoever is in for the day shows up. Sometimes it's 2 and sometimes 20. I asked each of these dynamic women what motivates them to get up early every weekend and take part. "Health, camaraderie, and appreciation for this beautiful place we call home."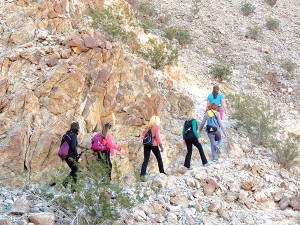 "It's a great way to start the day to get our mind and spirits intact with friends," says Linda. She adds that it wasn't always that way. "Isabella (Smith) and I struggled with our first few hikes as we realized how out of shape we were."
"I can breathe again," adds Sandy Martin. "I have always worked out with weights, but not cardio, and never realized how unfit I was until I started hiking."
This organized activity provides a unique opportunity for these women to get together socially while enriching mind, body and soul. The group has helped one another through challenging schedules, personal ups and downs, and even knee and hip replacements. "We balance each other's strengths and rally around each other when needed," says Sandy.
Do their families complain that they are gone weekend mornings? "Most of our family members are still asleep at this time, but sometimes they join us." Inviting family members on the journey helps to keep the balance; however, most are not regulars, which points to the bond these women share.
"When you work in an office building all day long and are running around for business, you need an activity like this to appreciate everything we have here," adds Debi Tryon.
The WWHC has hiked a large majority of valley trails. They buy the Summer Tram Pass and hike mountain trails to avoid the heat (and snakes).
When other hikers are encountered on the trail (often "angels") there is a good chance someone will know someone. On this day, we ran into Jessica Harris and Kelly Letzerich just as we had lost the trail (thus they fit in the angel category). They pointed to a peak assuring us that the spectacular views were worth the steep climb. The top of the hill did not disappoint and it was there I learned of the group's customary tradition (I won't share theirs, but all groups should
create one).
We sat and enjoyed a variety of healthy snacks everyone brought while appreciating our stunning surroundings. I pondered just how much joy this simple activity provided. It is so easy to do, yet easier not to do, and thus most of us don't. But this group inspired me and hopefully will inspire you to gather your group – be it friends, work associates, family, or social club and take to the trail.
While you may think you have no time to add hiking to your list, you will be amazed just how much group hiking will add to your life.
For a list of Coachella Valley hikes, visit www.everytrail.com/best/hiking-coachella-california or pick up Philip Ferranti's 140 Great Hikes in and Near Palm Springs or Falcon Guides' Best Easy Day Hikes Palm Springs and Coachella Valley.