"Feeding the Dream," a Wellness Event for the Whole Family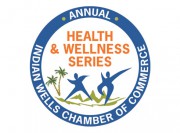 The Indian Wells Chamber of Commerce cordially invites you to attend "Feeding the Dream," an exciting health and wellness event designed to benefit the Healthy Family Foundation.
"Feeding the Dream" is composed of two events: a fun-filled health fair for the whole family and a formal dinner. The health fair will be held on Saturday, February 23, 2013 on the grassy lawn between the Miramonte Resort and the Indian Wells Resort (located on Highway 111 and Indian Wells Lane). The free event will include fun for the entire family between 10 am and 4 pm. Over 40 local businesses will have booths at the event, providing education, prize giveaways, and fun activities. A stage will host a wide variety of entertainment, including cooking competitions, Zumba fitness classes, chef demonstrations, hula hooping contests, and more. The event will also feature a beer garden and a "Taste of the Desert" tent where visitors can sample local fare from a variety of restaurants.
The formal dinner will be held the following evening on Sunday, February 24 at the Miramonte Hotel. The evening will feature a four-course meal and a noted guest speaker. Advance tickets are $85 if purchased before January 18, 2013, so be sure to RSVP early (after January 18, tickets will be $100 per person).
"Feeding the Dream" focuses on creating healthy families through improved nutrition and exercise, and event proceeds will benefit the Healthy Family Foundation, a division of the JFK Memorial Foundation. The Healthy Family Foundation is dedicated to enhancing the physical, emotional, and intellectual health and wellness of Coachella Valley children and families.  Learn more about the Healthy Family Foundation and their amazing work by visiting them on the web at www.jfkfoundation.org.
The event is part of the Indian Wells Chamber of Commerce Health and Wellness Series created to increase local knowledge of health and wellness resources, build healthier communities, and benefit a select local non-profit. Last year, the event focused on prostate cancer education, and benefited Gilda's Club Desert Cities, which strives to ensure that all people impacted by cancer are empowered by knowledge, strengthened by action, and sustained by community.
If you'd like to know more about the event, visit us online at www.indianwellschamber.com or on Facebook at www.facebook.com/IWchamber. Additionally, sponsorships and booths are still available. If you or your organization is interested in participating in the event, please contact Mike Avila at the Indian Wells Chamber of Commerce at 760-346-7095.