Women Leaders Forum's (WLF) 10th Annual Women Who Rule Awards & Scholarship Luncheon is set for Friday, May 5, at Agua Caliente Resort Casino in Rancho Mirage. KESQ News Channel 3's Karen Devine will emcee the celebration of women across the Coachella Valley, specifically honoring three amazing leaders and the first-ever couple for their contributions to our community.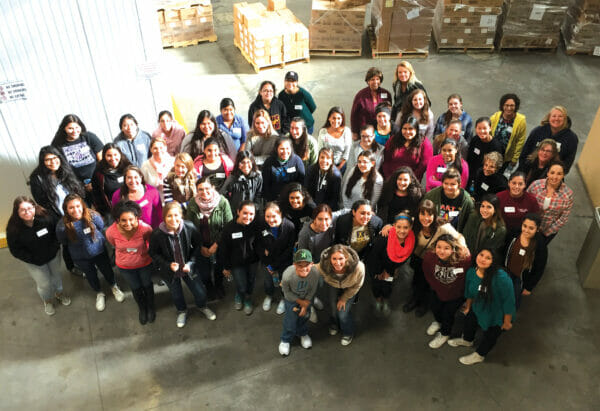 This year's honorees include: Connie Golds, founder of Desert Best Friends Closet receiving the Mary T. Roche Community Leadership Award; Victory Grund, president of Old Town Artisan Studios receiving the WLF Visionary Award; Theresa Mike, founder of Theresa A. Mike Scholarship Foundation receiving the Helene Galen Excellence in Education Award; and Raju and Jaishri Mehta, owners of El Paseo Jewelers receiving the Power Couple Award.
Proudly recognizing presenting sponsor SBEMP, a full-service law firm, this spring's event is the primary fundraiser for WLF and its Young Women Leaders (YWL) Program which provides life skills and educational sessions, and awards merit and need-based scholarships to local high school seniors. WLF is proud of the girls whom this program has served over the past two decades, many currently thriving as adults in the valley and across the U.S.
Explains Renell E. Burch, Esq., SBEMP Partner, "Together with my partners at Slovak, Baron, Empey, Murphy, and Pinkney, LLP, we feel privileged to have the opportunity to support our community and the women leaders of this valley. Equally important is our support for the next generation of young leaders. WLF's Young Women Leaders program inspires each of us to present opportunities to our high school students who seek their own personal growth. This unique program provides these young leaders with an avenue to gain necessary life skills as they begin their own academic journeys after high school. We could not be more proud of the achievements already made by our young women leaders. We look forward to watching them soar far and beyond."
WLF's philanthropic initiative is to fund college scholarships for the best and brightest enrolled in the YWL Program with up to $30,000 matched by OneFuture Coachella Valley. Founded in 2001 by former Indian Wells Mayor and Councilwoman, Mary T. Roche, WLF has raised more than $800,000, which is distributed to high school seniors who complete the YWL program.
WLF's platinum sponsors are Desert Oasis Healthcare and Desert Care Network. Leadership sponsors include: Blanke Schein Wealth Management, Wildest Restaurant + Bar, Jenell VanDenBos and Assoc. Realtor, KESQ, CV Strategies, The Berger Foundation, Agua Caliente Resort Casino, Buzzbox, Cruise Planners, Desert Health News, Classic Club, Coachella Valley Firebirds, Solowitz & Associates and Alpha Media.
Please join WLF in celebration of its five honorees and help raise funds for such exceptional young ladies embarking on college life.
Sponsorship opportunities are available ranging from $500 to $2,500. Tickets and tables can be purchased by visiting www.wlfdesert.org/women-who-rule.