Imagine you are 8 years old and you and your friends are going rock climbing for the first time. One step at a time, you seek that sliver of rock that will hold you as you prepare for your next step. And in the blink of an eye you stand triumphantly, arms raised, at the summit!
Now…imagine you completed this daunting climb with no legs.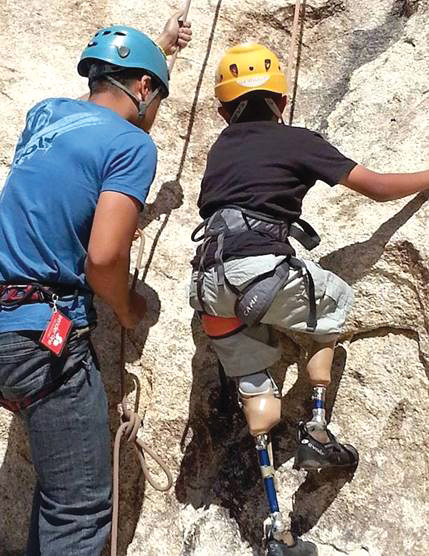 This is the story of Damian, now 14, who plays adapted sports including wheelchair tennis, cycling and karate. Through sport Damian, like many of the athletes with physical disabilities who play through the Desert Ability Center, is doing things he never thought possible and developing life skills that build his confidence. He is discovering his abilities, gaining independence and moving from the sidelines into the game.
As the largest minority population worldwide, people with disabilities are routinely overlooked and underserved as if their wheelchair deemed them incapable of active and productive lives, especially in the realm of sports and recreational activities.
Desert Ability Center was founded on the belief that children and youth with disabilities belong in the community alongside their friends, family and peers. To this end, DAC sought opportunities in existing recreational events in which few people with disabilities had participated. In 2010 DAC registered four amputees in the Tour de Palm Springs; within just a few years there were more than 200 riders with disabilities riding in the Tour.
Opportunities to ride would expand from community events to rides designed specifically for those with physical disabilities. These rides, originally 2 miles long, would expand to 20-mile rides. Most notably, some riders introduced to paracycling through DAC would go on to become competitive paracyclists.
To provide additional opportunities for Damian and other students, we developed adaptive sports opportunities in the Coachella Valley, including wheelchair tennis, basketball, sled hockey and golf clinics, and we started the Ability Festival – a one-day, free event designed to introduce 30+ adaptive sports and recreational activities to people of all ages and levels of ability.
DAC programs and events have been the impetus behind the adaptive sports and recreational rehabilitation development that has taken place in the Coachella Valley.
DAC has spearheaded efforts to create adaptive sports opportunities across ages, across the disability spectrum and across the Coachella Valley by providing access to costly adaptive equipment and instruction by Paralympic coaches. With each passing year we increase programs, raise the bar of service, and add new collaborative partners.
What does it mean to play adapted sports and lead a healthy life? Find out at the Desert Ability Center's annual Ability Festival on December 14 at the Palm Desert Civic Center Park. EveryBODY is welcome!
Judy May is the Executive Director of the Desert Ability Center. Michael Rosenkrantz has worked for the last decade with people with disability in India, Nepal, and across the US and is currently the Program Director at DAC. Contact him at michae[email protected]. For more information on the Ability Festival visit www.desertabilitycenter.org.