La Quinta High School Medical Health Academy (MHA) students took part in the Clinton Foundation's Day of Action in partnership with the Alliance for a Healthier Generation.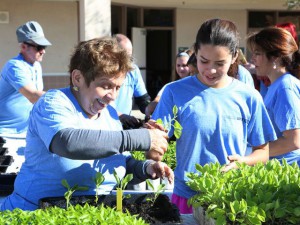 Students joined civic leaders and others from the community in planting a community garden to be used by the Culinary Institute at LQHS, pulling weeds, landscaping the front of the school, and building a greenhouse. The Culinary Institute also worked with Stephen Lee, Master Chef finalist, in preparing and providing 150 meals for the Joslyn Center's Meals on Wheels program.
The speaker of the day, Chelsea Clinton, was unable to attend due to the eastern snow storm; however, Clinton Foundation president, Dr. Donna Shalala, stepped in and spoke to students about their careers, their community, volunteerism, and the passion to give back. It was an honor for the volunteers – adults and students – to hear from and work beside such a passionate and acclaimed professional who reinforced that "healthy foods produce healthy bodies – and healthy futures." 
On January 25, three MHA seniors, Christiani Aquino, Kalysia Huerta, and Anessa Padron, along with DSUSD superintendent Dr. Gary Rutherford and MHA coordinator Kathy Pedersen were invited to the Clinton Foundation Health Matters Activation Summit luncheon at the Renaissance Esmeralda. President Clinton, the keynote speaker, spoke on the importance of community collaboration to improve community health, employee health, and our nation's current drug abuse epidemic. President Clinton acknowledged our three Medical Health Academy students with a "shout out" during his talk. 
The Health Matters Activation Summit has provided our MHA students with strategies on how to become more involved in their community as they continue with their senior year internships in the local medical community.
For information on the LQHS Medical Health Academy program including student internships and speakers, please contact coordinator Kathy Pedersen (760) 772.4150 ext 25181 or [email protected]