Who doesn't love pasta? If you grew up in an Italian family, preparing and eating a hearty plate of spaghetti warms your heart like a big kiss from Nonni.
But for those who have chosen a gluten- or grain-free lifestyle, eating pasta can send your stomach spiraling. While many gluten-free options are available, those made from corn or rice aren't really healthy alternatives, and zoodles don't deliver that satisfying pasta love.
Fortunately, the veggie pasta market is growing with texture, taste, "twirlability" and significantly more nutritional benefits. It's fun to try different styles and brands, but check labels for additives and try to stick with those that are 100 percent veggies.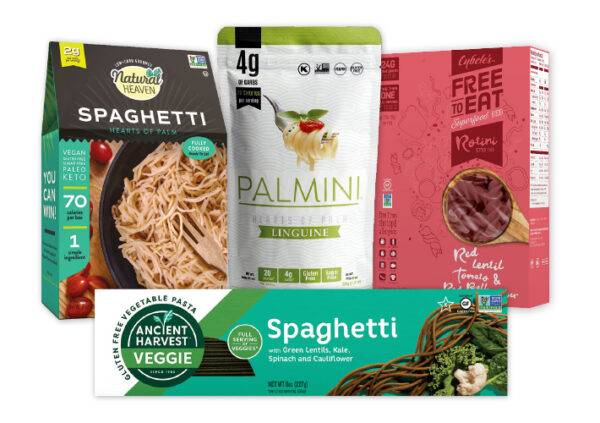 Here are some brands we prefer for texture and taste with the pros and cons of each and two stand-out winners:
Ancient Harvest Veggie Pasta (penne, rotini and spaghetti). Made with four simple ingredients — green lentils, tapioca starch, kale, cauliflower, and spinach — this tasty alternative delivers 12 grams of protein with only 2 grams of sugar (no added sugar), but packs 36 grams of carbs per serving. There are four servings per box, but we tend to split a box, so that's 72 carbs, which doesn't work for a low-carb lifestyle. Be sure to look for their veggie line as there are others.
Cybele's Free to Eat Superbfood (penne, rotini, shells and elbows). These 100 percent veggie pastas come in festive flavors like red lentils, pumpkin and butternut squash and green lentils, cauliflower and parsnips, and no other ingredients. Don't worry, the flavor doesn't override your favorite sauce, but again, each 2-ounce serving (1/4 box) delivers 35 grams of carbs, and you're gonna want more!
The newest to join the category? Hearts of palm pasta from Palmini and Natural Heaven. They are exceptional, boast many health benefits, and are LOW-CARB with only 4 grams of carbs per serving (great for Keto). Both brands are sustainably grown and harvested from rapidly regenerating peach palms (unlike palm oil which is destroying our rain forests) and are pre-cooked, so you simply heat them in your favorite sauce.
We prefer Natural Heaven as it contains only one ingredient: hearts of palm, has zero sugar and comes in lasagna, spaghetti or angel hair with nice twirlability. Palmini also contains sea salt and citric acid with 1gram of sugar. Natural Heaven is pouched and boxed while Palmini is canned (a bit odd for pasta) or pouched, as shown here.
Because it's low-carb – and to make Nonni proud, you may be enticed to eat the entire container, but beware; when combined with veggie toppings, it can deliver a powerful punch of fiber. We learned the hard way and now split a box.
Have fun exploring the world of veggie pastas and share your healthy recipes with us at www.DesertHealthNews.com (search 'pasta' for this article). Mangia!
Desert Health does not receive compensation for any product promoted in this column. Find more healthy alternatives to your favorite foods and drinks.