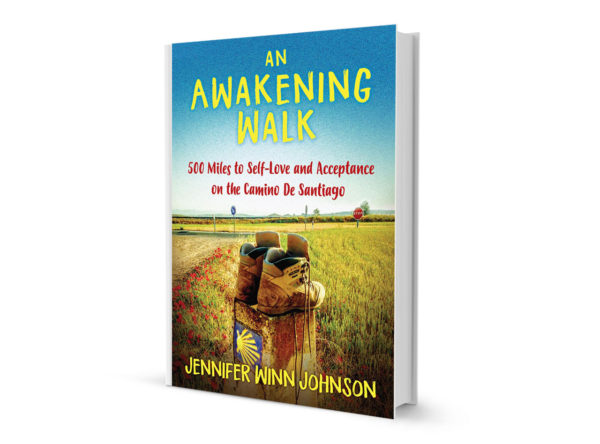 Jennifer Johnson was looking for something to lift the weight of negative self-image that had plagued her most of her life. As a desert resident, she had a successful catering business, was a practicing yogi, and had many close friends, but was seeking something more.
In March 2015 she first heard about the walk of the Camino de Santiago which many had traveled for centuries seeking spiritual growth. Can I actually do something like this? I mean, the Camino route is 500 miles long and I don't even like to hike.
For months the thought remained on her mind. Asking her higher spirits for guidance, she pondered the challenge, her fears, the boredom of walking for 35 days, the pain, but also the many life-changing stories she read from others who have gone before her.
As the Camino continued to call her, she made her mind up to embark on the solo journey chronicling each step in what has become An Awakening Walk, 500 Miles to Self-Love and Acceptance on the Camino de Santiago.
In the book, Johnson takes us with her through her contemplations, interactions with others and the many lessons she learned about herself and life. It has been said that your Camino starts once you make a plan to walk it, and also that it does not start until after you have finished walking it.
Her inspiring story is told with raw emotion and vulnerability as she opens up about past traumas and insecurities she sought to overcome, breathing in with each step and working to breathe out anything that did not serve her well. I believe the Camino definitely works on you, your issues and your karma, she says. "It's like working through lifetimes of accumulated 'stuff' while walking for days on this ancient sacred path."
She shares her struggles with the physical demands and stories of other international "pilgrims" she meets along the way. She thoughtfully documents her observations of human nature and the reflections of herself she sees in each. As I walk the Camino, I see so many different people, all with their own unique story. I realize deep down that we all want the same basic things: to live a good life, to be happy, have security, and most of all to have love. If there is something we judge or do not like about someone, we must bring it back to ourselves, because everyone we encounter is a perfect reflection of us.
I loved Jennifer's book and remain in awe of her accomplishment. At only 160 pages, it is an easy read with vivid descriptions that allow you to feel as if you are there. Stepping out of her comfort zone, she is led by her own higher spirits and shares inspirational quotes from worldly leaders within each chapter. You find yourself asking the same questions: What do I truly seek in life and could I ever take on such a tremendous challenge? The thought of traveling and meeting so many different people is exhilarating, but would I have the courage to accomplish a feat as big on my own?
An Awakening Walk was my first introduction to the Camino de Santiago, but since reading it, I have met two other women who also made the journey by themselves. Reading Jennifer's book deepened my appreciation of their accomplishments and further inspired me to expand my own realm of possibilities. Maybe these interactions are signs…An Awakening Walk has opened me up to believing this could be the case.
Has my Camino already begun? Where is your Camino?
Jennifer Johnson lives in Rancho Mirage and now takes others on inspirational walks through her travel company, Winn Journeys. An Awakening Walk, 500 Miles to Self-Love and Acceptance on the Camino De Santiago is available at Amazon.com. For more information visit www.WinnJourneys.com.