A Desert Health® Review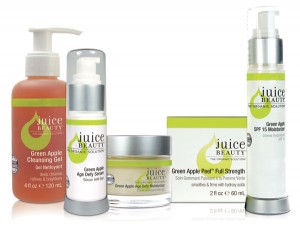 A healthy diet shows in your skin… fruits and vegetables literally nourish your body inside and out. So why don't we pay more attention to the products we use on our skin?
I've long wondered if natural skin care products are as effective as the much-hyped "miracle brands." So when I heard that The LiveWell Clinic was offering skin care treatments featuring an all natural product line, I had to give it a try. The treatment was invigorating, and I walked away with a complete product kit for $29!
LiveWell's certified esthetician, Jadranka, has eleven years of luxury resort experience and extensive skin care knowledge. The clinic chose the Juice Beauty Certified Organic product line to ensure they are offering clients and employees the safest products and services.
"Your skin is the largest organ of you body. What you apply to it should be safe enough to eat since you will absorb it into your system, just like food. If you are using chemical based (non-organic) make-up, peels, lotions, and sunscreens you are adding chemicals to your body on a consistent basis. In some individuals this can lead to rashes, chemical sensitivity and/or stress on your liver and detox system," states LiveWell's Dr. Nicole Ortiz.
Jadranka used Juice Beauty's anti-aging products on me with ingredients like apple, lemon, and grapes along with "age-defying" peptides, coenzyme Q10 and vitamin antioxidants. I could feel the active ingredients (natural enzymes) in the pumpkin and green apple which created a tingling feeling when heated. The smells were mouth-watering.
My hour treatment included exfoliation, extraction, hydration, massage and misting. And with Jadranka's guidance, I was sold on the idea of using natural skin care products. When finished, my smiling face truly felt like a shiny green apple.
I took home the Juice Beauty 'Organics to Go' package which included a 30 day supply of cleansing milk, green apple peel, antioxidant serum, nutrient moisturizer and hydrating mist spray….all for $29. I couldn't believe the prices for FDA certified organic products… and I love them!
If you are looking for a natural skin care option, I strongly recommend a facial with Jadranka to try the Juice Beauty products. There are several lines for different skin types that range in price from $29 to $65. (www.JuiceBeauty.com) Jadranka offers a variety of facials starting at $60.
For more information or to book your appointment, call the LiveWell Clinic at 760.771.5970.