United Cerebral Palsy of the Inland Empire (UCPIE) has been creating smiles, freedom and belonging since 2012 with their adaptive bike program and Team Freedom at Tour de Palm Springs.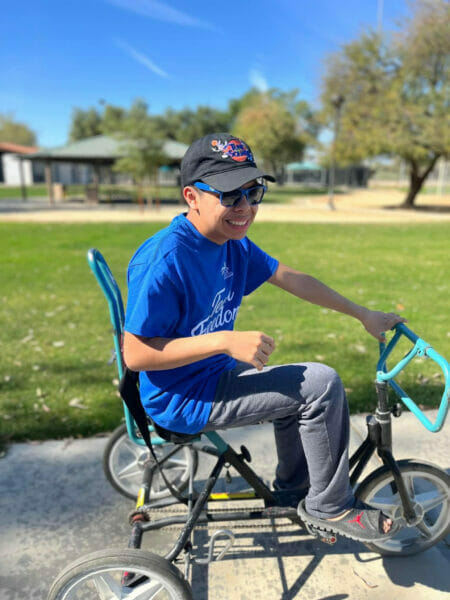 Each bike is custom made to support the rider's abilities and helps them meet their physical therapy goals. Riders discover a newfound freedom on their bike and also partake in a larger community, from family bike rides and taking off with friends, to many special events where riders experience a sense of accomplishment and connection.
Each year, Team Freedom walks and rides in the Tour de Palm Springs, one of the largest cycling charity events of its kind in America. This past February, UCPIE's Team Freedom had over 70 participants, both on location and virtually in their neighborhoods and communities, as part of the 24th annual Tour de Palm Springs.
"After being apart for so long, it's amazing to see the unity of a community to support, not only local non-profits, but health and wellness as a whole," said Rhea Hoffman, first time Tour de Palm Springs participant who walked with her daughter at the event as part of Team Freedom.
Team Freedom also had riders participate in the Tour's 10-mile and 51-mile rides, many of them on their adaptive bikes. With celebratory bands and cheerleaders at the start and finish, along with concerts and delicious food throughout the course, there was much to be enjoyed by riders and their accompanying friends and family.
As many in the UCPIE family are still practicing social distancing, numerous Team Freedom participants rode their adaptive bikes around their neighborhoods and through local parks wearing their Team Freedom shirts. They were all brought together on social media where virtual team members and their families shared photos and videos using the hashtags #ucpie #teamfreedom2022 and #tourdepalmsprings. A highlight of the day was the delivery of their Tour de Palm Springs medals by DJ Paul and UCPIE staff.
Lori Enroth shares her family's experience: "While we are still quarantining to protect Andy, our medically fragile son, we got to show our team spirit and be part of the Tour de Palm Springs by walking in our backyard. Thanks to all of our friends and family who supported UCPIE!"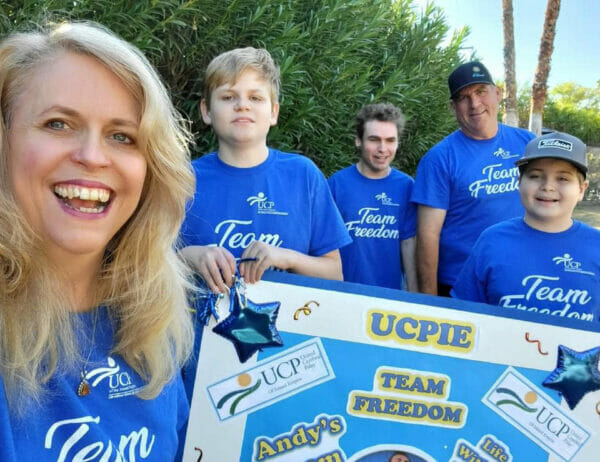 The team was able to raise $52,000 this year thanks to generous sponsors: Contour Dermatology, Shottenkirk Desert Lexus, Palm Springs Subaru, and IEHP, along with pledges from friends and family. Money raised by Team Freedom helps UCPIE fund life-changing programs and services for many special needs families throughout the Inland Empire.
UCPIE looks forward to adding new riders to Team Freedom next year with the addition of several custom adaptive bikes and a handcycle. Individuals with mobility disabilities and their families are encouraged to fill out a bike application at www.ucpie.org to be considered for the gift of an adaptive bike.
For more information about UCPIE, please visit www.ucpie.org or contact Calista at (760) 321.8184 x101 or [email protected] For more information about Tour de Palm Springs visit www.tourdepalmsprings.com.