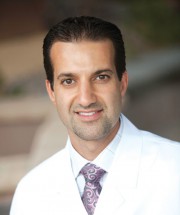 (pronounced 'Bo-GO-zee-en')
Profession: Orthopedic Surgeon fellowship trained in hip and knee replacement
Studied: Lake Erie College of Osteopathic Medicine in Erie, PA.
Internship and residency in Orthopedic Surgery at South Pointe Hospital, a Cleveland Clinic Hospital Fellowship in adult lower extremity reconstruction at The Cleveland Clinic Foundation
Practice: Star Othropaedic in La Quinta; Staff Physician at JFK Memorial Hospital and Eisenhower Medical Center
Hometown: San Diego (originally from Syria until he was 8)
Professional Accreditations: Member of the American Osteopathic Association, American Academy of Orthopedic Surgeons, American Osteopathic Academy of Orthopedics, American Association of Hip and Knee Surgeons
After meeting Dr. Boghosian, who received two nominations for this Profile, I understood the draw. He is the face of today's new doctor–young, integrative, attentive, and concerned and knowledgeable about, not only his patient's medical conditions, but their life and lifestyle as well.
Who was your role model?
As an undergrad, I began volunteering with Viola M. Frymann, D.O. She is one of the most incredible clinicians – and people – I have ever met. She taught me that you have to be involved in the human aspect of your job to do it well. She still practices today at 92.
What made you choose the Coachella Valley?
I was considering returning to San Diego, but saw the need for physicians here in the Coachella Valley. I am really enjoying Desert life and the people.
What trends in Integrated Health Care do you see?
I see a change in the mindset of today's new doctors. For example, with replacement surgery, rehabilitation protocol used to be a week in bed post-op. Now, it is not uncommon for my patients to be up and walking on the day of their surgery. We now encourage movement right away, so activities like hydrotherapy, yoga and breathing exercises are an integral part of getting patients back to their life and the activities they enjoy.
Your best health advice?
Turn off the TV. Television was designed around the attention span and draws you in. Turn it off. Get out and do. Get out and live! ("This excludes the NFL, of course")