Three years ago, life on the go inspired Indio resident Michelle Steadman to create a healthy raw food bar for herself and her family. It wasn't long before she, her husband Kevin, and son Logan were mass producing, packaging and selling their TRUElicious food bars to Whole Foods and other retailers throughout Southern California.
Building on her passion for healthy and convenient options, Steadman launched Salads in a Jar, a fresh salad delivery service, in October. The concept has quickly caught on and the company now offers a variety of options from protein, skinny and gourmet salads to snack jars, fresh fruit jars, breakfast dishes, chilled soups and more. Orders are placed online by Thursday, salads are created on Sunday in vacuum packed mason jars designed to stay fresh for up to a week, and deliveries (to homes and offices) are made each Monday.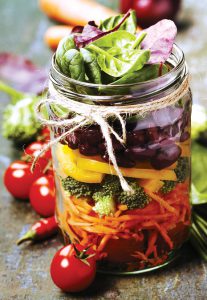 Her many regular clients are big fans. "I often don't give myself enough time to eat lunch, let alone time to create a delicious, healthy salad," exclaims long-time friend, Kate Spates. "And delivered right to my door? Michelle has created the absolutely perfect solution!"
The enticing meals speak volumes on their own and help Steadman spread her message that healthy, convenient and flavorful options do exist. "When you see someone eating a colorful, fresh salad, you are drawn to that option," she adds. "I love that we have more and more offices placing orders."
Steadman keeps healthy convenience also affordable. Salads which include mostly organic ingredients start at just $9 and a jar redemption incentive encourages recycling. Salads in a Jar is another recipe for success for the Steadman family and for those seeking healthy fast food options in the Coachella Valley.
For more information, visit SaladsinaJar.com or call (760) 587.5076.