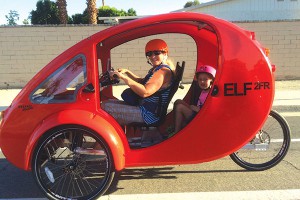 With the exciting CV Link groundbreaking scheduled for next year, it's time to start thinking about alternative modes of transportation that provide both convenience and fun.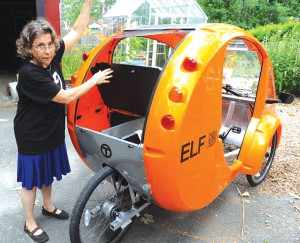 How great will it be to jump on your wheeled vehicle in Palm Springs and take the winding path to meet friends for lunch in Palm Desert – without having to worry about the traffic on 111?
Why not choose an option that also provides exercise along the way? Sure a bike is great, but it doesn't always protect you from the elements and you are out of luck if you lose your energy along the way.
Karen Evans of Evans Eye Care introduced us to this fun little urban commuter called the ELF (Electric, Light, Fun). This covered bike can travel 20mph on electric power only and up to 30mph when combined with pedaling. It can hold more than a dozen bags of groceries and an amazing 350-lb payload. It comes in a single or two-seater which can hold two adults or one adult and two children.
It's a healthy, economical weather protecting commuter that seems perfect for our valley terrain. It also makes good use of our desert sunshine with built-in 100 watt solar panels which allow it to self-charge. At 1800 empg fuel efficiency, an ELF is also one of the cleanest possible modes of transportation for the environment.
When thinking about buying a commuter vehicle, safety should be a top concern. The ELF has LED headlights, brake lights and turn signals along with a four-foot wide, five-foot tall brightly colored footprint, so they are not easily missed. The lights help signal the intentions of the rider and in the event of an accident, the rider is already positioned lower to the ground with a crumple zone around him or her that is not provided by a standard golf cart.
More good news…Because the ELF is a bike, it requires no insurance, registration and license fees. Of course, bikes do require new tires and some basic maintenance, but little compared to an electric or gas vehicle. And you can't forget the health benefits that come along with the journey!
We are privileged to have municipal governments that are active proponents of alternative transportation. CV Link is not only about safety and convenience; it allows us to rethink our connected community and is certain to bring us closer together than ever before. 
For more information on CV Link visit coachellavalleylink.com. For more information on the ELF, visit elfbikes.com or contact Karen Evans at [email protected]. (760) 636.3345.