If you could take a simple blood test to screen for more than 50 cancers, would you? It's an interesting question to ponder, and one I put out on social media when invited to do just that. We first wrote about the research behind the multi-cancer early detection blood test in 2021 as a cancer wellness trend, and I am truly interested in knowing whether people proactively want to know this sensitive information.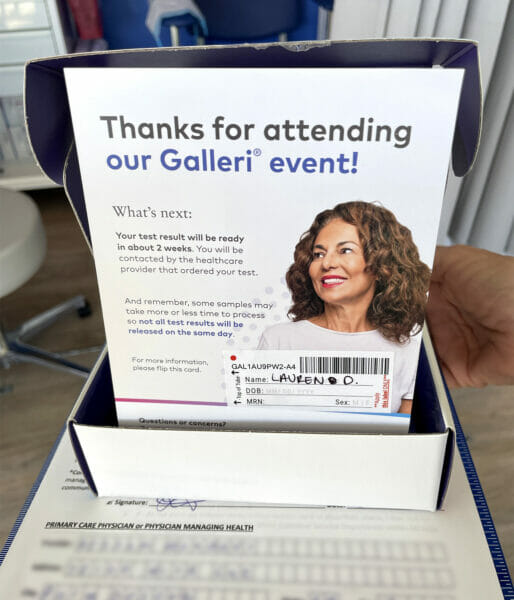 This statistic may help sway your decision. While we have effective screening tools for five leading cancers: breast, colorectal, lung, cervical and prostate, 70% of cancer deaths are caused by cancers for which we do not commonly screen,1 and identifying any cancer early can be the difference between life and death.
It certainly helped me make the decision when the team from Galleri offered the opportunity as a journalist in association with their sponsorship of The Galleri Classic tournament in March at Mission Hills Country Club. Galleri is a simple blood test that can screen for a signal shared by more than 50 cancers and predict the tissue or organ where the signal originated.
I will admit that the 10-day waiting period for results was a little more nerve-racking than I anticipated. As a breast cancer survivor and four years cancer free, I went from "no big deal" to "why is it taking so long?" Needless to say, the negative results received on day seven were a cause for celebration.
We are fortunate to have Galleri's elevated presence here in the desert due to their local PGA TOUR Champions sponsorship. At a town hall presentation held at the event, we heard from audience member Don who was one of the first to be diagnosed with active cancer as a result of the test. He had taken it proactively after it was prescribed by his doctor and had no idea he had advanced stage colon cancer. His doctors delivered the news with options for treatment, and he is now cancer free. "I would not be here today if not for the Galleri test," he said before asking the panel how long he had to wait until taking the test again.
"This has the potential to be a game changer in the cancer world," says Tim Tyler, PharmD, Director of Pharmacy, Lab and Oncology Supportive Care for the Comprehensive Cancer Center at Desert Regional Medical Center (CCC) which now offers the test. "I am tired of treating patients at stage 3 and 4 when systemic therapies like radiation and chemo have to be performed, and even then, we often don't win. If we could find more cancers at stage 1 or 2, the outcomes would be very different."
Now a strong supporter, Tyler was understandably skeptical at first. "But when I looked at the science and learned that the false positive rate is less than 0.5%, and that 89% of the time it can also tell us where that cancer is in the body, I was impressed." He was further encouraged by the fact that the Mayo Clinic had begun offering the test, and that England's National Health System (NHS) is partnering with Galleri's parent company, GRAIL, to conduct a four-year randomized, controlled clinical study to determine if the test, alongside standard cancer screening, can find asymptomatic cancers at earlier stages than they are found in clinical care today. Enrollment is complete at 140,000 participants,2 and Tyler notes that if someone in the study does show a positive signal for cancer, they will be promptly treated if/once cancer is confirmed through diagnostic evaluation.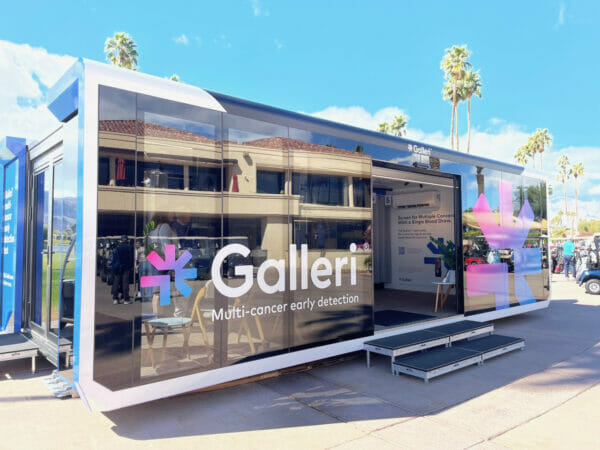 Doesn't replace screenings
It's important to emphasize that this test does not replace recommended single-cancer screenings. Mammograms, colonoscopies and others are still the gold standard of care and all should follow guidelines for their age group and risk factors. "This test is a snapshot of where you are today," adds Tyler. "A negative test provides peace of mind, but is not a lifetime pass."
Origin of the discovery
Like many medical breakthroughs, the multi-cancer early detection blood test stemmed from findings during other research. About 10 years ago, noninvasive prenatal tests (NIPT) were launched as an alternative to amniocentesis. These molecular blood tests for pregnant women could accurately detect whether a fetus had an abnormality in chromosome number. Illumina, the major DNA sequencing machine company, had performed about 150,000 of those tests at the time. As the GRAIL team explains, a pathologist at Illumina was reading test results and noticed that of 150,000, there were approximately a dozen that had an odd signal. The pathologist wondered whether that strange signal could possibly be an indication of cancer. After further evaluation of the data, most (if not all) of the women with odd results were proven to have cancer of which they were previously unaware.
Illumina realized there was something to explore with detecting signals of cancer in the blood, and the idea of GRAIL was born. After seven more years of research on this discovery, the Galleri test was released in 2021.
Current availability
Galleri and other multi-cancer early detection tests are not yet FDA approved, and are therefore only available by prescription on a cash basis at this time. Approval could mean significant cost savings for the entire health care system, as well as coverage by insurance and Medicare.
A variety of doctors throughout the Coachella Valley are offering the Galleri test including the Comprehensive Cancer Center. Those 50 years of age or older, not pregnant, without active cancer and three years out from treatment are encouraged to speak with their primary care physician or may call CCC directly. A dedicated coordinator screens calls and takes medical history before directing patients to Tyler or Medical Director Elber Camacho, MD for the required physician referral. CCC offers the test for $824 and no in-person visit is required prior to the blood draw. An email is sent if results are negative; if positive, a member from their medical team will call the patient to discuss next steps.
"Early detection saves lives and this specific test could save even more lives because it has the potential to identify cancers that would not be detectable until they were far more advanced," adds Tyler. "If you have a specific risk factor, which includes being 50+, you should speak with your doctor about whether this test is right for you."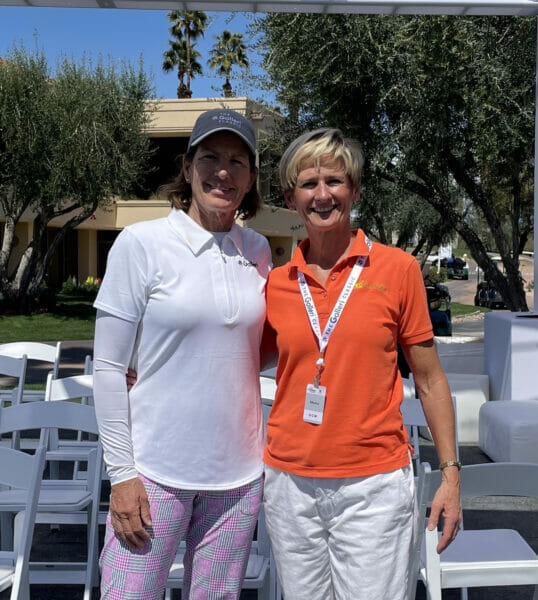 Before my blood draw from Galleri's onsite mobile unit, I was honored to speak with LPGA legend Juli Inkster, a Galleri spokesperson who played in The Galleri Classic Pro-Am. Turns out we had a few things in common, including an inspiration for taking the test. Her first love was horses before she took up golf at 15. We both called the San Francisco Bay Area and Coachella Valley home, and we both had fathers we lost to advanced stage cancer. Her dad fought a courageous two-year battle with stage 4 cancer, while mine was gone in a mere seven weeks from diagnosis. We both question what could have been done had their cancers been detected earlier.
"If you can get ahead of the game on cancer screening, why wouldn't you?" says Inkster. "Wouldn't you want to know stage 1 instead of stage 4? Early detection through the Galleri test can help determine that."
"If this could become a standard screening test and we can find cancers early, all of us in cancer care just may feel that we are ahead of the game for once in our lives," concludes Tyler.
To learn more, visit www.galleri.com or contact Desert Regional's Comprehensive Cancer Center at (855) 571.2582 or www.DesertCareNetwork.com/CancerBloodTest. Lauren Del Sarto is founder and publisher of Desert Health and can be reached at [email protected]
Reference: 1) Hackshaw, A., Cohen, S.S., Reichert, H. et al. Estimating the population health impact of a multi-cancer early detection genomic blood test to complement existing screening in the US and UK. Br J Cancer. 2021;125(10):1432-1442; Estimated deaths per year in 2022 from American Cancer Society Cancer Facts and Figures 2022.; 2) https://grail.com/press-releases/grail-and-national-health-service-nhs-england-complete-enrollment-of-140000-participants-in-largest-study-of-multi-cancer-early-detection-test/