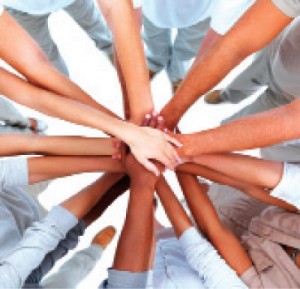 "You have cancer." For some, these words are a sudden reality. For others, a harsh diagnosis to deliver. They have become three of the most feared words in our society today. When faced with this news, a patient may become overwhelmed with the plethora of information and tasks that follow. There are immediate steps to be taken and many decisions to be made. The road ahead is challenging and can be very long.
Fortunately, years of research has changed treatment for this diagnosis from 'terminal illness' to 'chronic disease management' in many cases. No longer is cancer treated by one or two doctors. Your team of practitioners may include your primary care physician, internist, oncologist, social worker, radiologist, surgeon, pharmacist, nutritionist, acupuncturist, massage therapist, naturopathic doctor, and mind-body practitioners. Each practitioner will know their specialty, but may or may not know about other elements you have been prescribed or have chosen for your integrative treatment plan.
It is important to note once again that 'Integrative Medicine' does not mean replacing conventional medicine with alternative therapies, but rather using conventional medicine in conjunction with complementary therapies as part of a complete treatment regimen. Given this modern day, multi-faceted approach to treating cancer, communication is key.
The Case for a 'Case Manager'
Tim N. of Palm Springs states, "A team of health care practitioners is built around you and at some point you realize that someone needs to take charge–to absorb the information, ask the questions, maintain the busy schedule and review options so you can make the best decisions for your own cancer care regime." Tim, who is winning his battle with two different types of advanced cancers knows it can become a full time job. "You need to become your own Case Manager. And if you are not able to do this, then appoint a family member or hire the right professional. Someone has to take the lead."
Oncology surgeon, Dr. Scott Gering agrees, "Having a quarterback on your team, whether it is the patient or someone they have appointed, certainly helps the process. It can all be so overwhelming and having someone manage the information is beneficial to the patient as well as to his or her health care team." Gering adds that some insurance companies and hospitals will assign a case manager to complex situations to help patients through the process.
Additionally, some concierge doctors will take on this role to assist a patient with the decision-making process.
It Shouldn't Be Tough to Talk
Statistics reported by the Society of Integrated Oncology include a 2002 survey stating that 80% of cancer patients used 'CAM' (complementary and alternative therapies) with other studies noting that an alarming 38 to 60% of those using CAM did not inform their medical care team.[sup]1[/sup]
The most common reason patients give for this is that it never comes up in discussion; that no one asks them and they do not think it is important. Or they may believe the topic will be received with indifference or dismissed without discussion because their doctor does not know how to respond.[sup]1[/sup]1
Each of the doctors with whom we spoke disagrees. "As oncologists, the more information we know about our patients' care, the more we can do to help them," states Dr. Amy Law. "Sharing this information will help us to help you."
Bringing complementary modalities in-house has helped Desert Regional's Comprehensive Cancer Center change the perceptions for both doctors and patients. "We are proud to provide a welcome mat for both physician and patient to openly discuss all forms of treatment," states Dr. Anita Chatigny.
Alison Sachs, Director of Community Outreach Patient Support at Eisenhower Medical Center adds, "Integrative oncology has become standard care throughout the world. You don't open a cancer center today without an integrative focus. Doctors are learning to ask the questions and patients are learning to be a part of the team and not simply the recipient."
An easy-to-read resource for both practitioners and patients is the Society for Integrative Oncology's 'Evidence-Based Clinical Practice Guidelines for Integrative Oncology' which is referenced by the National Institutes of Health.
Why Speak Up?
Dr. Tim Tyler, Desert Regional's Comprehensive Cancer Center's Pharmacy Director whose team is a resource for both physicians and patients provides some simple examples. "Like aspirin, garlic and feverfew both lengthen clotting time which is important to know if a client is undergoing surgery." Tyler adds, "As a matter of fact, almost any herb that begins with a 'G' may impair your ability to clot. And some herbs can interfere with radiation by intensifying the treatment or creating a dermal reaction (like a sunburn)."
Tyler's team resources information from the Natural Medicines Comprehensive Database which provides unbiased, scientific, and clinical information on natural medicines, including effectiveness ratings and potential interactions with drugs. "Another example is Green Tea which is considered an effective antioxidant; however, animal model data has shown that Green Tea negates the impact of Velcade, an effective drug used in the treatment of multiple myeloma. The data is strong enough for us to recommend that patients don't drink Green Tea while on Velcade."
Helping Your Doctors Help You
We asked the doctors with whom we spoke how patients can best approach the subject of integrative care:
Plan your appointments with respect to time. If you have a lot of questions for your practitioner or feel you need more than the standard 15 minute appointment time, make that request when you book your appointment. Most doctors are paid by insurance companies for their time and there are insurance codes or 'categories of visits' that allow doctors to allocate more time to patients.
Be prepared. Have your written list of questions and research information with you at appointments
Be organized. Start a binder. Take notes. Be able to reference those notes in a timely manner in case there are questions about your overall treatment plan.
Know all supplements you are taking. Not only the brand, but all the ingredients as one of these ingredients may make a difference or may interact with other care.
Don't expect your doctor to know everything. New treatments, therapies, and drugs are introduced all the time. An oncologist may not know all that an oncology surgeon may know, just like your primary care physician may not know all that a naturopathic doctor may know. Our health care system nowadays is built on specialists. Add the proper specialists to your team for the information and treatments that you are seeking.
Naturopathic doctors Dr. Shannon Sinsheimer and Dr. Sonja Fung promote their therapies as complementary treatment to conventional care (versus alternative, stand alone treatment) and both encourage open communication with their patient's medical team.
"In addition to fully reviewing lab tests and reports, I provide patients with a list of questions to ask their oncologist prior to recommending treatment," states Sinsheimer.
"The most common form of integrative care I see is integrative cancer care," states Fung. "Either patients are newly diagnosed and seeking a third party perspective or referred to me by their oncologist for adjunct care to minimize side effects and improve their nutritional status. Once we come up with a plan, I provide their oncologist with regular written reports."
This approach of working together and sharing information should be embraced by all practitioners on your health care team.
References: 1) Society for Integrative Oncology's 'Evidence-Based Clinical Practice Guidelines for Integrative Oncology' (www.integrativeonc.org/index.php/sio-publishes-2009-practice-guidelines).