Where were you this past September when we honored men with a prostate cancer diagnosis? Did you know that an estimated 174,650 U.S. men will be diagnosed with prostate cancer and 286,600 new cases of U.S. women will be diagnosed with invasive breast cancer in 2019? In short, 1 in 9 men will hear the words "You have prostate cancer" while 1 in 8 women will hear the same for breast cancer. Health initiatives, such as ZERO – The End of Prostate Cancer and Paint El Paseo Pink, are both so important – and both include the men we love.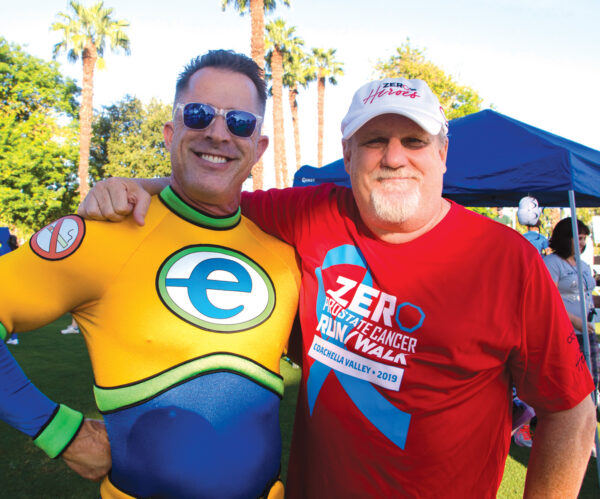 ZERO Prostate Cancer Run/Walks were held all over the country, including the inaugural 5K event that took place September 14 at the Palm Desert Civic Center, creating a space for the community to come together, raise funds and share hope.
Participation in the event made a real difference in the lives of men and families fighting this disease. From funding research for a test to distinguishing between aggressive and slow-growing disease while providing educational and support resources for at-risk men in the community, ZERO's mission to end prostate cancer was impactful.
Our local event attracted participants from all desert cities, its surrounding geographic areas and as far away as Canada and featured key survivor speaker Dan McDougall. The large health expo offered resources and prostate cancer experts including Valley Urology and Desert Medical Imaging; a rally featuring the La Quinta High cheer and Palm Springs dance squads, and the ROTC and jazz band from Cathedral City High. Other activities included a Super-Hero Dash for Dads, and a survivor's lounge sponsored by AVSU, and NABF Welterweight Champion Tomas Dulorme signing autographs.
Organizers were honored by the outpouring of many local business and charitable organizations. "We are proud to sponsor this inaugural desert event to raise money and awareness for research and free testing," said Catharine Reed, senior program officer of the Auen Foundation. "ZERO and Dr. Feller are actively seeking treatment solutions and diligently educating families about prevention. We are excited to support this new community outreach and fundraising effort to impact more people." The inaugural event exceeded goals with over $61,000 raised for local and national efforts.
Will you join us next year? Save the date: September 26, 2020. To learn more, visit www.zerocancer.org.
Lisa Ford is the business development director at Desert Medical Imaging and was the 2019 Local ZERO 5K Run/Walk Race director. She can be reached at (760) 275.5768 or lisa.ford@desertmedicalimaging.com. Lisa is also affiliated with Desert Doctors and other local non-profit charities.