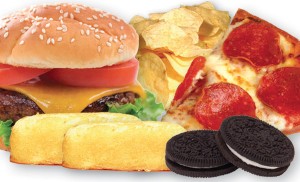 The 1950's were a time of excess in America. Rising from the desperation of the 40's and World War II, Americans were filled with optimism–anything was possible and we had the world at our fingertips.
It was a time of invention. Companies sold convenience and accessibility with families in mind. Commercials and door-to-door salesmen did their best to convince the "typical" 1950's American homemaker to purchase time-saving appliances and serve her family new convenience foods. On the heels of lean pantries and government rationing during war time, these changes were welcomed.[sup]1[/sup]
Period cookbooks and magazines display belly-filling simple meals prepared from pre-packaged goods. 1950's cookbooks, food company brochures, and popular women's magazines confirm the popularity of casseroles, meatloaf frosted with mashed potatoes, and anything grilled (mostly red meat) on the barbeque, which became a popular "new" suburban trend. Main meals were accompanied by frozen vegetables, with lots of butter or sauces. Canned soup reigned supreme as the ultimate combination of convenience and versatility, and Chex Mix (also known as Trix Mix, TV Mix) was the signature snack.[sup]1[/sup]
1955 was the year that businessman Ray Kroc became a franchise agent for a small hamburger stand known as McDonalds. In the same year, Coca-cola appeared in cans for the first time. It was the decade when Hostess was acquiring small bakers throughout the country promoting brands like Dolly Madison, Wonder Bread, Butternut Breads, and Sweetheart. In 1961, two small potato chip manufacturers, Frito and Lay, merged and were later acquired by Pepsi who began mass marketing brands like Fritos, Doritos, Ruffles, and Cheetos.
Fortunately, the 1950's was also the decade that Englishman Frederick Sanger was awarded the Nobel Prize for identifying the structure of insulin, laying the groundwork for synthetic insulin used for diabetes which would be much needed by Americans in years to come.[sup]2[/sup]
Today, diabetes affects 25.8 million in the United States. About 1.9 million people ages 20 years or older were newly diagnosed in 2010 and studies show that 35 percent of this same population has pre-diabetes, a condition in which blood sugars, or A1C levels, are higher than normal but not high enough to be classified as diabetes.[sup]3[/sup]
If you ask medical professionals how we got here, most agree that it is due to the accessibility of refined carbohydrates such as white bread and rice, high fructose corn syrup, and refined sugar. The processed, packaged and fast foods we love so much (commonly known as the 'Western Diet') are killing us, and many populations throughout the world as well.
When primitive cultures are exposed to the Western diet, they convert immediately[sup]4[/sup] and studies show that within one generation, its people begin to experience the typical diseases of the civilized world.[sup]5[/sup] As Dr. Steven Gundry states in Dr. Gundry's Diet Evolution, hypertension, diabetes, heart disease, arthritis, cancer and colitis – diseases currently unknown or rare in such cultures–become rampant. "So consistent is this phenomenon that it is referred to as "the rule of twenty years."[sup]6[/sup]
Realize It Could Happen to You
A recent report by UnitedHealth predicts that half of all American adults are destined to develop diabetes or pre-diabetes by 2020 if they don't slim down. This would bring the statistics from 93.9 million currently (28 million diabetics and 66 million pre-diabetes) to 135 million in 2020.[sup]7[/sup]
We live in denial that we could be one of those statistics and while the power of positive thinking is encouraged, there are steps that we can take to improve our chances.
Rethink What Foods are 'Good for You'
Many studies have shown that diabetes can be managed and often reversed with diet.[sup]4,8[/sup] But there are fundamental changes that need to take place. "There has never been diabetes in people who eat their native diet," states Dr. Gundry, who is also the founder of the Center for Restorative Medicine. "When they transition over to a Western diet, they develop diabetes." His philosophy is that we need to go back to the foods that our bodies were originally designed to process.
"We have no natural ability to process sugar. It was introduced in the 1900's as a rich person's pleasure," adds Gundry, "and grains, whole or wheat, are sugar. The foods that the Department of Agriculture have told people for years are "healthy" for them, isn't really the case. All we have to do is take a fundamental step backwards and realize that before the advent of modern milling practices, diabetes was not a common disease. It's the incredible availability of simple carbohydrates that produce diabetes. If you can take those simple carbohydrates away from people, their diabetes goes away."
Gundry works with many patients who rid themselves of their diabetes in weeks by making simple food choices. "It is no longer one of the hard things we do."
Bradford Lee, MD, of La Quinta is a retired cardiac surgeon with Type II diabetes. He was on three medications, but still had an elevated A1C (average blood sugar level). Lee turned to the 30-Day Diabetes Miracle written by Franklin House, MD and Stuart Seale, MD of the Lifestyle Center of America.
Similar to Gundry's recommendations, this diet eliminated all grains and focused on vegetables, beans and light fruit. Following the diet, Lee saw his weight go from 173 to a comfortable 158 and his A1C and fasting blood sugars drop accordingly. He was able to eliminate all three oral medications and got his blood sugar levels to an acceptable range.
"The crux of the success for me was to understand that it was better to eliminate all processed food–cakes, cookies, potato chips; to minimize fried foods; and to focus on vegetables," says Lee. Three years later, he has added fish, eggs, soy milk, brown rice, and sprouted grain breads into his diet, but these new foods are now a lifestyle that he enjoys. He went back onto one mild medication, but has maintained acceptable blood sugar levels.
Get Fit and Lose Weight
"The majority of people who develop Type II diabetes have a genetic predisposition, but there is still another category that develops it simply because they are overweight," states Joy Richardson, Registered Dietician and Certified Diabetes Educator at Desert Regional Medical Center's new Joslin Center. Americans need to lose the fat and get fit.
Gundry adds that the only way humans have ever found to fatten an animal for market is to feed them healthy whole grains products. "You can't make a cow or a chicken fat by feeding them grass, only healthy whole grain products. It's the same with people."
Exercise is an important part. As stated by Avid Physical Therapy in Desert Health®'s Fitness section, new research indicates that combining aerobic and resistance exercise will have an even greater and more lasting effect on blood sugar levels than aerobic exercise alone because of the lean muscle mass that is gained from resistance exercise. 20-30 minutes of resistance and aerobic activity 3 times per week is recommended.[sup]9[/sup]
Lee incorporated both aerobic and light resistance training into his regime and feels that it added to his success.
Realize That Most People Need Help
Whether it's diabetes prevention or management, most people need help figuring it all out.
Throughout this issue you will find many resources including dieticians, medical facilities, naturopathic doctors and practitioners. But you have to take the first step.
It is important to note that most major medical insurance and Medicare will cover diabetes education. "Medicare will cover 10 hours of diabetes education as referred by a physician in the first year and two additional hours of education each subsequent year," states Richardson. "We take a history and discuss what diabetes is, how they got it, medications, nutrition, exercise and more. And now that we are an accredited affiliate of Boston's Joslin clinic, we will have the latest information to offer." Joslin is considered the world's preeminent diabetes research and clinical care organization.
Another great resource we have here locally is the Desert Diabetes Club which hosts regular meetings, events and exercise classes. Their Jim Cook Day of Hope for Diabetes® event in March will feature Dr. Gundry as their medical speaker and is recommended for anyone seeking a better understanding how food affects our bodies (see Jim Cook Day of Hope for Diabetes® Free Event Celebrates 17 Years of Educating the Coachella Valley).
Hope for Those with Diabetes
Joseph Prendergast, MD is founder of the Endocrine Metobolic Medical Center (EMMC) in Palo Alto and the Pacific Medical Research Foundation which is dedicated to the study, treatment, education, and eventual cure of diabetes and its physical complications. His integrative approach to diabetes prevention and care is recognized throughout the world.
He notes that there are new medical breakthroughs in ending this disease. "Medical advances are exciting and promising," states Prendergast. "In a study of 34 patients with Type 1 diabetes, we have re-grown all their beta cells (which store and release insulin in the pancreas) and they no longer have to take insulin shots. This is happening with Type II diabetes as well."
"Einstein was right," Gundry concluded. "The definition of insanity is doing the same thing every day over and over and expecting a different result. Over the last century, there has had a fundamental shift in what we have been told to eat, and until we stop listening to the same thing, the epidemic will continue."
References: (1) TheFoodTimeline.org. Lynne Olver, food historian; masters in library science; 2) doctorsreview.com; 3) National Institutes of Health; 4) Dr. Gundry's Diet Evolution, pg. 18; 5) Cleave, T.L. 1974. The Saccharine Disease. Bristol, UK: John Wright and Sons; 6) Price, W. 1997, Nutrition and Physical Degeneration. New York: Keats Publishing; 7) ABC World News report, Nov 25, 2010. Jane E. Allen; 8) 30-Day Diabetes Miracle Franklin House, MD and Stuart Seale, MD of the Lifestyle Center of America; 9) Marcus, Robin L. et al. Combined Aerobic and Eccentric Resistance Exercise Versus Aerobic Exercise Only for Diabetes. Physical Therapy. Nov 2008, vol 88, no. 11: 1345-1354