Receiving a cancer diagnosis is beyond overwhelming. I've certainly learned this since being told in January that I had breast cancer. There is so much to learn; so many options and opinions to consider. Each person's experience or knowledge is different – as is every cancer.
Not one to leave any stone unturned, I immersed myself in research and met with as many medical and naturopathic practitioners as I could to understand my options. I had a small, stage-1 invasive ductal carcinoma in my left breast and pre-cancerous cells (atypical lobular hyperplasia) in the right. In consultations with multiple surgeons and an oncologist, all agreed that the standard of care would be a lumpectomy on the left (with or without reconstruction) followed by radiation, imaging every 6 months, and five years of anti-estrogen therapy. On the right, we would take a wait-and-see approach. Or, I could remove both breasts and avoid extensive follow-up and the worry of watchful waiting.
I was leaning toward the latter and can understand why the number of women choosing mastectomy over today's standard of care is on the rise.¹ The same protocol has been used for over 30 years and the options are terrifying.
Then I ran into a friend who asked if I had heard of cryoablation, or freezing of the tumor, which was showing impressive results in tumors my size (1.5 cm or smaller). This chance meeting opened a door to a serendipitous path. I met another friend who gave me an insightful book by Laura Ross-Paul, the first woman in the U.S. to have cryotherapy and retain her breasts. Then I had the privilege of meeting Phillip Bretz, MD, of the Visionary Breast Center in La Quinta who had performed the procedure 30 times.
Upon further research, I discovered that cryotherapy was first used for breast cancer in the 1800s, has been studied for decades, is currently approved for other cancers such as prostate, liver and kidney, has two clinical trials underway for use with breast cancer, and is covered by some insurances.
The technology uses a needle-sized ultrasound-guided probe that delivers liquid nitrogen into a targeted area creating a "freezeball" that engulfs the tumor and kills it. The minimally invasive procedure takes less than an hour and is done on an outpatient basis using local anesthesia. Recovery time is days versus weeks, and the patient's breasts are left intact with no change in structure and little to no scarring. Patients return in six months for imaging and a biopsy to ensure all cancer has been removed, followed by annual imaging.
It all sounded too good to be true, and as I read Ross-Paul's book, They're Mine and I'm Keeping Them, I learned of another added benefit to cryo, the "immune effect." The theory is that as your body absorbs the freezeball, your immune cells can recognize the protein structure of the tumor and form antibodies that create a natural immunity to the cancer. Immunotherapy is currently a leading trend in cancer research and while it appears that cryotherapy can naturally jumpstart this effect, there is a lack of scientific evidence to support it.
Promising news for breast cancer
There is, however, a growing scope of scientific information on cryotherapy for breast cancer. Here are some highlights:
There are two clinical trials currently underway: 1) the Ice3 Trial led by Kenneth R. Tomkovich, MD, of Princeton Radiology and director of Breast Imaging and Interventions at CentraState Medical Center in Freehold, N.J., sponsored by equipment manufacturer IceCure Medical Ltd.2; 2) the FROST Trial (Freezing Instead of Resection of Small Tumors) led by Principal Investigator and breast surgeon Dennis R. Holmes, MD, FACS of the John Wayne Cancer Center, sponsored by equipment manufacturer Sanarus Technologies, Inc.³
Early findings from Ice3 were presented last year at the Radiological Society of North America's (RSNA) annual conference and of the 146 patients that had undergone the treatment, only one had the cancer recur giving the procedure a 99.4 percent success rate with short term follow-up.⁴
A National Cancer Institute multicenter trial published in the 2016 Annals of Surgical Oncology examined 86 women with early-stage breast cancer whose tumors were 2 cm or smaller. Cryoablation was applied using Sanarus Technologies equipment followed by surgery to remove the dead tumor so doctors could confirm that all cancer cells were killed. Results showed no remaining cancer in 92 percent of all tumors and 100 percent of tumors smaller than 1 cm.⁵

Data presented at the 2018 Japan Society for Low Temperature Medicine by Eisuke Fukuma, MD, PhD, director of breast disease at Kameda Medical Center in Japan, showed only 2 tumor reoccurrences in 250 patients over a six-year period.⁶
Current trials
The Ice3 trial is no longer seeking participants, but the FROST trial is open and has two southern California locations participating: City of Hope in Duarte and Adventist Health Glendale.
Eligibility criteria include (but is not limited to):
Age ≥ 50;

Invasive ductal carcinoma diagnosed by a core needle biopsy;

Maximum tumor size ≤ 2 cm based on mammogram, ultrasound and MRI;

Clinically node negative, hormone receptor positive, and HER2 negative;

< 25 percent intraductal component in the aggregate;

Lesion must be visible by ultrasound;

Adequate breast size with .5 cm margins between the ablated lesion and the skin.
With the FROST trial, the theory is that cryoablation is only replacing surgery (lumpectomy or mastectomy) in standard of care; therefore, women 70+ participating in the trial must agree to 5 years minimum of hormone therapy (an estrogen blocker) and women 50-69 must agree to radiation plus hormone therapy. Full examination and testing are required to ensure eligibility as each patient and each cancer is different. Cost of the procedure and follow-up services are covered for trial participants. Both locations also offer cryoablation "off-protocol" or outside of the trial.
My personal choice
Based on my due diligence, I decided that cryoablation was the option for me. My cancer was slow growing and my theory is that in six months, if there is still cancer, mastectomy is still an option. Not all doctors I consulted with agreed with this decision, but others did (another thing I am learning on this journey: it's important to make decisions for yourself and no one else). During these six months, I continue on a diet and supplementation plan recommended and managed by my integrative team.
Fortunately, my cancer matched the trial inclusion criteria; however, I did not wish to do radiation, so City of Hope agreed to do my procedure off-protocol. I also chose minor surgery on the right breast to excise the pre-cancerous cells as cryotherapy is not offered for this. Both procedures were performed on April 1 and I returned home the same day.
While foregoing radiation was my personal choice, it is important to note what Holmes states at FROSTStudy.com⁷:
One of the major misconceptions with cryoablation is that it completely replaces the need for radiation or other treatments. With surgery, radiation is usually recommended to treat undetected residual disease in the surrounding breast, skin, or lymph nodes. In fact, the addition of radiation to surgery is generally associated with a 60 percent reduction in the risk of recurrence in the breast and lymph node area. Many patients treated with cryoablation would also benefit from radiation.
Why did I choose not to do radiation? Because I have confidence in the natural immune effect and my goal is to boost my body's ability to potentially become immune to this cancer. As there is currently no protocol for immunotherapy for breast cancer, I am implementing natural therapies under the direction of my care team.
This decision is not for everyone, and Holmes addresses the immune effect on the study site:
A main goal of cryoablation is to induce an immune response that might provide immunity to the cancer and prevent growth of residual or future disease in the breast, lymph nodes, or elsewhere. This is very much a goal, but the extent to which this occurs for the average breast cancer has yet to be fully established. Indeed, there are numerous anecdotal reports of immune system stimulation in humans resulting in regression of metastatic tumors following ablation of the primary tumors; however, there are also many examples when regression of distant metastatic sites did not occur.
What is clear from the conflicting observations is that we still have a lot to learn about the natural immune response to cryoablation. Until it is clearly proven, it is best that patients remain open-minded about receiving radiotherapy and taking anti-cancer medications, especially if their cancers are larger or more aggressive.
Holmes is passionate about advancing cryotherapy for breast cancer and envisions future clinical trials on the immune effect. "My mission is to create an organization of practitioners, researchers and industry to work collaboratively to understand the immune response and how we can to get it to work in a more reliable way," he stated in an interview with Desert Health. "There is the potential for cryoablation to augment that response, but we still have a lot to learn."
The Pioneers
I have much admiration for those, like Holmes, driven by passion to find a better way and on this path, I have discovered many.
In medical school in the 70s, breast cancer surgeon Phillip Bretz, MD, of La Quinta was taught that to win the battle with breast cancer you need to cut out as much as possible. He has spent 40 years of his career advancing less invasive procedures and preventative drugs to offer women better options. Over the past decade he has performed 30 cryoablation procedures and continues to follow his patients' progress. Today, he is focusing on advanced preventative screening through medical grade thermography to identify changes in breast tissue for earliest possible detection to obviate the need for surgery, chemo, or radiation. (11.4.19 Update: It has been reported that Dr. Bretz has been placed on probation for medical infractions).
Radiologist Peter J. Littrup, MD, Ross-Paul's doctor and co-author of her book (along with husband Alex Paul), was the first in the U.S. to perform cryoablation on a woman without removing her breast to then study the effect – standard research protocol for the preceding decade. Littrup is considered by many around the world as a leader in imaging-guided techniques and progressive therapies like immunotherapy and ultrasound tomography. He helped develop the equipment that made cryoablation commercially viable, and his work continues as a model for China's FUDA hospital which has performed over 10,000 cryoablations on a variety of cancers coupled with "CIC," Combined Immunotherapy for Cancer. Based on their astonishing success rates, over 30,000 from around the world have traveled there for treatment.⁸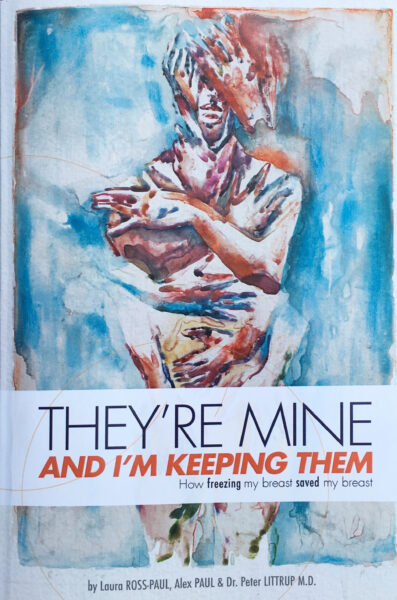 In 2003, Laura Ross-Paul was diagnosed with three tumors in her breast leaving mastectomy as the only option presented by her medical team. She and Alex searched the internet for options and fortuitously found Dr. Littrup who was successfully performing cryoablation for prostate cancer six states away. Their connection – and her courage – led to this groundbreaking procedure. Their team went on to write the book, and Ross-Paul has been a featured speaker at FUDA's annual conference on cryotherapy. She continues to thrive today and is an active advocate for advancing cryoablation as an option for others.
"It was our hope that telling our story would inspire a change in the way that we in the West view and treat breast cancer," she says, ecstatic to see clinical trials finally underway. "As many of us have shown, it is possible to keep your breasts and get immunity to your cancer."
If the FROST Trial is successful, it will provide an important foundation for establishing cryoablation as an alternative to conventional therapy in select women with early stage invasive breast cancer.
For more information visit cryoablation.com. If you are interested in participating in the FROST trial, visit www.FrostStudy.com or https://clinicaltrials.gov/ct2/show/NCT01992250. Ross-Paul's book, They're Mine and I'm Keeping Them, is available on her website KeepingThem.com.
References: 1) https://jamanetwork.com/journals/jamasurgery/fullarticle/1921808; 2) https://clinicaltrials.gov/ct2/show/NCT02200705; 3) https://clinicaltrials.gov/ct2/show/NCT01992250; 4) https://press.rsna.org/timssnet/media/pressreleases/14_pr_target.cfm?id=2053; 5) https://www.nyp.org/news/Freezing-Technique-Effective-Alternative-to-Lumpectomy 6) Dennis R. Holmes, MD, FACS 7) https://www.drholmesmd.com/contents/services/cryoablation/cryoablation-faq 8) https://www.scmp.com/news/china/society/article/2113468/how-obscure-chinese-hospital-became-beacon-hope-foreign-cancer