A new report in the medical journal of the American Academy of Neurology now ranks Alzheimer's as the third leading cause of death in our country behind cancer and heart disease.1 It is estimated that 5.5 million Americans are living with the disease and that number is expected to triple by 2050 if no successful treatment is discovered.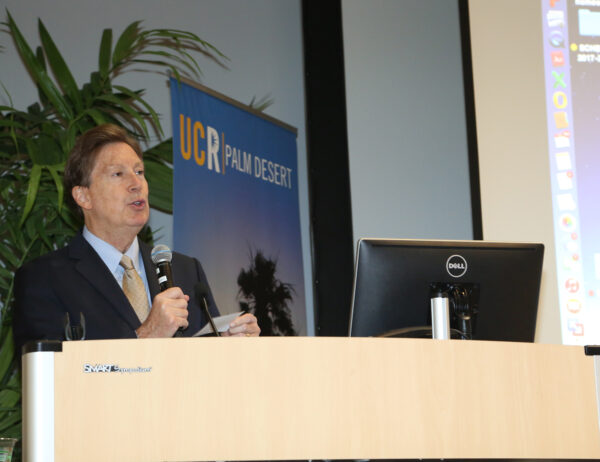 Yet, efforts to find a cure have been futile. Over the past decade, 243 of 244 drugs introduced have failed as researchers continue their attempts to identify a single trait that can be altered with medication to reverse the condition.2
"Clearly we need a paradigm shift," says internationally acclaimed researcher Dale Bredesen, MD, author of The End of Alzheimer's. "We need to change the way we think about this disease, the way we understand this disease, and the way we prevent and treat it."
In October, Dr. Bredesen and other innovators appeared in Palm Desert for the Advances in Brain Health practitioner symposium hosted by Jeralyn Brossfield, MD, of Brain Health Restoration in Rancho Mirage. Local medical doctors, nurses, naturopathic physicians, physical therapists and others were on hand to learn about the Bredesen Protocol and the latest neuroscience technology.
"We have not had any movement forward in the field of Alzheimer's for years," says Dr. Brossfield. "Now we have a new way that is clinically proven to reverse the disease and that is incredibly hopeful." While the information is not yet accepted as mainstream, many industry partners and practitioners are on board with Bredesen leading the way. "He is bringing new eyes to an industry that needs new eyes," adds Brossfield.
"The traditional western medicine approach doesn't work because there is not one individual factor that causes cognitive decline and Alzheimer's," Bredesen says. Like many others, he spent 30 years researching to understand the basic molecules that drove the process of neurodegeneration in order to fashion the first effective treatment for what he calls the greatest biomedical failure of our time.
Determined to change that, he then identified at least 36 factors that are vital to brain health and established a lifestyle protocol consisting of nutrition, exercise, and supplementation which is successfully reversing cognitive decline in clinical trials and being practiced globally.
"In simplistic form, our brain function is the sum of things that help and things that hurt," notes Brossfield. "The things that promote optimal brain function are basic: sleep, movement, nutrients, oxygen and hormones while the things we want to mitigate and reduce are trauma, stress, inflammation and toxins." The combination affecting each person is different, so results and prescribed protocols are individualized.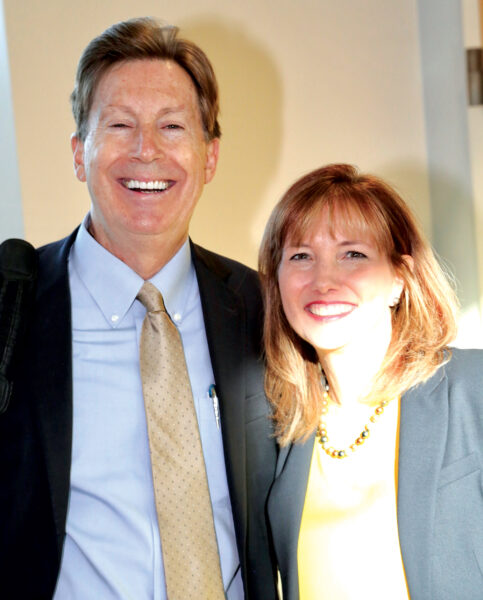 A major concern according to Bredesen is that doctors and specialists are not running the available tests for Alzheimer's as they believe there are no viable treatments. He trains practitioners around the world on his protocol which begins with a cognoscopy, an in-depth set of tests that determine the details of every contributor to brain function. "I want to know your circulating vitamin C level; your zinc level; if you have cytokines reacting to inflammation, viruses your body may be harboring, and much more," adds Brossfield, noting that the rise in functional medicine, which considers the root cause of disease, is helping move the protocol forward.
Bredesen adds that consumers also believe there is nothing that can be done, so they wait to come in when they should be coming in early for testing that can identify and lead to a tailored prevention plan.
"Alzheimer's takes 20 years from initiation to symptoms which is significant time for preventative programming," he says. "We hope to see the cognoscopy recommended at age 45 just as the colonoscopy at age 50."
Evolution of technology
The conference also featured Wave Neuroscience President Erik Won, MD, and Senior Scientist Alex Ring who discussed advances of neuromodulation and the use of electrical stimulation for cognitive decline.
As a Naval flight surgeon Dr. Won saw the effects war can have on the human brain. So, when the opportunity to leave a comfortable civilian job to be a part of a technology company that is helping soldiers with traumatic brain injury reclaim their lives, he was very interested, but skeptical. "What I heard from people was very promising, including a friend of mine who had tried to commit suicide, and this was his last life line." After three years of due diligence, he joined the company and is very hopeful with the results he is seeing.
Electrical stimulation for conditions of the brain has been used for over a century, he explained. While there was much excitement in the 70s and 80s about the discovery of neurotransmitters (dopamine, serotonin, and norepinephrine) and drugs to alter levels, the effects were not what the industry had anticipated.
Deep brain stimulation followed with electrical wires surgically placed in the brain. While more effective for conditions like Parkinson's, OCD and depression, not many people were open to subjecting themselves or their loved ones to this invasive therapy. So, efforts continued to find a non-invasive version of this electrical stimulation technology.
Then in 2008, repetitive transcranial magnetic stimulation (rTMS), was FDA-approved for depression. "TMS was found to be more effective than behavior therapy and drugs combined," says Won, "but it is a one-size fits all approach that targets one area of the brain so there was room for further improvement."
Magnetic e-resonance therapy (MeRT) followed which Won says offers a personalized approach that can reach a wider range of disorders. "These technologies were not created with one condition in mind but rather to enhance the overall function of the brain so they can reach a broad spectrum of conditions. They cannot cure these diseases but in my experience with veterans, it is taking them off the ledge and giving them more emotional reserves to deal with stress and that is quite meaningful to many vulnerable populations." The technology helped his friend go from suicidal to an engaged father studying to get his MBA.
"We are all electrical, energetic beings and are consistently making brain waves," says Brossfield. "This non-invasive, non-surgical modulation technology strives to restore optimal brain function and the outcomes have been impressive." She adds that combining the Bredesen Protocol with brain stimulation increases results significantly.
In her youth, Brossfield's family took care of her grandfather who suffered from Alzheimer's and her enthusiasm for the progress is evident. "We now have treatments that are changing the lives of people we love and generating hope for our future."
References:
1) https://n.neurology.org/content/82/12/1045;
2) Advances in Brain Health: A Practitioner's Symposium. Oct. 23, 2019. Palm Desert CA.