Vegan Café Blooms in DHS
Inspiring local takes chance on city's first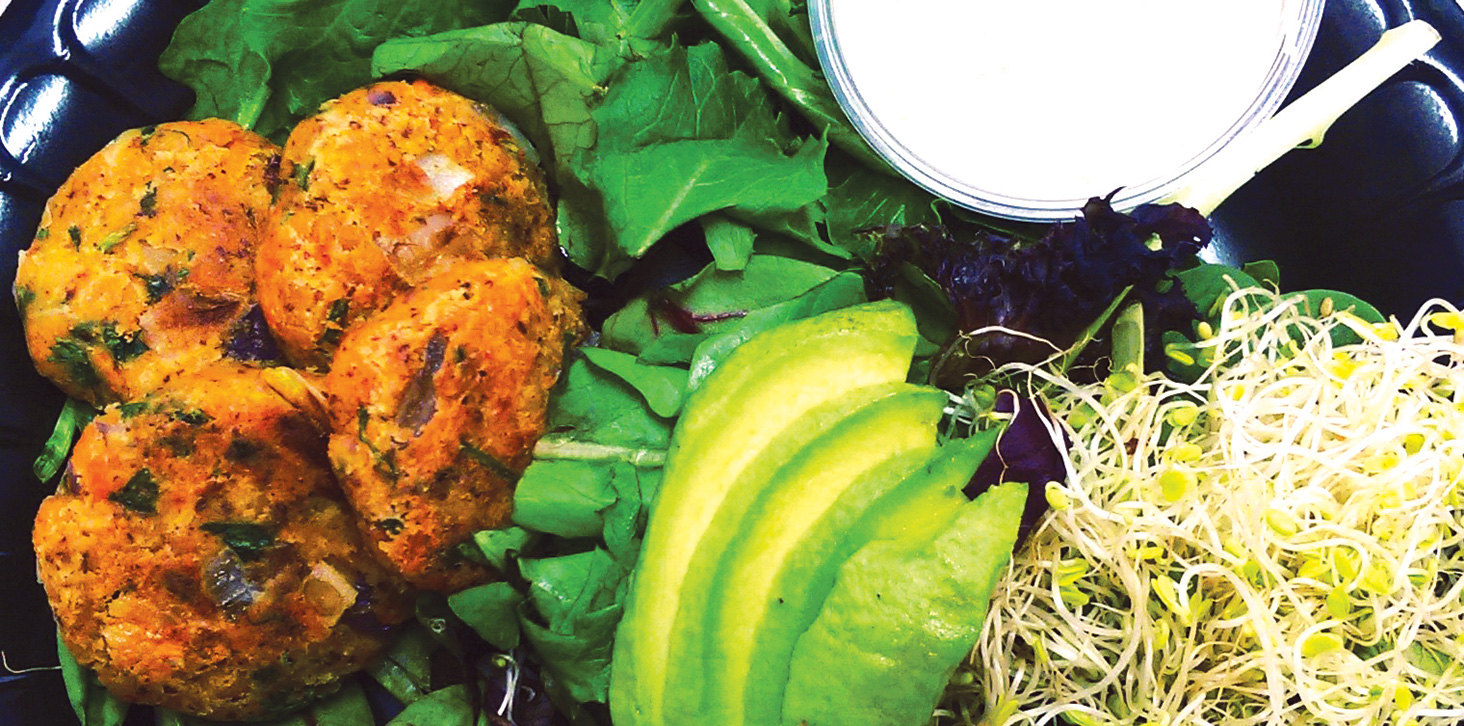 Stephanie Gray wasn't always this fit. At 5'1" she once weighed 175 pounds, a stark comparison to her petite appearance today at 110. Two years ago, she dedicated herself to a healthier lifestyle through exercise and a variety of yo-yo diets that didn't work. She finally shed the pounds through a "vegan challenge" of primarily plant-based foods and decided to share her new-found knowledge with her neighbors by opening up Desert Hot Springs's first vegan café.
As a local, Gray is very proud of her community. "Desert Hot Springs has a lot of great qualities and a lot of great people, and I wanted to do my best to bring a healthier food option to the community," she says. "We love Essence at Two Bunch Palms, but they are not kid-friendly, and my focus as a mother is to serve and educate the families in our community on healthy eating."
The Gray Café, which is located on Palm Drive at the corner of Hacienda, has received an overwhelming response from locals and mineral spa visitors alike. Many stop in for lunch or dinner and others pick up on their way to or from one the many mineral spas in the area. As most of the spas offer kitchenettes in lieu of restaurants, Gray has filled a much needed niche for the local industry. They even deliver to The Spring, Hacienda and Living Waters nearby and hope to expand to others. On a recent visit, I spoke with two groups who were returning to the café to restock on spring rolls, wraps and salads for the rest of their visit.
The holistic café and mini health food store offers a variety of raw juices, plant-based appetizers, salads and meals, along with organic sauces, spices and snacks. They fresh press hemp and almond milks daily and also provide meatless-meat options such as freshly made seitan. They are CBD friendly and offer drops of the nutritious (non-hallucinogenic) cannabis oil as an add-on to dishes next to the tahini and chunky guacamole.
Gray's recipes are impressive considering that she is a self-taught chef. Her inspiration adorns the walls in the bookshelf display that she encourages patrons to enjoy with a "Food for Thought" moniker. At 31, she considers this new venture part of her own personal journey to holistic living and is appreciative of all she is learning along the way. "I am enjoying the hard work and learning every day," she says. "But I know I am on the right path because so many amazing people have come into my life recently, and so many are embracing our efforts to enhance the community."
The food is delicious, flavorful and fresh. Gray's seasonings and flavors are selected for their medicinal purposes as well as taste, as in the turmeric and orange zest basmati rice. My favorites are the falafel salad (very moist) and the cran-pumpkin seed spring rolls. I find everything filling, but those seeking a heartier meal should try the seitan burger served with chipotle mango salsa, tomato, avocado, and veganaise on a whole wheat bun (make it gluten-free without the bun); or, better yet, the mesquite chickpea-beet patty with spinach and avocado.
The Gray Cafe also offers specialized meal preparations, recipes, and cleanses to help patrons transitioning to a plant-based lifestyle.
As just "a small place on the corner," she is surprised to meet people from Oregon, Washington and San Diego who are passing through and have found her online. "I really want to show people that Desert Hot Springs has a lot of good qualities and good things to offer – especially when it comes to wellness," she adds. "So it is gratifying to see people stopping on their way through."
If you live in DHS or are on your way to one of their magical mineral spring spas, stop by The Gray Café. You'll be thoroughly fulfilled with Stephanie's cuisine and even more so with supporting her efforts!
The Gray Café located at 13104 Palm Drive in DHS is open Monday – Saturday from 8a.m. – 4p.m. Those ordering pick up are encouraged to phone or order online (some items are available in the front cooler, but are sold-out quickly). Prices are very reasonable ranging from $5.00 – $8.95. For more information visit www.thegraycafe.com or call
(760) 251.2443.
2 Responses to "Vegan Café Blooms in DHS"