Trilogy's 7th Annual Health and Wellness Fair
Free and open to the public!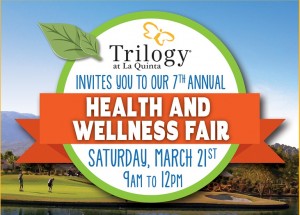 Desert Health® is proud to support the 7th Annual Coral Spa Health and Wellness Fair at Trilogy Resort in La Quinta on Saturday, March 21. This free event takes place from 9:00am to 12:00pm and is open to everyone.
A variety of Coachella Valley health professionals will offer demonstrations, product samples and information.  Meet many Desert Health® partners including Tiffany Dalton of Gluten-Free with Tiffany who will be discussing
cleansing programs, supplements, and nutrition.
Dr. Diane Sheppard of AcQpoint Wellness Center can answer your questions about acupuncture, and the Eisenhower Wellness Institute will conduct Body Mass Index testing.
Darren Clair, MD, and his team at Vibrance Rejuvenation Center will showcase the latest in integrative therapies for health and vitality, and Yemi Omelani of Fireside Pharmacy will be available to discuss compounding drugs and bio-identical hormones.
The Coral Spa will also be offering free hand and chair massages and TRUElicious will offer samples of their delicious raw organic bars…and much more!
Guests will all receive a complimentary gift bag from Trilogy and may purchase $1 raffle tickets for the opportunity to win a variety of health and wellness prizes. 100% of proceeds from the raffle will benefit Coachella Valley Volunteers in Medicine, the valley's only free medical clinic.
Food and beverage will be available for purchase at the event.
Experience a free day of health and wellness and join us at the 7th Annual Coral Spa Health and Wellness Fair.
The event is free and open to all. Trilogy Resort is located at 60-750 Trilogy Parkway in La Quinta. For more information call Sharon McKee (760) 777.6000. Vendors interested in participating may contact Lauren@DesertHealthNews.com.