Get Ready for an Eventful Season!
Desert Health® is proud to support these community events. We look forward to seeing you out and about!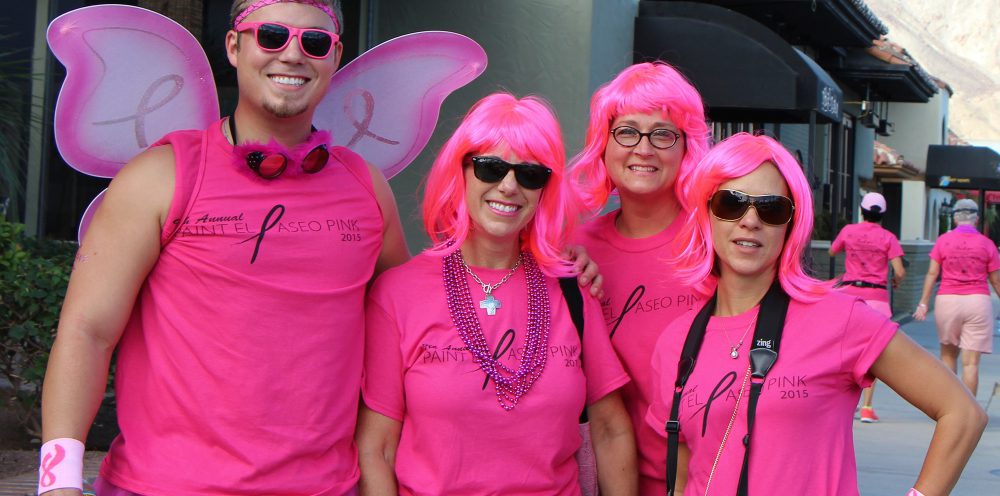 Sept. 16 • Break the Stigma Golf Tournament. Michael's House presents the third annual Tournament and Awards Luncheon. Join us in raising awareness and education about addiction, mental health and the stigma that follows in a fun day of golf, archery and more. Benefitting SafeHouse of the Desert. Register at breakthestigmagolf2016.eventbrite.com or call (760) 464.2138.
Oct. 2 • Y B Fit Desert Challenge Health and Fitness Fair. A family wellness and sports expo for runners, walkers and triathletes of all skill levels hosted by the YMCA and City of Palm Desert. Event includes a mini-triathlon, 5k walk/run, 1k color run, booths, activities and music at the Palm Desert Civic Center Park from 7a to 11a. Register today at ybefitpdchallenge.org or call (760) 341.9622.
Oct. 8 • Paint El Paseo Pink. Desert Cancer Foundation's 10th annual charitable walk down El Paseo raises funds for community residents who are uninsured or underinsured and in need of cancer screening, diagnosis and treatment. Join us at The Gardens on El Paseo at 9:30a. Register today at desertcancerfoundation.org or call (760) 773.6554.
Oct. 22 • Desert AIDS Walk. A grassroots, community fundraising event that supports client services at Desert AIDS Project and other local non-profit partners. Join the 600+ individual walkers, nearly 2000 donors, and 95+ volunteers for a day of fun and fundraising to end the spread of HIV. Register today! desertaidswalk.org.
Oct. 28 • Joslyn Center Health Fair. All are welcome to join us for a health fair and flu shot clinic from 9a to noon at the Joslyn Center in Palm Desert. Contact Daniel at (760) 394.3220.
Oct. 29 • Coachella Valley Heart and Stroke Walk. The non-competitive 5k walk encourages the community to take the pledge to live a healthier lifestyle. Start a team or bring family and friends! Palm Desert Civic Center Park. Registration and Health Fair begin at 7a; walk begins at 8:30a. cvheartwalk.org.
Nov. 5 • Run with Los Muertos. Come to the historic pueblo viejo district of Coachella and run in honor of a passed loved one. This night time 5k begins at 6p and also features music and festivities for spectators and runners alike. Register at runwithlosmuertos.com.
Nov. 12 • Step Out: Walk to Stop Diabetes. The American Diabetes Association's annual event helps raise funds to change the future for those living with the disease and those at risk. Join us 8am at the La Quinta Resort & Club (walk starts 9:30a). Register at diabetes.org/stepoutcoachellavalley. Contact: msoliman@diabetes.org.
Nov. 18 • Gilda's Gift of Giving. Gilda's Club Desert Cities is dedicated to providing support, education and hope to people affected by cancer. Join us for a fashion show, luncheon and boutique at the Hyatt Regency Indian Wells Resort and Spa from 10a to 3p. For more information visit gildasclubdesertcities.org or call (760) 770.5678.
Nov. 19 • Fall Family Festival, La Quinta. Old town La Quinta will close down Main Street for a fun day of family activities from 10a to 4p. Admission is free. Contact Joanna.whitlow@formomsandbabies.com. Visit aboutfamiliesinc.com
Dec. 1 • Pathway to Health, Beauty and Wellness Expo will feature headline speakers, seminars, workshops, vendors, prizes and giveaways. An opportunity to see new technologies, services and products. Admission is free, along with free valet parking at Agua Caliente Resort Casino Spa in Rancho Mirage (smoke free entrance and environment). 10a – 7p. Contact Bette King Productions (760) 202.4007.
Jan. 10 • Eisenhower's Wellness Matters Movie & More Series. Desert Health® is proud to co-sponsor a screening of the acclaimed movie Fed Up: It's Time to Get Real about Food followed by a discussion and healthy eating sampler with Jeralyn Brossfield, MD. 5:30p at the Annenberg Center for Health Sciences. Tickets $15. Contact the Eisenhower Wellness Institute (760) 610.7360.
Jan. 14-15 • Desert Woman's Show. The spotlight will once again shine on women's issues with over 100 exhibitors of local products and services, interesting seminars on today's hottest topics, and Taste of the Valley with food, wine and beer tasting. Agua Caliente Resort. For vendor and guest info contact info@marloproduction.com. (760) 285.3903 desertwomansshow.com.
Feb. 3 • Women Leaders Forum's Women Who Rule! Presented by Desert Regional Medical Center. Raise a toast – and college scholarships – for Young Women Leaders while honoring dynamic community leaders at this celebratory luncheon. Champagne reception/silent auction start 11a. Agua Caliente Resort. Visit wlfdesert.org.
Feb. 7 • Eisenhower's Wellness Matters Movie & More Series. Desert Health® is proud to co-sponsor a screening of The Connection, understanding the remarkable link between your mind, body and health. The movie will be followed by a mind-body practice with Jayne Robertson. 5:30p at the Annenberg Center for Health Sciences. Tickets $15. Contact the Eisenhower Wellness Institute (760) 610.7360.
Feb. 11 • Go Red for Women Luncheon. Help raise awareness of heart disease and its impact on women at this fun and educational event. Everyone is encouraged to wear red to help all understand the toll heart disease takes on them. 10a-2p. The Westin Mission Hills. Contact Adrienne.barton@heart.org. Visit cvgoredluncheon.heart.org.
Feb. 14 • Affair of the Heart. This free community education and screening event offers guest speakers, lectures on heart conditions, treatment options and prevention, as well as free blood pressure and blood sugar screenings. Desert Regional Medical Center 9a -12:30p (800) 491.4990.
Feb. 18 – 20 • Polochella A festive weekend of polo for – and by – kids with activities for the entire family. Watch teams of children ages 6-18 compete in polo matches at the beautiful Empire Polo Club in Indio. There will be participatory games and free polo lessons for children who want to learn the sport. This event is FREE and open to the public. For more information call (760) 899.5102.
Feb. 25 • Jim Cook's Day of Hope for Diabetes. Presented by the Desert Diabetes Club, this free event is open to the public and features lectures on a variety of topics, exhibitors, and medical and celebrity speakers addressing issues related to diabetes. (760)773.1578. Emc.org/ddc.
March 7 • Eisenhower's Wellness Matters Movie & More Series. Desert Health® is proud to co-sponsor a screening of Happy, a movie that explores the world to find the secret behind our most valued emotion. Followed by a discussion and relaxation practice with Kiran Dintyala, MD. 5:30p at the Annenberg Center for Health Sciences. Tickets $15. Contact the Eisenhower Wellness Institute at (760) 610.7360.
March 11 • Trilogy Health and Wellness Fair. This festive and free event takes place from 9a to 12p and is open to all. A variety of Coachella Valley health professionals will offer demonstrations, samples and product information. Contact Sharon McKee: Sharon.mckee@fsresidential.com (760) 702.3037.
May 17 • Desert Health® Wellness Awards will once again honor those in our community moving health and wellness forward. Nominations open Nov. 1 and all are encouraged to take part. 2017 sponsorships are also available. Contact Lauren@DesertHealthNews.com (760) 238.0245
It's All About Balance
journeys
of an
overachiever