Celebrate Your Heart
Heart & Stroke Walk Returns November 18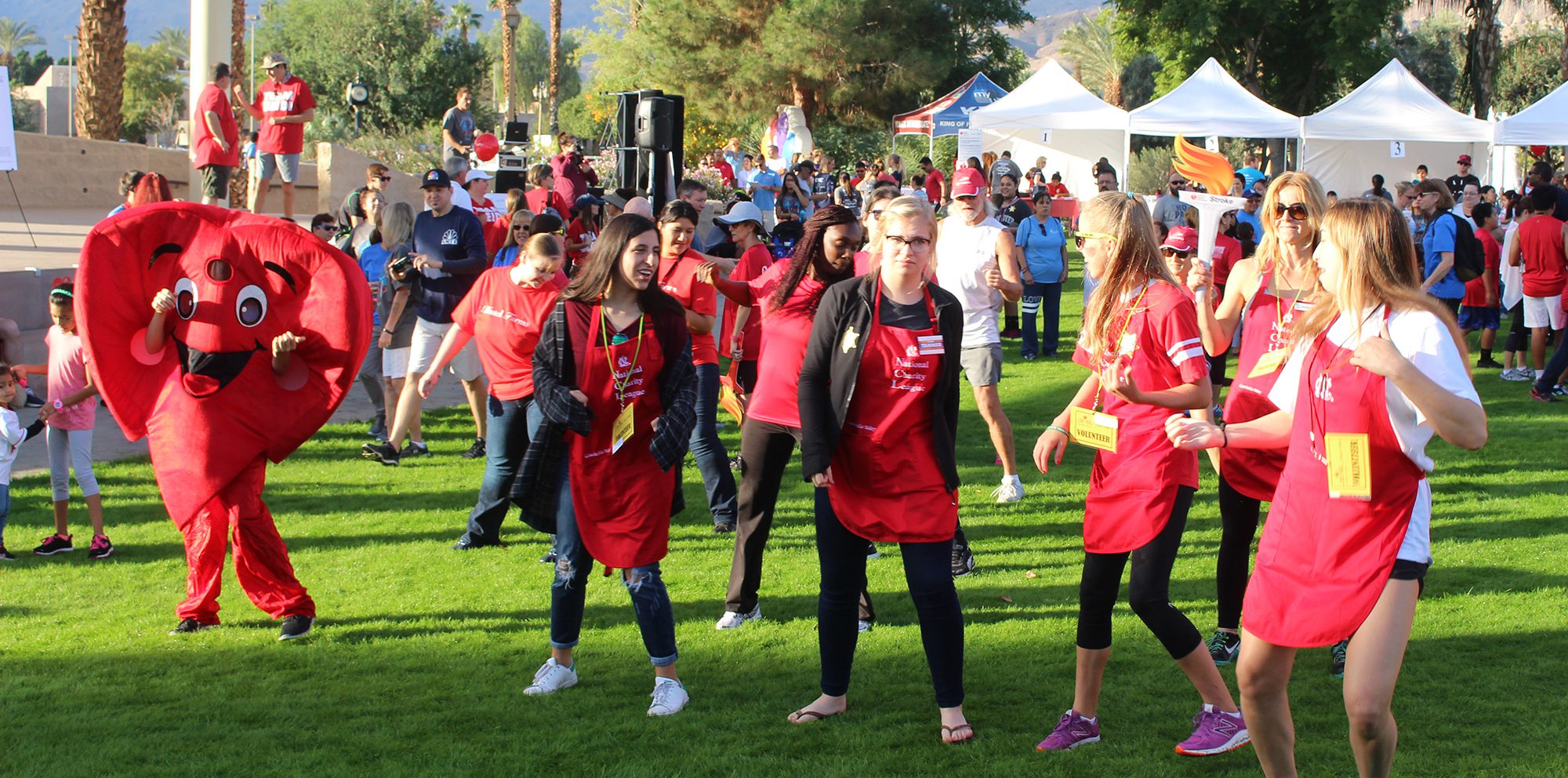 September is Yoga Awareness Month and a great time to let people know that yoga, as part of an overall healthy lifestyle, can help lower blood pressure, improve heart rate, and boost circulation and muscle tone. It can also improve your overall well-being while offering strength-building benefits.
Yoga is also an ideal complement for a regular walking program, and the 2017 Coachella Valley Heart & Stroke Walk is a great place to tie it all together while benefiting a great cause.
We encourage you to do just that and join us Saturday, November 18, at the Civic Center Park Amphitheater in Palm Desert.
The Heart & Stroke Walk is a 5K (3.1 mile) non-competitive walk and festival featuring a Kids Zone and food tent with light refreshments. K-9 companions are welcome with a watering hole being provided for our four-legged friends. There will also be a participant water station along the walk route and one within the festival area.
The Heart & Stroke Walk is a great place to recommit to your heart health. Join walkers from across the Coachella Valley as we step out to have fun, get inspired and support a meaningful cause. Remember that walking is low-risk and easy to start. It can help keep you fit and reduce your risk of serious diseases like heart disease, stroke, diabetes and more. A regular walking program can also improve your cholesterol profile, lower blood pressure, increase your energy and stamina, and prevent weight gain.
The American Heart Association recommends that adults get 150 minutes or more of moderate-intensity physical activity or 75 minutes of vigorous activity each week. Even short 10-minute activity sessions can be added up over the week to reach this goal. If you would benefit from lowering your blood pressure or cholesterol, aim for 40-minute sessions of moderate to vigorous activity three to four times a week. You could do this by walking two miles briskly (about 4 miles/hr). If that's too fast, choose a more comfortable pace, just get out and do it.
The 2017 Coachella Valley Heart & Stroke Walk is sponsored by Desert Regional Medical Center, JFK Memorial Hospital, Hi-Desert Medical Center, and Eisenhower Medical Center.
We look forward to seeing everyone there!
The Heart & Stroke Walk will be held Saturday, November 18, at Civic Center Park in Palm Desert. Registration opens at 7:00 a.m. followed by opening ceremonies at 8:30 a.m. The walk begins at 9:00 a.m. Parking will be at the south end of the park near the amphitheater area. For more information or to register, visit www.cvheartwalk.org. or call (760) 346.8109.
It's All About Balance
journeys
of an
overachiever