Baked Brie & Apple-Pear Chutney Appetizer
From Growers Market & Kitchen Creations
This delectable treat is easy to make and will impress your guests
Unwrap a 4" wheel of brie cheese
Cut an 8" square from 1 puff pastry sheet
Place 4 Tbs Kitchen Creations fresh Apple-Pear chutney in center of pastry
Sprinkle with slivered almonds
Place wheel of brie on top of chutney and bring up corners and sidesof pastry to wrap the brie.
Turn over on to a baking sheet
Brush top and sides with an egg wash and bake at 400 degrees forabout 15 – 18 minutes until puff pastry is golden brown
Serve warm with Kitchen Creation flat breads and a side of fresh cut apples or melon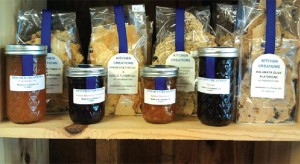 La Quinta's Kitchen Creations launched in 2011 with the idea that "simple is better." They specialize in flatbreads, chutneys, marmalades, jams and jellies which are hand-made in small batches with natural and basic ingredients. Fresh seasonal fruit is used without stabilizers or preservatives. Their flat breads are made using only fresh herbs (not dried) and whole-wheat flour without preservatives. Try Kitchen Creations at Growers Market in Palm Desert.